Good amp.
I need advice on a good bass amp. I'm new to this but not completely dumb. I currently have a 10w amp and I'm starting to dislike due to wanting to play a little louder without hearing distortion coming from the speaker. I can only spend $100-150 on one so what would be best suited for that price range and I generally play hard rock. Thanks for the help.
Acoustic amps are pretty damn good.
Well the whole point of getting a new amp to play louder is getting something with more power.

100-150 bucks really is not all that much for an amp. Are you willing to go used?
Yea i can. It doesnt have to be new, Im not real picky when it comes to that but i does have to work well.
Heck out the used section on guitar centers website. they have tons of wicked stuff.
I'm not really sure how much it would cost in your currency, but check out the Ashwood Five Fifteen.
I bought it a little while ago, and I really like it.

works great with my effect pedals too.
Again, not sure about the price.
The Acoustic B-20 is about $150. Or if you wait
until next week, they may have a sale and you
might get one for $99 like I did on July fourth
holiday sale. It is a good bedroom amp.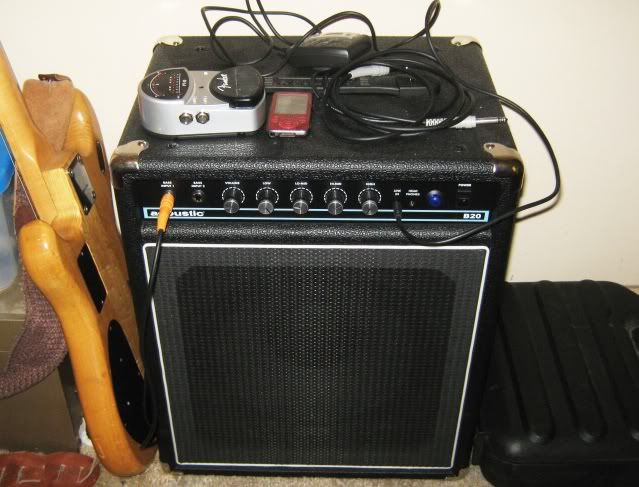 Tabdog
See if you can find a Acoustic B100 in the used section of your local Guitar Center.
What about a hartke amp would they be good
Which one?

I love me a Hartke.
Hatke are very much love and hate, from what I've seen. Personally I've used one once before at a gig, and thought that it was a great amp.
Kickback hartke 35w and 120w
Join date: Apr 2007
223

IQ
Go used. Avoid Behringer.

Peavey frequently turns up on the used market for cheap - and is typically pretty good.

Join date: Dec 2009
30

IQ
in some music shops I see awesome deals.I once saw a used gallien krueger (like medium sized,didnt see the wattage)for $170 bucks.if you wanna buy a new amp for $150 your options wont be much better than what you have.go used