My Haunting Revenge - Bringing Back Melodic Rock
Genre:
Classic rock, Hard Rock, Metal
Members:
Vocals: Lexi Wright.
Guitar: David Rogers.
Guitar: Zak Tranter.
Bass: Nick Allport.
Drums: Wezz Perks.
Hometown:
Birmingham
Description:
We are a 5 piece, female fronted band, that play a mix between classic rock, metal & pop punk. We played our first show in August 2011. (Bio in 2nd Post down)
NOW AVAILABLE FOR GIGS.
Contact
Lexi Wright
for more details, or if you'd like us to play a show.
Influences:
Alter bridge, Black Tide, Guns n Roses, Iron Maiden, Killswitch Engage, Machine Head, Metallica, Misfits, My Chemical Romance, Nightwish, Type o negative.
Websites:
Facebook
Twitter
Myspace
Reverbnation
Tumblr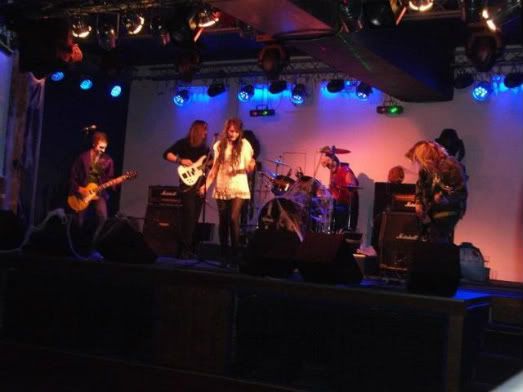 Latest Update:
found out that we are playing the O2 Academy in Birmingham in the new year! and we have shot up Reverbnations Birmingham rock charts 34 places from 122 to 88 in just 4 days!

if you are in the Wolverhampton area you should definitely come and see us at the slade rooms on the 6th of January!

in the meantime go check out our Facebook or Reverbnation profiles!

http://www.facebook.com/pages/My-Ha...127560730591177

http://www.reverbnation.com/myhauntingrevenge
Last edited by Dave Frenzy at Dec 23, 2011,
About Us:
My Haunting Revenge have done a lot in their short time together.
The band were lucky enough to be offered to hold their first gig at the HMV Institute in Birmingham, and even though (due to venue problems) the venue was changed, the band have relentlessly gigged ever since.
Always in the motions of writing new material, and coming up with a new and creative way towards song writing, My Haunting Revenge's style just can't be nailed with one or two types of Genre, with many different musical influences flowing through the band, you will hear a mixture of different styles, and approaches all mixed together beautifully.
As a young band you will be surprised by their professional approach to perfomance, and their approach to the business side of the music industry, always punctual and polite in their behavior, but don't be decieved, being polite doesn't run through to their music.
With Zak and Dave writing melodic and raw riffs that can show enough emotion alone, Nick playing bass lines that you feel beating your heart up, Wez drumming a beat that will make your soul shake, you're in for a good show. Lexi writes lyrics not only based on emotions, you just hear that she pulls from real life experiences but also something based upon fantasy, a story is in every song, with relatable lyrics and some that are written subconsiously, there is a mixture of reality and dreams.
Having just finished recording their first EP "The Start of an Old New Way", they are now embarking on several West Midland based shows in December, What comes for the New Year I hear you ask? My Haunting Revenge will be releasing their EP in January and embarking on a UK tour, along with the release of merch and a brand new website!!
Heres a video from our first gig =)
My Haunting Revenge - Beauty In Progress
Last edited by Dave Frenzy at Dec 23, 2011,
Gig Listings
January
6th - Slade Rooms - Wolverhampton - 19:00 - 23:00
12th - The Flapper - Birmingham - 19:30 - 23:30
14th - Base Studios - Stourbridge - 19:00 - 23:00
26th - O2 Academy 3 - Birmingham - 19:00 - 23:00
Febuary
19th - Ye Olde Foundry - Dudley - 19:00 - 23:00
Last edited by Dave Frenzy at Dec 23, 2011,
Last edited by Dave Frenzy at Dec 23, 2011,
Reserved For Audio Links
Last edited by Dave Frenzy at Dec 23, 2011,
Just had our first day of studio time! lots still left to do but things are coming together =)
Congrats with recording. Gave yous a like, and it's cool to see that yous are doing so much after only first gigging in August.
Would you mind repaying the favour, and giving us a listen and a like here:
http://www.facebook.com/HoiPolloi.Band
Cheers.
thanks! you guys have a pretty good sound!
we figured that we might as well hit the ground running after our first gig. if we lose momentum we might fade into the background like so many other bands that appear then disappear.


just to update everybody else:

Recording the Vocals tomorrow afternoon. so hopefully within the next couple of weeks there should be some music to listen to on our page as well as some options to download and buy our EP from us =D
Recording Vocals got pushed back again =(
as soon as we have the first track posted I will throw it onto here but in the mean time heres a video to keep people interested =)
http://www.youtube.com/watch?v=VYjmIt5po9c
Another Bump =)

Vocals are now done, waiting for the finished Mix now but its already sounding awesome!
If nobody's replying, that should tell you something.
If nobody's replying, that should tell you something.
not really dude.
Im using this page to PROMOTE my band.... hence what this sub-topic is called...
and we have 800+ fans already. that should tell YOU something =)
and back to the top. more updates tomorrow (hopefully)
and back up there

there will be some music up on our page before the end of this month!
Try having some actual content next time you bump
Try having some actual content next time you bump
Its "promote your band" right?
...
by bumping im promoting my band...
but heres some content as requested =)
Beauty in Progress
Far Away From Reality
Vocals on the EP are getting cone on the 26th so not long now
Last edited by Dave Frenzy at Nov 24, 2011,
We have music uploaded to our Facebook page! =D go check us out!
lol
sup?
if you've got nothing good to say then dont say anything =)
Last edited by Dave Frenzy at Dec 18, 2011,