vintage gear
why has the spam been on the upswing? hey skater dan0 why not figure this out?

anyways, what's all your favorite vintage gear? post something thats readily available, like my favorite is mid 90's trace elliot heads. i dont mean "the first fender bass they ever made!!!11 das my fuvereet ventooge gare!" if you dont own it, havent played it, or havent seen it for sale locally then i dont really want to hear about it.

i want to get a good idea of what vintage gear is out there and gasable.
saw and old ibanez prestige that just played beutifully not sure if it was vintage or not(early 90s i think) would have bought it if i had the money
Gratuitous vintage GAS thread? I like it.

Right now I have my eye out for a Peavey G Bass, not really vintage, but not new (90's I think?).

As for my favorite vintage gear, old Steinbergers always top my list.
I don't think many basses look sexier than old bc rich models, like that green one that was in a thread not.too long ago

Join date: May 2011
10

IQ
the local store thats near me has a very old fender jazz bass vintage it looks like its from the 60s the guitar sounds great when i played it once it was amzaing but they cant sell it because they whant 2,800 $ for it and i dont know how rare it is

Join date: Jun 2009
70

IQ
i would soooo get myself a spector ns2 from the 80s and hook it up to a vintage all tube svt.
I'm more of a fan of vintage amps and effects than i am of basses themselves. Dunno why...
I dig stuff from the 80's, but to me, that doesn't really qualify as 'vintage'.
I guess the only vintage bass i'd be stoked on would be a Maple neck Mustang from the 70's.
However, vintage amps i LOVE.
My fave are the old tuck and roll Kustoms. Some people think they look cheesy, but aside from GK, there isn't a single solidstate head that sounds as good as these amps do. The germanium circutry is in a class of its own, as far as tone is concerned. I think it's due diresctly to their aesthetic why loud music players choose the old Sunns and Acoustics over Kustom, even though the Kustom SOUNDS way better (IMHO, of course).
Here's my '68 Kustom200 hiding amongst "the twins", a Peavey 1x15 and a GK400rb. Equally amazing is my '73 Kustom50 guitar combo peeking off to the right. I'm not even going to get started on how awesome THAT lil' guy is...: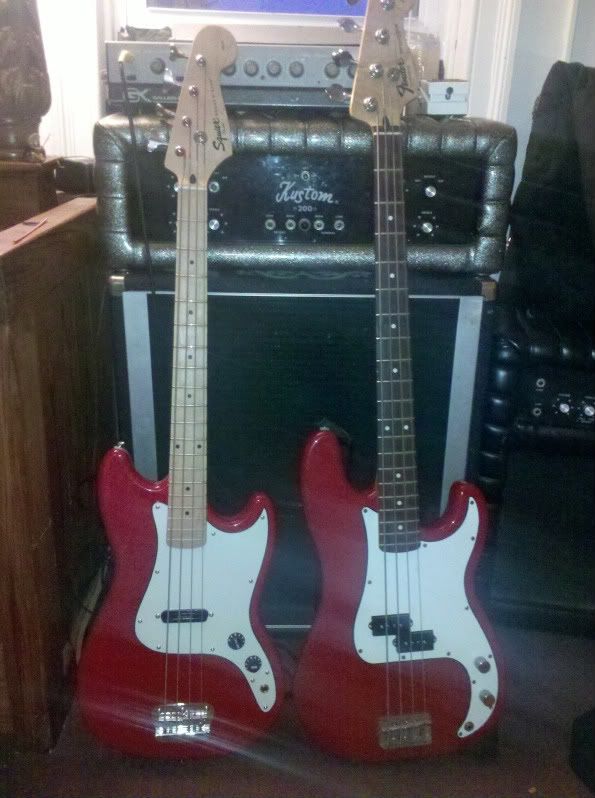 Last edited by Din of Win at Sep 6, 2011,
I'd like a Sunn Beta Bass

I've only ever seen one pop up ;_;

Join date: Jan 2008
60

IQ
Well that'd have tobe my wasp VBL 200 P.A head
230 watt tube head from the 70's,glorious!
But have a look at peavey t-40's for some retro goodness,I love mine
din of win ive played out of one of those kustomes, actually quite recently. i just moved to venice beach, ca from ny and i cant afford to ship my heavy as all hell trace head and full stack lol so i answered this craigslist ad for a kustom head and full stack, it sounded right up there with my trace but the fan was hella dusty and a lot of nobs missing lol.

im gunna have to agree and say i too enjoy vintage amps and effects more than i like vintage basses. russian big muffs anyone? XD

Join date: Oct 2008
70

IQ
sunn amps (well the one i have, only one ive played on >.&gt

i use mine for both guitar and bass with a 2x12 cab with peavey pa speakers in it.
the other guitarist in my band's 73' bassman is quite nice

Join date: Oct 2007
551

IQ
I have a beat up 1960's Hofner in an original Selmer case in the other room. Keep meaning to fix it up and sell it, but I don't know much about bass repair.

Join date: Aug 2006
180

IQ
My current amp head is a mid 90's Eden WT400. One of the very first I think, since it's missing a couple of things that were on the later heads.
ahhh nutter man, how are their early heads? i love eden cabs, though i cant afford them haha never gave their heads much of a chance in the wake of my trace elliot love lol
My current amp head is a mid 90's Eden WT400. One of the very first I think, since it's missing a couple of things that were on the later heads.
Mid 90's.... vintage... ?!


Join date: Aug 2006
180

IQ
Mid 90's.... vintage... ?!
TS started with mid 90's Trace Elliot, so I thought I'd jump in


Join date: Feb 2008
40

IQ
My 66' jazz is always fun though it seems to be harshly treble. My 61' bassman is still broken

TS started with mid 90's Trace Elliot, so I thought I'd jump in
Oh damn, that one went right over my head!
Well, since 'vintage' just got a whole lot larger, while i said earlier i'm not too into vintage gear... that's really just a jab at what I concidered vintage... mid-70's and earlier. I think a LOT of that stuff, while mojo-ridden out the yin-yang... really, to me, isn't WORTH the crazy prices they usually fetch. I'm a HUGE fan of overlooked 'gems'. Basses, that IMHO, have a bit of MoJo, but don't break the bank acquiring. So, some of the 'vintage' instruments i AM into:
-80's US made Peaveys. Personally, i LOVE the super unique Peavey Super Ferrite pickups. These were found in the T-20, (first year only) Fury, Patriot, Foundation, and Dynabass. I dig the T-45, but i think the T-40 is one of THEE most overrated basses out there at the moment.
-Late 70's to early 80's Ibanez. Ibanez got in on the copy game, and actually made some VERY nice, and sometimes unique, copies of other famous brand basses. A Ripper with an HH setup... a block/bound Jazz lookalike witha P/J config... Ric copies... T-bird copies (IIRC)... all were MiJ and VERY good quality. After that, the early 80's Roadstarr series (HH, P, P/J) are some VERY cool basses.
-90's Squier Vista series. One of my favorite instrument lines EVER. The only bass offering, though, is still a phoenomenal one. The Squier Vista Musicmaster, was basically the best of a Fender Musicmaster and Mustang, squashed together. Awesome, but easily upgradable Musicmaster pickup, but the Mustangs MUCH better 4-saddle stringthrough bridge. IMHO, it's the best price-for-usability shortscale out there.