New Guitar Day! (Sort Of)

Join date: Jul 2009
105

IQ
I say sort of, because I actually got it a couple weeks ago. However, this has given me time provide a decent review and to mod it a bit. Here it is, my new guitar!
(My apologies if these pictures are massive)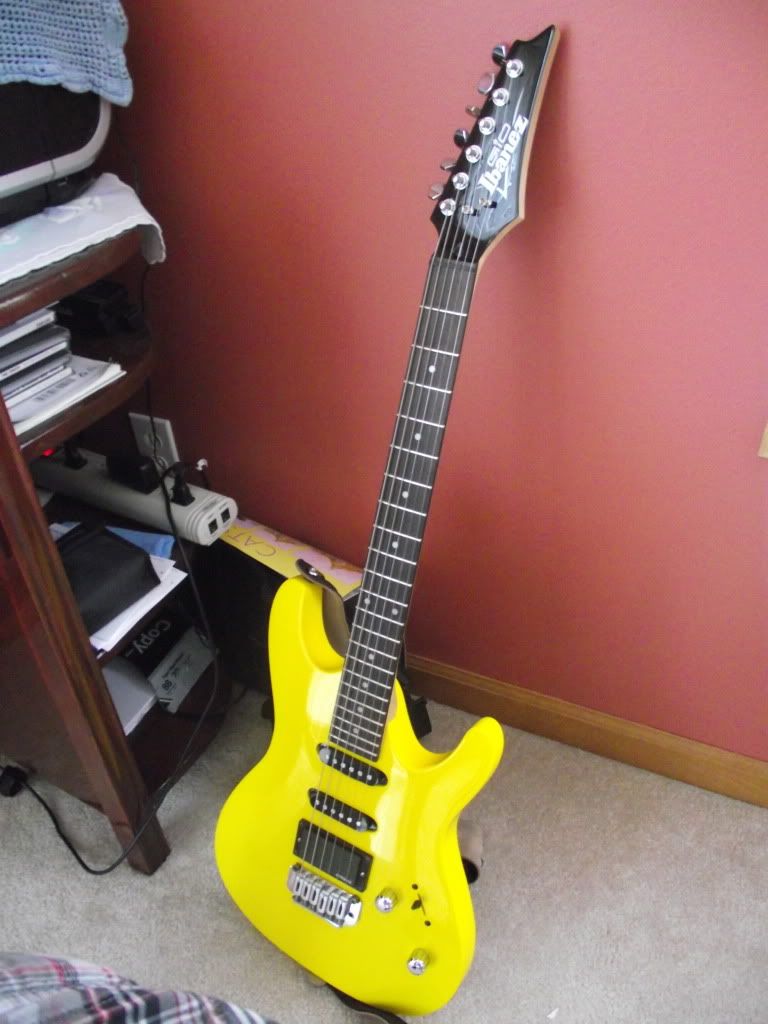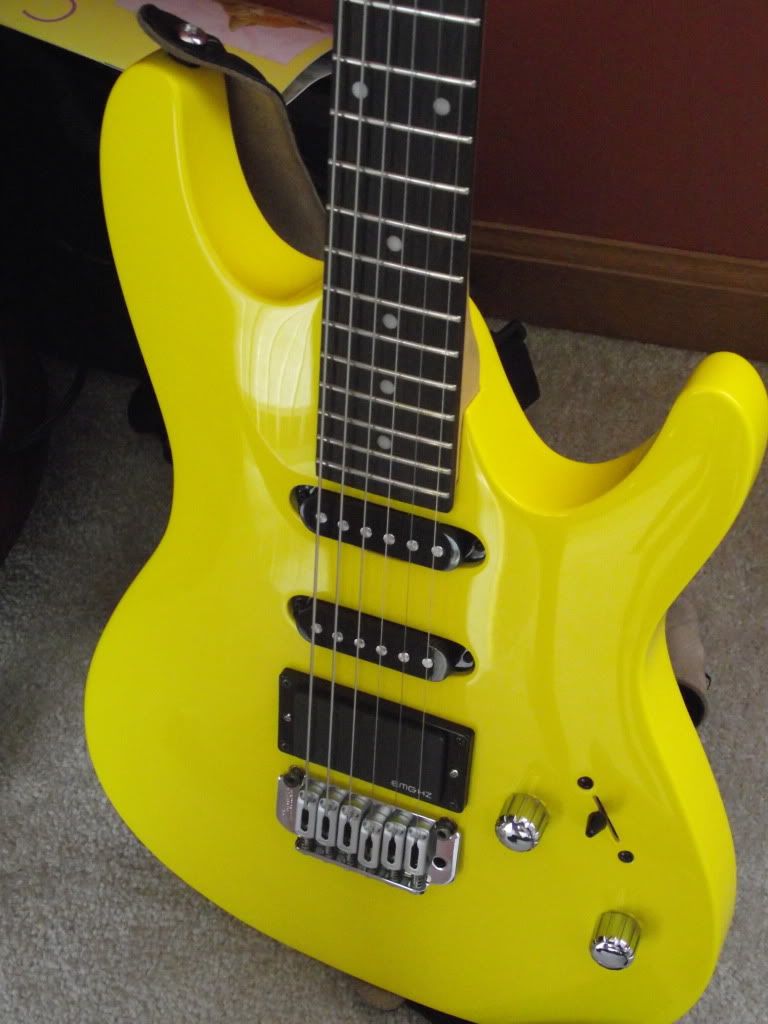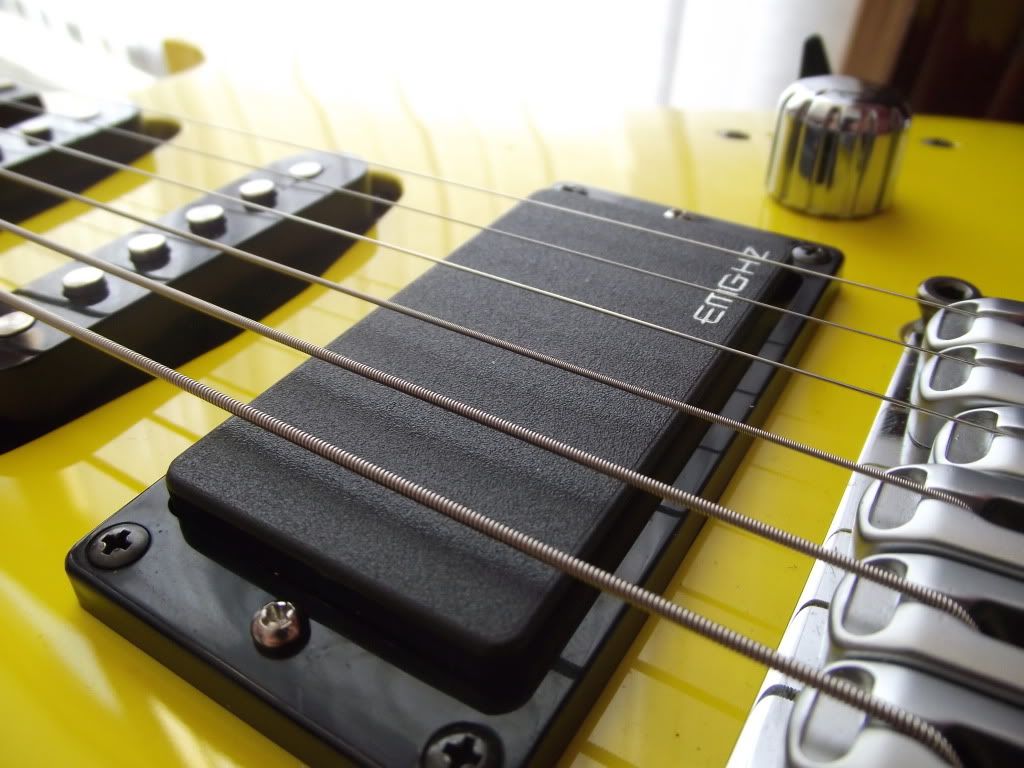 This is actually going to be a double review; one for the guitar, and one for the EMG HZ that I put in it. This is also my first review, so take it easy on me.

Ibanez GSA60 - Yellow
I had played one of these before I got it, and I was not disappointed. The neck is thin and plays smooth for any kind of music (I play mostly punk-rock and metal, and I have had no issue playing fast riffs or rhythm lines). However, this model only has a 22 fret neck, so some solos aren't playable. The cutaway ensures easy access to the frets you do have without cramping your hand, a problem I had with my last guitar.
The stock pickups are decent; the humbucker could be a little stronger, but the single coils provide amazing cleans. In my opinion, the middle pickup sounds better than the neck pickup.
The tremolo isn't by any means the best. I know this only from what I've read, as this is my first guitar with any sort of tremolo system, but from a couple weeks of playing, I have found that you can only use it slightly before the guitar falls out of tune; this might be fixable with some new tuning heads, something I will be putting in a week or so from now.
Though it has some drawbacks, this guitar is, overall, better than my previous one, and a good investment.
EMG HZ Passive Humbucker
When I first played through my Crate mini-stack and Boss Turbo Distortion pedal, I was both impressed and disappointed. While the stock humbucker provided a decent sound for rhythm lines often found in punk music (Blink 182, All Time Low, etc.), it didn't make lead riffs stand out very well; mid and high notes just seemed to die quickly.
After some research, I decided to try a different pickup (I had two Seymour Duncan Invaders in my old Washburn, which are, by the way, fantastic pickups). I went with the EMG HZ, the passive version of the EMG 81.
The installation was easy; I spent less than 2 hours putting it in. I had to file out the humbucker cavity in my guitar, as the EMG was a little bigger than the stock pickup, but not enough to notice after the mounting ring was put back on. The wiring was stupid simple; the wiring diagrams provided with the pickup were easy to follow.
Biased by my love for Seymour Duncan pickups, I wasn't expecting this to be as good as it was. The mids and highs come great, they don't die quickly, and aren't obnoxiously dominant, and my palm-muting lines and breakdowns sound better than ever.
Overall, I am pleased with my recent purchases, and am excited to get UG's opinions.
I await your replies!


Join date: Feb 2011
300

IQ
HCMNGD (the cm is for cheap modded)!

Join date: May 2010
110

IQ
I gotta admit for a gio it looks freakin amazing, love that yellow lol

Join date: Feb 2009
30

IQ
HNGD!
Always had something for Yellow Superstrats. Probably will never get one though.

weird taht is is an improvement to your washburn

HNGD! : )
Dude, dude, what kind of camera is that...
Always had something for Yellow Superstrats

Join date: Feb 2009
30

IQ
Always had something for Yellow Superstrats
Those are some really nice pictures you got there.

HNGD! Some lower end guitars can play well.
That really looks amazing, imho.