What do all the nobs and buttons mean??

Join date: Feb 2011
70

IQ
Hey Userlastname

The Treble, middle and bass are part of your equalizer, which means that they shape how your sound is going to be like. Presence (if I'm not wrong) usually adds some upper mids and treble, making your bass sound a little "sharper" in a way.
The tree knobs on the bass are:
- The one cloest to the neck : volume for the front (neck) pickup
- The on in the middle: volume for the back (bridge) pickup
- The one closest to the bridge is your master tone knob. When you have it turn all the way to the right, your tone is going to be quite bass-y. The more you turn it clock-wise, the brigther it gets.
Sorry if my explanation wasn't really top-notch, but I'm tired

The two volumes are pretty self-explanitory, as stated above.

The tone knob, set at full (supposedly) does nothing to your tone and sounds pretty much like your pickups straight to the amplifier. As you rill off your tone knob, it cuts highs from your sound so you sound bassier because the treble frequencies aren't there.

Join date: Sep 2011
20

IQ
Presence works much the same as the tone knob on your bass I think (except instead of rolling off highs, it adds them). Thats what it always sounded like to me anyways
All the nobs?

All the nobs?
Yeah, when I read the title I started to wonder if this was going to be a puberty-related question


Join date: Oct 2009
160

IQ
Hey, maybe he bought an Alembic?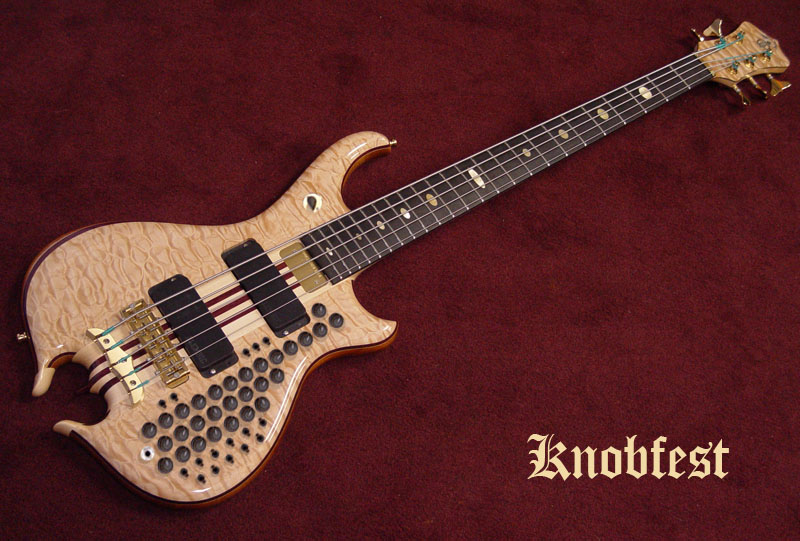 Join date: Oct 2009
160

IQ
Actually, it isn't: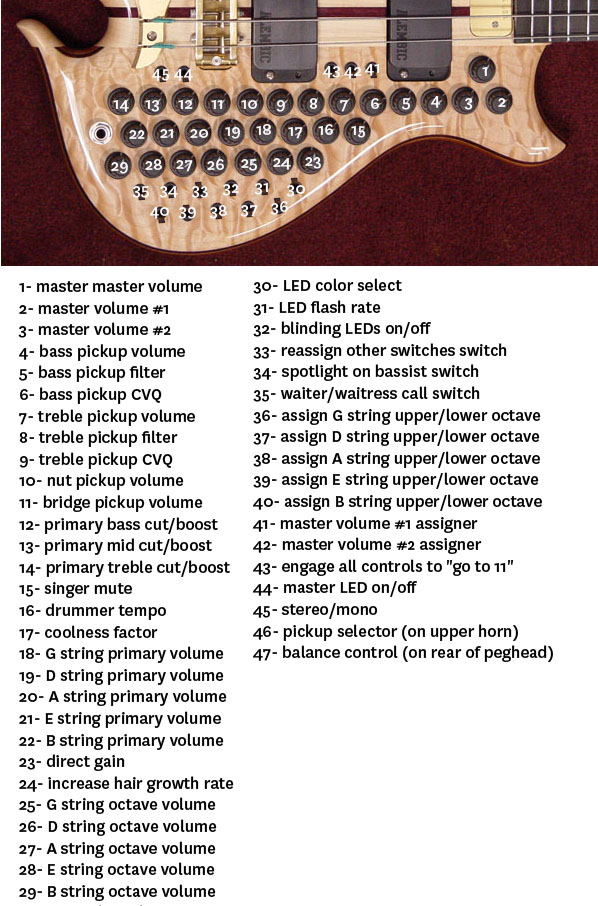 God only knows what those knobs and switches actually do.
Nr 15: Singer Mute
Nr 17: Coolness Factor

Wait...... what?
Just looking at it, that's not real. It's been photoshopped and not too well either.

I'm convinced.
Actually it is shopped. Didn't Alembic say it was an April fools joke or something?
I'd like to have #35 on my bass really