Tube contact stabilizer?
Hi Guys,
I have had some light scratching coming from my Crate Blue Voodoo for a while now. I had bought some power amp tubes a few months ago and just now got around to ordering some preamp and a bias probe.
Long story short- 3/4 tubes had contact issues when hit with a pen and the fourth socket was completely dead- 0mA. I switched tubes between sockets to check for circuit issues other then my dead one- when I was done there was no more noise with the pen.
My question to you amp tech and experienced persons- do you use contact enhancers like stabilant 22a? Something to keep the oxidation out? Any personal favorites?
I also found why my stand-by light was flickering...
And why I had a dead socket...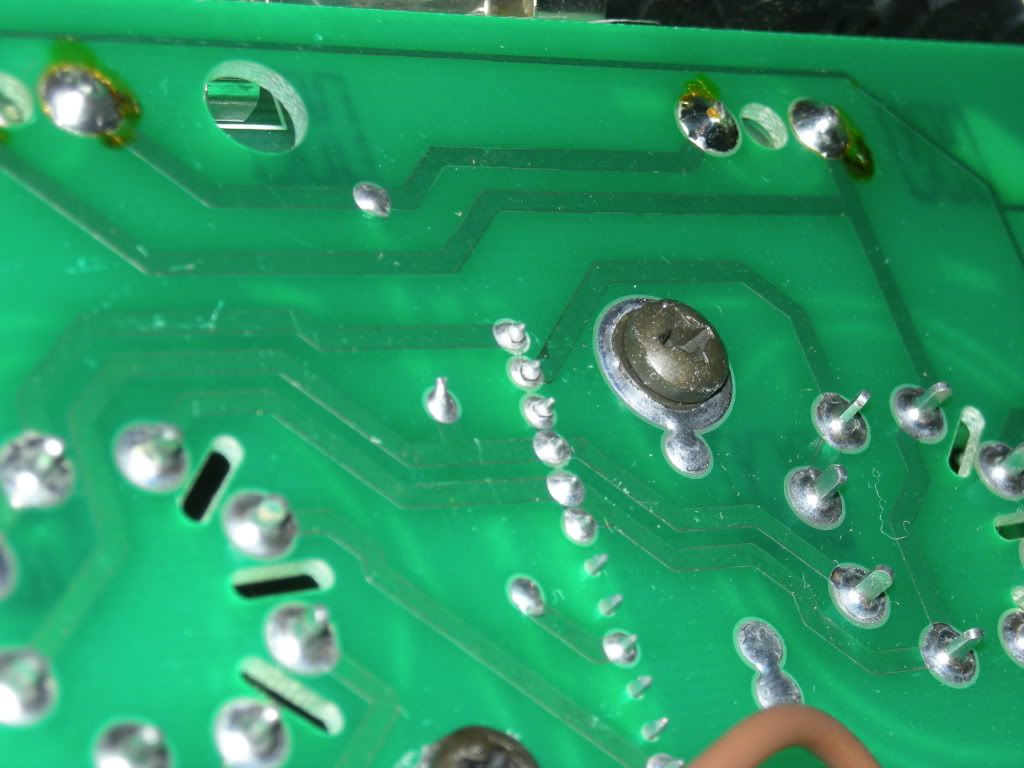 I will fix the solder joints this weekend.
Replace the socket.

/thread
Replace the socket.

/thread
Thanks?
I guess that is better then saying replace the amp.
Why the socket? All 4 are on 1 PCB and it's easier to re-solder the joints and clean up the socket/tube connections. The connections aren't broken yet. I'll close the gaps just a tad and gauge if they tension then.
Re-tensioning a socket is usually delaying the inevitable. Tube sockets are cheap and it's a good idea to replace one that's acting up.
Good point Roc.

I will order 4 and replace next time I am in it.

The solder joints that failed aren't the ones that hold the socket to the PCB. I was confused why he said to replace the socket. ..../thread
Last edited by R45VT at Sep 9, 2011,
Sockets die all the time. If fiddling with it changes it's state and the solder joints are ok you can bet money it's the socket itself. OEM sockets are notoriously crappy. Find some good ones and replace them. No point bashing your head against a wall looking for odd stuff when Ockham's razor says it's simply a dodgey socket.
There are 3 dead solder joints next to the screw in the middle in the second pic.

Looking at the current tracks 2 tubes share these common points(tubes 1 and 2). It's also why I had 28mA on tube 2 while 3 and 4 were 34mA which is right on target.

Any brands that anyone can recommend?


Looking at this thing and the connections.... cheap ass amp. Transformers are not soldered on, however it's not clipped in like Bugera...
Last edited by Cathbard at Sep 9, 2011,
I just opened it up tonight and my soldering iron is in the garage. I will fix those joints this weekend and then bias it. Won't take more then 10-15 minutes but I need to fashion a stand to work on the head upside down.

Thanks very much for the link Cathbard.

Just looking at the contact for tube pins you can see a huge difference in quality. Not just 2 contacts for each pin. Much more secure.

That site is actually great. I need to see which capacitors I should replace at the same time I open it up again. I'll have to find a schematic for the amp. I hear Crate will send them you if you bug them enough. Or google....

Thanks again!