:liplick: strat and tele build
hi guys just wanted to share my progress on my summer project
i had quite allot of spare time this summer brake from uni so i decided to build up two guitars out of spare parts that i had laying round the shed . i have a fender strat and telecaster body that i acquired as a part of a swap for some other guitar gear . the bodys were in a bad state so the fist thing i did was to get rid of the finish with paint stripper and a d.a. sander .after taking the finish off i smoothed out the chips and bad scratches with some bondo.after sanding the body look like this:
Last edited by tiny0514 at Sep 18, 2011,
i decided to paint the guitars a candy red using a silver metallic base cote . the guitars had 2 cotes of base and 7 cotes of 2k candy :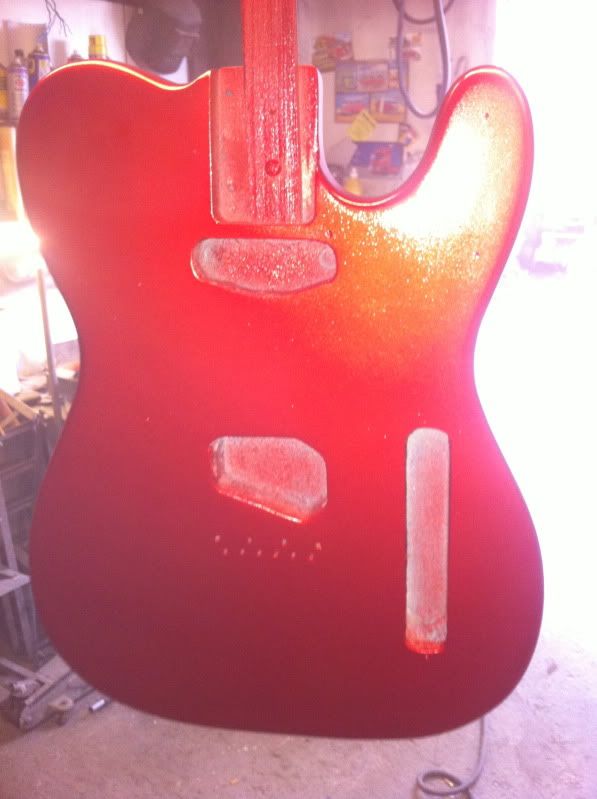 i used a 2k lacquer on these guitars and gave them 5 cotes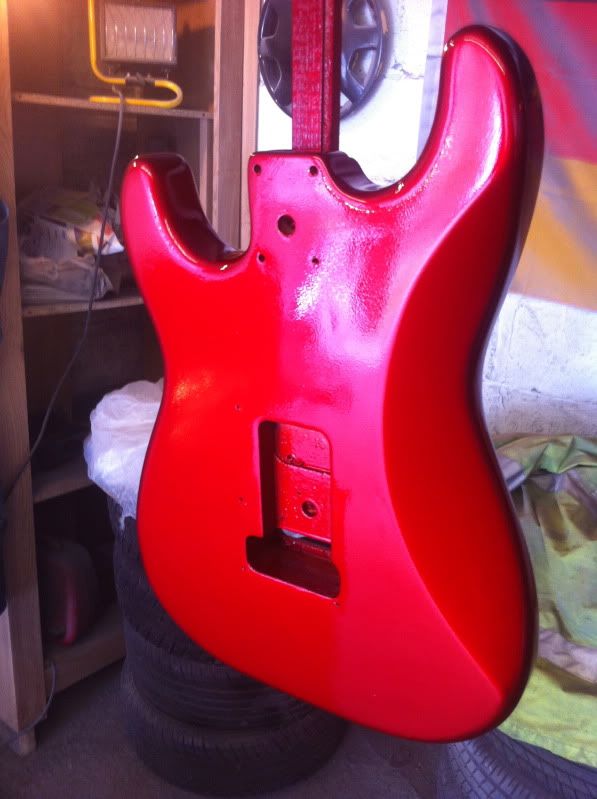 this is were the hard work started . i stared to sand the guitars 48 hours after the guitars were painted , i started with 600 grit wet working up to 2500. after wet sanding i used a medium cutting compound wet and then followed with a fine cutting compound.
i also used meguiares ultimate compound witch was amazing for getting rid of swirl marks , i was left with a mirror like finish. i also had some g3 car polish and wax that i used on the guitars
shielding - i have shielded all the cavity within the the guitars with aluminum tape on the sides and aluminum foil for the base of the cavity , i will soldier the ground wires in when i install the pups.
necks - i have purchased two maple mighty might guitar necks both have a c profile
things yet to install and thing not yet gotten
strat
pups - kinman woodstock plus pickups with k-9 wiring harnis
trem - super vee blade runner
plastic
tuners - fender locking tuners
ntune - inbuilt chromatic tuner - already got
fender neck plate - already got
tele
pups - not yet decided ( would be nice to hear your opinions )
tuners - fender am stranded
bridge - fender vintage (already got )
saddles - some high quality brass saddles
control plate
knobs and switches
things are at a stand still at the moment because i have run out of funds , i will have to wait for my student loan on the 26th
that's quite a spectacular finish!

Join date: Mar 2010
20

IQ
They both look pretty awesome so far. I hope you have your student loans sorted (bastards have screwed up mine again!) but when you get it through I look forward to seeing the progress on these two

i will get some vids on YouTube when they done
Awesome paint job mate. Looked just a tad iffy after the clear COAT went on. But after you sanded them down and buffed them up it looks a treat. So many COATS of paint always look good, and with a COAT or two of clear, well.... it just pops. Can you pick the subtle hint?
bad dyslexia lol , o well i got a free macbook pro from uni because of it
it was quite allot orange peal after i shot the clear but due to the number of COATS i used i could get rid of it with the 600 grit without burning through the paint

Join date: May 2011
50

IQ
I honestly think this is the first strat i've ever seen and liked. Nice job man.
Get a Chopper T in and a Twang King on the tele !
i was thinking about that combination myself was also looking at the fender noisless set anyone used them and what do they sound like?
I've tried the noiseless set on a 60th anniversary tele and they were quite good, but I still prefer the chopper/king combo. You should really try them yourself and see which you like more though
As you're uk based check out irongear pups (axetec.co.uk) just as good as DiMs and SDs, half the price
hay they good value never seen them before , have u used them?
I've got the blues engine neck and dirty torque bridge in my les paul, the quality are just as good as the name brands, but the guy only sells them himself (irongear and axetec = same owner) so no markup from distributors and retailers. I love my irongear pups and am in the process of saving to replace the pups in the rest of my guitars with them. You will find many irongear users on here too all with a very high opinion of them.
think i may jump on the band wagon , not to sure to get vintage sounding or hot pickups for the tele , i getting kinman Woodstock plus pickups for the strat so they should cover the blues sounds
i prefer vintage sounding teles tbh, but i'm doing the same debate for mine
sounds interesting, although I would then go for a concentric pot for both a volume and a tone on the other pot, best place for that though is allparts uk shop
ehats a good idea what concentric pot shall i use a 250k/500k or a 250k/250k?
Luv how th finish came out, it looks like they are made out of glass :O
the finish is all down the the ultimate compound it is amazing
ehats a good idea what concentric pot shall i use a 250k/500k or a 250k/250k?
what would you use normally? I love the look of teles with all maple necks rather than rosewood boards so I normally go with 250s because it tames some of the brightness
yer after some investigation i am going to go with the 250k/250k
i have decided on the pickups and electronics for the guitars , these are as follows:

strat - kinman Woodstock plus pups with k9
strat - installing a n-tune
tele - irongear stealfoundry in neck and bridge
tele - concentric pot 250k/250k to controll volume/tone
tele - axetech DIST04: Quad Overdrive

not to sure what capacitor to use , any suggestions?
i was looking at a Sprague Orange Drop Capacitors at .047uf
Those are good caps. Go for it.
I use orange 47s in all my axes, even the basses
Candy apple red. Hard to do, but always worth it. Nice job.
this is my plan for the telecaster wiring , i am using a concentric pot for the volume and tone , a balance pot instead of a 3 way switch and the active gain controller . i am also adding a led into the circuit to indicate when battery is active
going to order the parts tomorow
I have a Tele in red with a maple neck. Get a neck pickup off of an SG standard and a cream pickguard. Just use a standard Tele bridge pickup. Sounds and looks great.
it does. it sounds even better though