New Amp Day
And what could it be?
A Laney. Nice!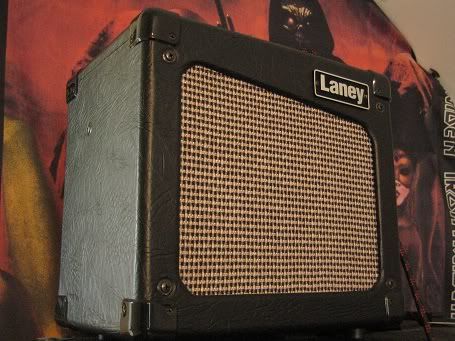 A Laney Cub 8. For $75.
What is it like, then? Well, very simple. It's a single channel 5 watts all tube amp.
ECC83 in the preamp, and unlike most other 5 watt amps, a 6V6 GT in the power amp. One volume knob, and one tone knob.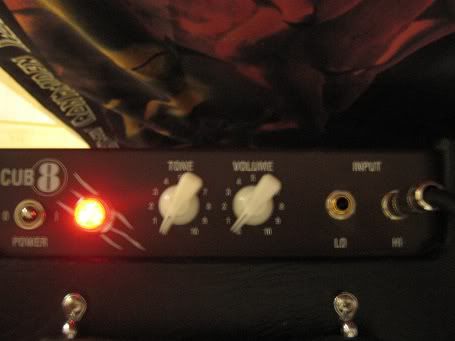 And although it's rated at 5 watts, it's loud!
How does it sound? With the stock speaker, a little boxy. You get speaker distortion when it's cranked, and that doesn't sound too nice.
Plugged in to my 212, on the other hand, it sounds huge! Quite Gilmourish through single coils until it overdrives. After that it's a bit harsh sounding. Through my PRS SE, it sounds a little less exciting clean. It starts to break up at twelve o'clock, and cranked you get enough overdrive for AC/DC and almost Iron Maiden. With a tube screamer in front of it, you can go heavy.
Though it doesn't really sound Marshally enough for those bands...
I would advise to get an EQ pedal/rack thingy for this amp, the tone knob is not enough.
So why did I get it, when I'm quite satisfied with my Peavey Ultra?
I am going to take the Laney apart, and use the transformers and such to build a new amp. Best part; it's a school assignment.


Join date: Nov 2008
50

IQ
aah im a sad panda. that thing looks so awesome vintagey. none the less good luck on the project!
I tried it out at the shop. Cool little amp.
Agreed with you on the "boxy" and the speaker distortion when cranked.
I wanted to try the CUB10 and CUB12R but they didn't have it in stock.
Good luck on the new amp!
nice

so good!!!
Last edited by megaduu at Sep 22, 2011,
Thanks! Sadly (or not) it will not stay like this for too long.