It's time to play everyones favorite game!
Now, Recently I've expressed my interest to my dad about Ibanez. Yesterday he came to me saying his friend recently acquired one through a trade and wants to sell it, so my dad asked if I would be interested for my birthday which is nearing soon.
However, everything he told me about the guitar doesn't sound like anything I know to exist, granted my knowledge of older Ibanez's is limited, tis why I come here to ask your help.
He told me the guitar was a really thin strat like guitar, with a Locking tremolo. This makes me believe its a S of some sort. He then told me that the guitar was Red with a flamed top, and the headstock black. He can't remember if it had the Ibanez Check on it or not.
Now this is there I'm confused. Everything I've looked up shows me that as far as newer guitars go, a black headstock and a flamed top was only on Prestiges. but I'm not 100 percent certain.
So basically my question to everyone is, RG or S is there a non prestige model with a flamed top and a black headstock? I'm not ruling out this guitar was modified just speculation until I can see it.
TL;DR
Need to have a better idea about a Ibanez guitar
- RG or S
- Red with Flamed top
- black headstock
I know its not a lot, but I would figure those would be able to point me to the direction of if I'm getting a prestige for an insane price, or just a guitar to modify for fun.
Thanks

I can't get pictures as I havn't seen it either. My curiosity is eating my alive at the thought of getting a Prestige S ( one of my favorite guitars) at a low price. I'm just asking if there is any non prestige guitars with those distinctions.
Last edited by shmeegle at Sep 29, 2011,
I'm not ruling it out as a possibility, but my dads not an idiot with guitars, he could tell a locking system from a non. But he could be mistaken. Still I'd be happy with that xD
Sorry! Check the Edit, I accidentally read over the locking trem part!
Ooo maybe, I'm thinking it was older. As the guitar was traded for a Richie Sambora sig
like this one. Which I presume is an older guitar, and the guy who traded it said he had it for a bit. :Shrug: Still a nice looking guitar non the less ,Thanks you.

Join date: Jun 2008
136

IQ
Ibanez S420 maybe? Look it up, its the guitar I have and it matches your description perfectly.
Ibanez S420 maybe? Look it up, its the guitar I have and it matches your description perfectly.
That seems really close Thanks

though he said nothing about the slight burst, and he's pretty descriptive with finishes.

Join date: Feb 2008
180

IQ
i have that first guitar you posted in black/gray. OP, if that is the guitar hes selling, ****ing get it dude, it was my first (electric) guitar and will seriously never love any guitar as much as this one

I really won't care, another guitar is another guitar

just I'm curious what kind of project I'm getting myself into. Though I am hoping for something with a Locking system and passives.

Join date: Nov 2009
660

IQ
My RG320QS almost matches your description perfectly. That said, my RG has a quilted maple top, not a flamed maple. But, I believe they made an extremely similar model with flamed maple.
If it harks back to the days of Sambora having a signature Fender then that puts it early to mid 90s. Whatever model it is is probably long out of production. you need to look through old back catalogs, forget the current models.

Join date: Jun 2009
110

IQ
So go play it and find out. Getting a guitar completely blind is pretty dumb.
You could get really lucky and blag a J custom!
Ibanez s470dxqm ?
Ibanez S540FM?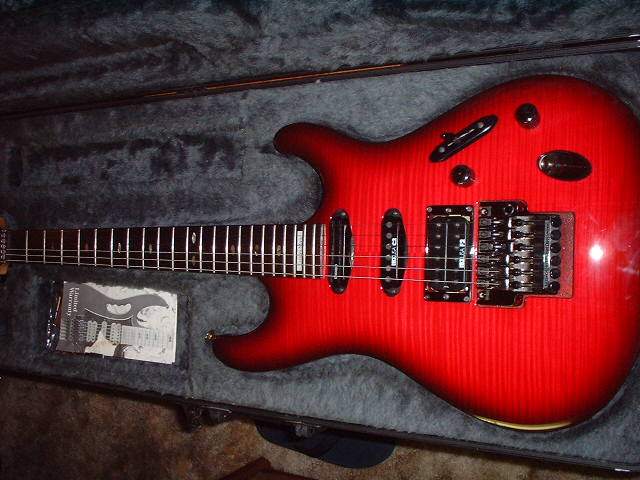 Pretty sure this one has a black headstock.
So go play it and find out. Getting a guitar completely blind is pretty dumb.
I'm going to play it, Its going to be a gift, regardless. but I was told that amount of information, and I'm going mad trying to figure out what it is. I'll play it soon, even so It will be cheap maybe 150 at most. o It would make a fun project guitar.
@DarthV- That's pretty close to what I'm thinking.
@grohl1987- thats why I'm asking here, Ibanez has the tendency of releasing a guitar in one color, for one year. and they've done this at least 50 times.

Join date: Jan 2011
50

IQ
someone could have swapped the neck out
someone could have swapped the neck out
yeah, I figured that as well, I mean if its not a prestige I'll probably do that. I already plan to put bareknuckles in it. I prefer the prestige necks. if they're not too expensive. 150-300 on ebay I will probably do that.