UROTM: consecutive e's stuff. (There's some new stuff days in here too.)
Well, I've bought lots of stuff this year. I've only got a couple of the same things that were in the UROTM last year.
Anyway, on to the STUFF! I'll put the stuff I've shown the forum first, then get into the new stuff.
First up is my main bass. A Fender JB75-US from Japan.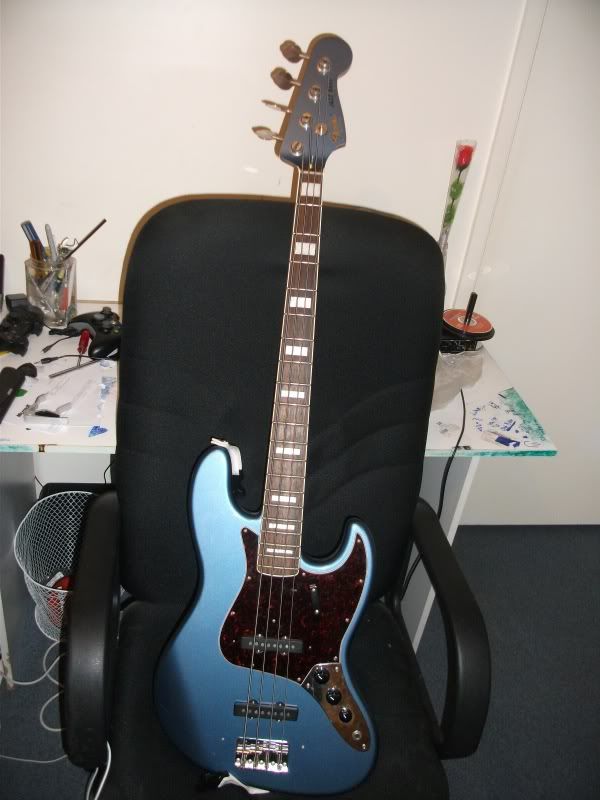 I love this thing, it's seen a lot of hard use and it still looks brand new. I dropped some Fender SCN pickups into it because the 75RI pups were a bit low output for me.
Next is my MIM Fender Fretless Jazz.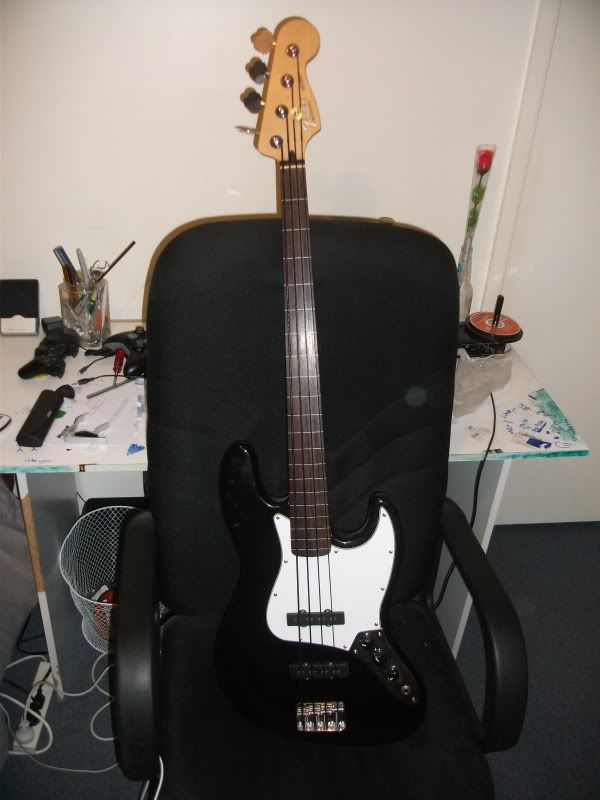 I'm actually trying to sell this one at the moment, it's a great bass but it doesn't really see any use. It's strung with Fender Nylon Tapewounds which make the bass sound exactly as I wanted in my head.
This one's my 1998 Warwick Corvette Bubinga Std.
Awesome bass. This thing's my "funk machine" it's so crisp and clear and just sounds like sex. It's strung with R.Cocco Stainless Steel strings, which feel and sound like they were made for this bass.
Squier VM Jazz Bass.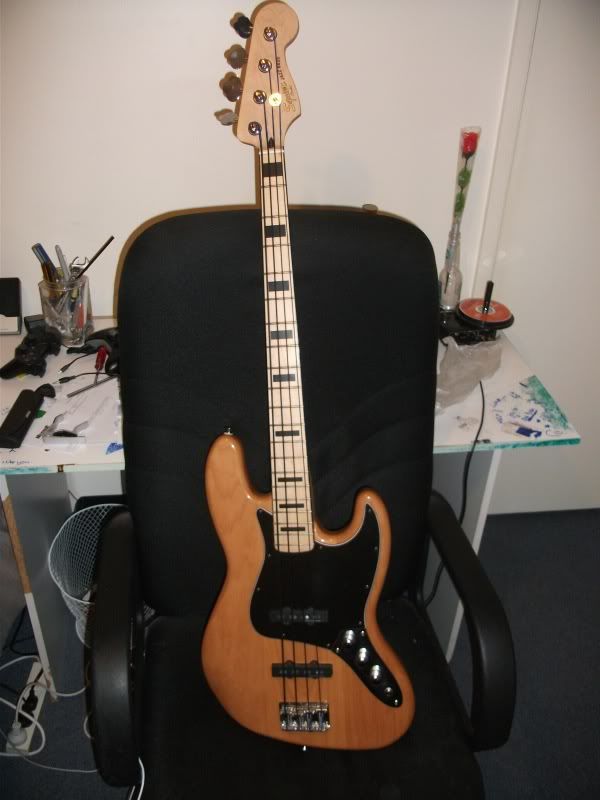 I traded my GK MB200 head for this. Totally worth it imo. I've got D'Addario Tapewounds on it, which would have to be the only decent string they make. I get a good thumpy tone that's awesome for acoustic jams and stuff like that.
Last old thing: My Mesa Big Block 750 and my Ampeg 610HLF rig. You can see my old GK MB200 along with my Ampeg Micro-VR, Fender Rack Tuner and an Alesis Quadraverb GT too. Oh, and my pedal board.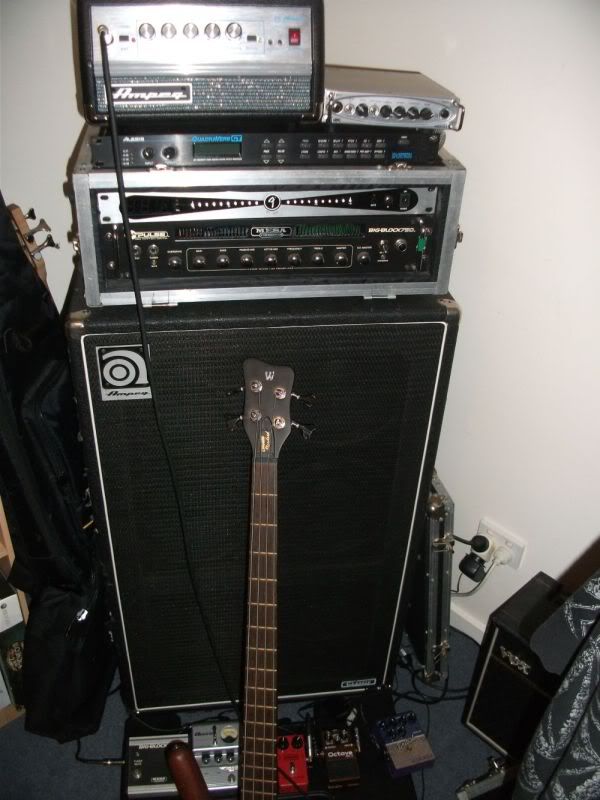 Love the Mesa/Ampeg combination, any tone you want from gritty and crunch to clear as day hi-fi-ish type tone.
I'm selling the Ampeg Micro-VR, it's a cool amp, but I got something better now.
OK. New stuff!
I picked this up for dirt, dirt, dirt cheap. It's a great bass, seen a hard life though.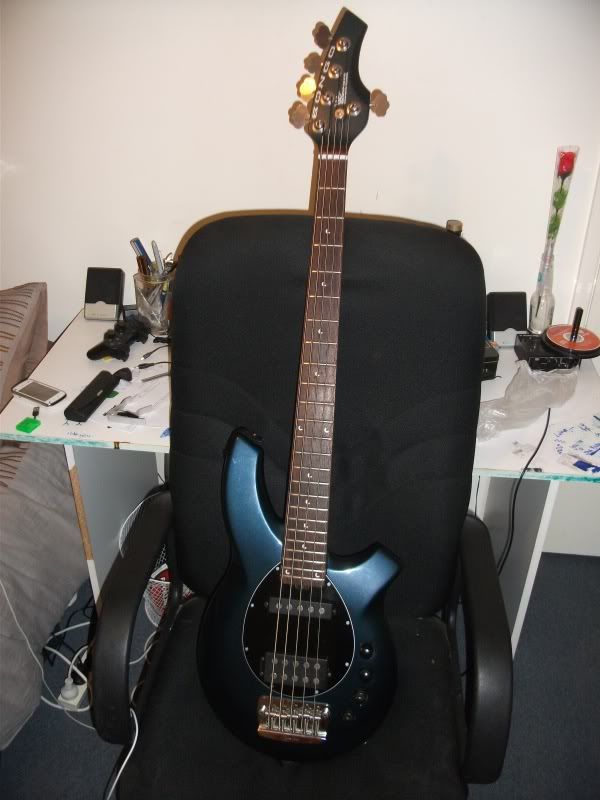 A EBMM Bongo 5 HS. Lots of different tones in this thing, I still haven't quite wrapped my head around it. 2 band EQs are more my thing if I have to go active so 4 band is intense at the moment. Sounds pretty awesome wherever you set the dials as long as you don't go to extremities.
Last one. I hung around Melbourne for an extra 2 hours today waiting for this thing to arrive at Bass Centre for me. Totally worth the wait.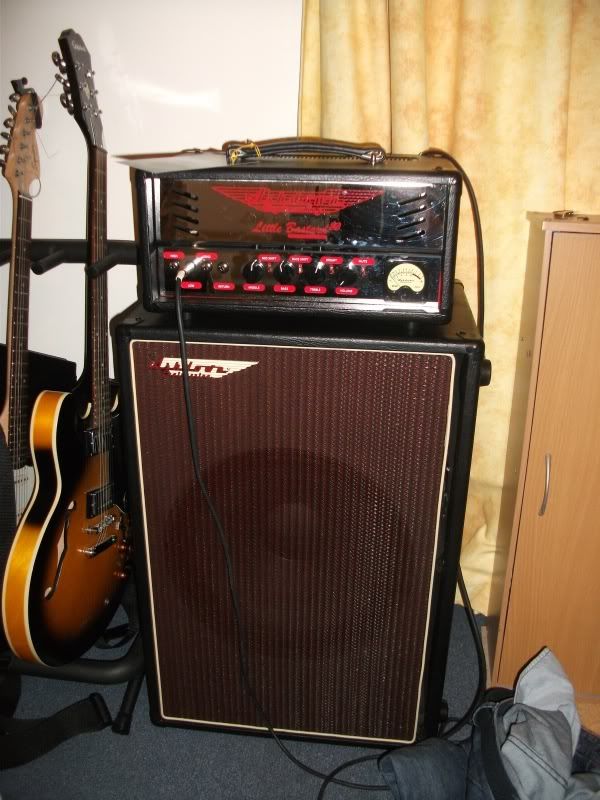 Ashdown Little Bastard and the VS115 cab! I've only had half an hour to play with this awesome little rig so far because it's a bit late. Totally awesome awesome awesome. Makes my blue Jazz sound even more amazing. Going to crank it tomorrow to bask in some power tube distortion glory.
That's most of it, all the good stuff anyway.
Here's a family shot.

Thanks to everyone who took the time to read, or even just look at the pictures lol.
Last edited by consecutive e at Sep 30, 2011,