Help Me Identify Mystery P-Bass?
So long story short, when I was graduating from High School a few months ago the band was doing inventory. School policy is to catalog everything using a serial code, and if the school doesn't have the serial code on record or can't find one on the instrument, the school can't keep it. I was the section leader of the Tuba section which put me in charge of all Bass instruments being cataloged. That's what led me to acquiring this P-Bass.
Seeing as there was no serial number, or record of the school even having it, the bass was up for grabs. The school had two others that were documented, so they were just going to trash it. I saved it from this fate. I find this guitar really peculiar for many reasons though and I was wondering if anyone could help me find out more about it.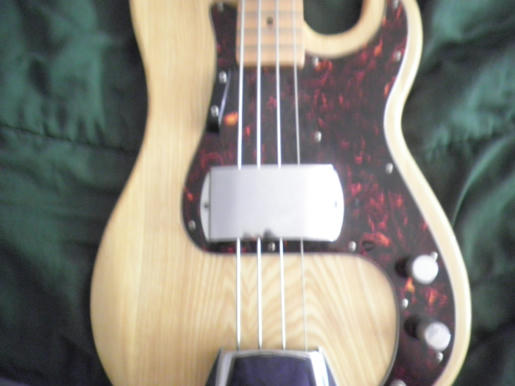 As you can see, it is a P-Bass, with a thumb guard(?) and pick up cover, along with a bridge cover. I think the wood finish with the tortoiseshell pick guard looks pretty cool too.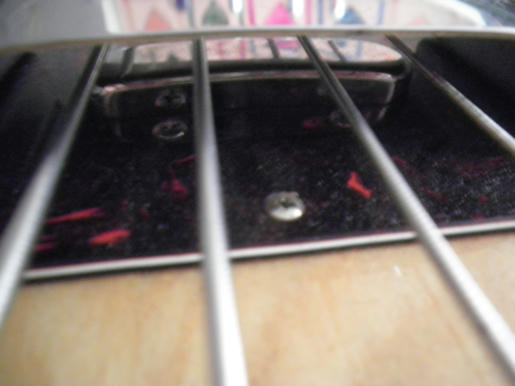 Looking under the pickup cover does not reveal a P-Bass pickup. Instead it looks to be more similar to that pick up of a telecaster. Forgive me of my bass ignorance because I have only played bass in a pop-punk band as an occasional fill in, and after searching google, I couldn't find another pick up like this!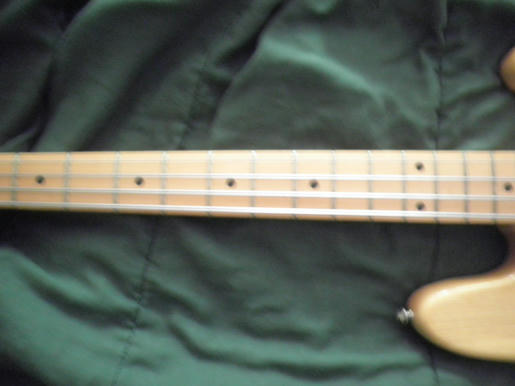 The neck seems pretty normal, nothing unusual about it to me at least.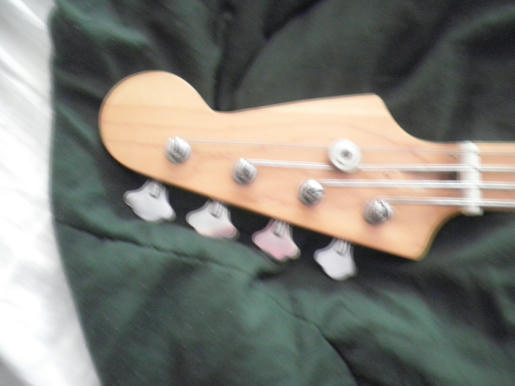 Headstock is blank, but it appears to be a standard fender style.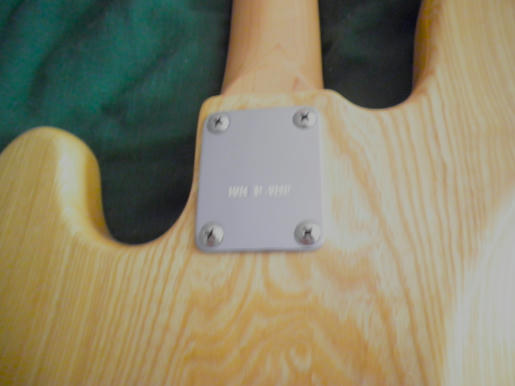 This however is my only clue to it's origin. I'm not sure if you can read it but the neck plate says made in Japan.
As for it's playability, I think it sounds pretty good. I'm not a bass player but I think I know good tone when I hear it. I'm at a loss of what make it is however and I was wondering if anyone else on this forum could help me out?

Join date: May 2010
150

IQ
Most likely a Japanese Fender copy of some kind.
You can take off the neck and see if there are any other markings on it.
I have no clue, but that looks sweet!
I'm thinking about bringing it to a local music store tomorrow to see if they could help me identify it anymore

Join date: Dec 2008
20

IQ
If you take the strings off and un-screw the neck there is often a serial number and stuff where the neck joins with the body, if this info is found you can usually check up online.
Hmm seems like it's going to have to come to that. I really wish I wouldn't though, Bass Strings aren't cheap!

Join date: Oct 2009
51

IQ
Hmm seems like it's going to have to come to that. I really wish I wouldn't though, Bass Strings aren't cheap!
Couldn't you just put the same strings on?

If they're properly winded to the tuning pegs, it should be no problem.
Either that or find some cheap-o strings, some unknown brands make those.


Join date: Oct 2009
170

IQ
If it turns out to be a parts bass (a definite possibility), then you won't find a serial number on the neck or in the neck pocket of the body. There probably wouldn't be any identifying marks on it, save for on the pots. Frankly, I'd just say forget the serial number. It looks like you got a fine bass for free! Just enjoy it and play the hell out of it!