NGD: Schecter Blackjack ATX C-1 FR [Large pics and long read]
Well after playing Gibson Flying V's for about 3 years, I finally decided to switch over to a different kind of guitar. So I sold all my Flying V's except for my Epiphone 7 String and switched to Schecter guitars. The main reasons for me doing this was that Gibson's guitars all max out at 22 frets and getting them with a Floyd Rose bridge costs a fortune. I do eventually plan on buying Gibsons in the future but once I can find a really fantastic flying V with all the features I want. Anyways, on to the pictures and the review! I apologize ahead of time for my crappy phone camera.
Okay so first let me talk about the aesthetics. This guitar has a beautiful satin finish which combines perfectly with the binding and hardware. It is truly a masterpiece of a guitar and I have yet to find a single flaw in the wood. The fretboard is Ebony and has a single lightning bolt inlay on the 12th fret. I personally would have preferred more than just one inlay but eh.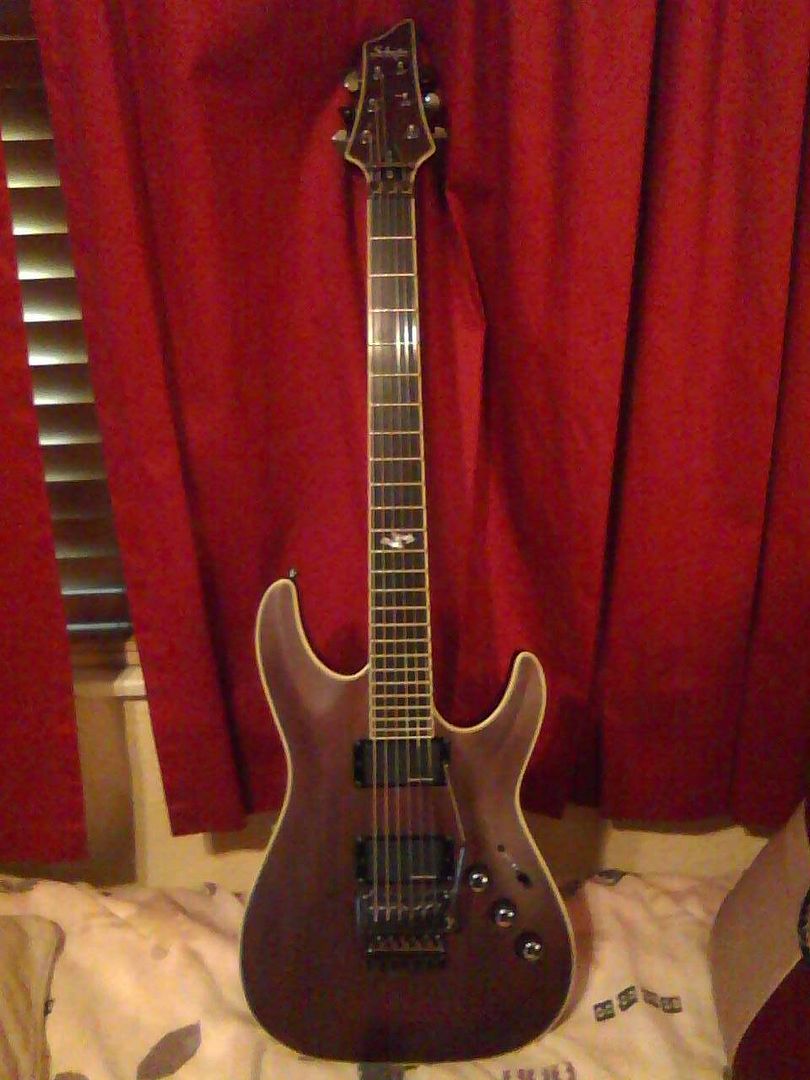 Now on to the features. This guitar is equipped with Seymour Duncan Blackouts. I have always preferred passive pickups over active but I think I'll be keeping these. I admit when I first played it, I was a bit disappointed with the tone I was getting. I was using a Peavey 6505 with a Marshall 1960a Cab but it sounded extremely weak. After tinkering with the action and pickup height and still getting the same results, I came to the conclusion that it was either the pickups or the strings so I went to Guitar Center and got some Dunlop Heavy Core strings, restrung the guitar and finally was able to get the tone I wanted! It's beastly. Turns out previous strings were a bit worn and they were 9's so I couldn't get the chunk I wanted.
The only other problem I've had with this guitar is with the amazing but complicated Floyd Rose system. I really do love it but when it comes to restringing and tuning, my God does it make you wanna punch a kitten. Of course, this is a given. Any guitar with a Floyd Rose tremolo requires extra work so I hardly would count this against Schecter or the guitar. As for the rest of the features, you get shiny new Grover tuners which are my personal favorite, a Floyd Rose locking nut, and 24 frets of beautiful Ebony wood.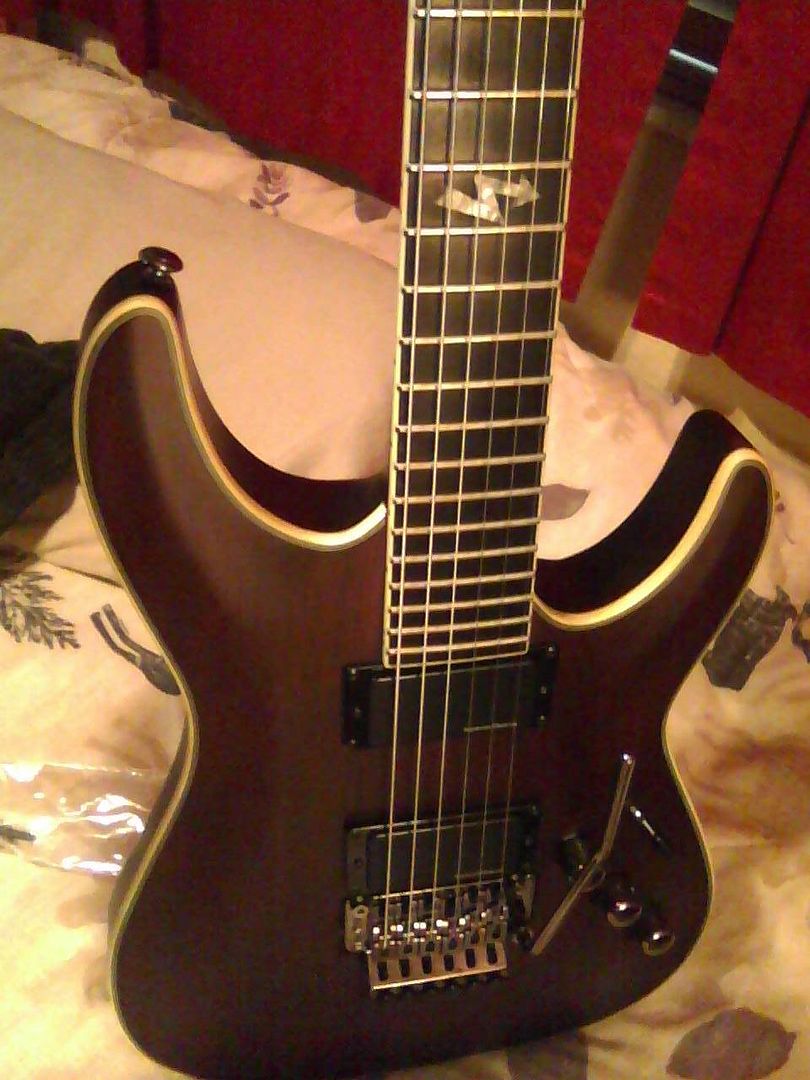 How does this thing sound? Well, it's definitely a metal guitar. The distortion is blistering however I wouldn't recommend drop tuning it with 9's or standard 10's unless you don't want a metal tone. If so, then by all means do so. On Clean settings, it sounds pretty good. I mean, it's no Custom Shop Fender Strat but it gets the job done. This guitar is really more designed for Metal, Metalcore, Rock, etc.
So in conclusion... Schecter has done a great job with the Blackjack ATX series! I really, really hope this becomes a permanent line of guitars for them because I know I'm clumsy and I'll end up wearing this baby out over the years so I'd like to get another shiny new one once this one has passed its glory days. If you're looking for a sexy and classy metal guitar that will give you some pretty good variety in music yet still push out a flaming inferno of distortion, then I suggest the Blackjack ATX by Schecter! Made me change my mind about buying an Ibanez RG ;D
PS: I'm also hunting for a Schecter Terry Corso 006 guitar! Schecter has got me hooked on its guitars and I really dig the finish on the Terry Corso 006 so if anyone's got one, please.... for the love of Kirk Hammet towards Wah pedals, message me and see if we can negotiate a deal! Thanks
-Rain

Join date: Jun 2009
110

IQ
Pretty cool, I like it. Simple and not covered in abalone.
Happy NGD


Join date: Feb 2009
30

IQ
Pretty cool, I like it. Simple and not covered in abalone.

Happy NGD
You never saw the back...

You never saw the back...
Ahahahaha xD
Don't worry mate, the back is about as simple as the front. Forgot to mention... neck thru! Sustain machine

Thanks for the HNGD wishes though guys. I'll be getting a Schecter Camo FR on Friday too so another NGD will be up soon.