7 string decision
Heya fellahs! (ladies???)
Ok im stuck with a complex decision that I feel should come down to a vote.
I'm torn between the idea of buying a ESP NT 7 and getting a custom made 7 string by a luthier here in sydney named Charles Cilia.
The charles cilia guitar's are absolutely beautiful but here's how I see it.
I can get the ESP NT7 in 2 weeks from now and I'm looking to change the pickups to Lundgren M7's. I regularly play horizon shaped models and I love the feel and sound (Even with emg's) and the guitar pretty much sit's perfect for me staight out of the box (I work in a music store, I got first dibs on the guitar and its sitting out the back until I make my decision still in the box)
With my staff discount at the store I work in which is fairly decent, the custom guitar is still twice the price of the ESP.
Alternatively, in regards to the custom I would love to own a PRS style body 7 string carcoal burst, string through, ebony fretboard, lundgren M7's, etc. but im stuck with the idea that im not 100% sure what I want for every spec of the guitar. Will I make a decision just to kinda fill up the remaining specs and later on down the track think maybe I should have got something else? I have no doubt that what I will choose will be a beautiful, unique gutar.
But is the uncertainty + the extra cost worth it over a guitar that I would still be happy with?
For those not familiar with cilia's work, heres a LP he built with the finish im after, imagine a string through PRS 7 string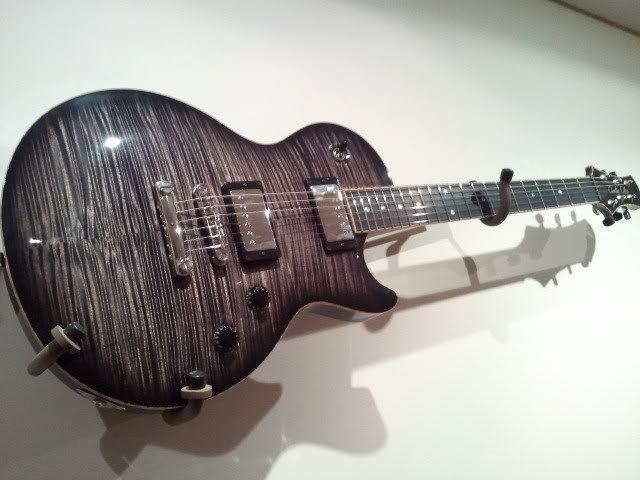 Oh and the other thing I forgot to mention, Cilia guitars have between 7 and 12 month waiting list from the time the order is placed until completition I can stand to wait that amount of time.... but as I said I can have the ESP 2 weeks from now... but again I love the idea of having a guitar noone else has, that has been built for myself
get the custom, the m7s will look silly in the over sized EMG cavities and that les paul style one above looks gorgeous, fantastic flame maple top
its worth the wait. while expensive, the quality is amazing. definitely get the custom
if you arent sure about exact specs look at what the Horizon uses and mix it with the specs of say a prs modern eagle or custom 24; have you seen the custom 7 string prs that Dave Weiner (steve vai band) now plays..... jaw droppingly amazing - copy that!
Look into Oni guitars, he's also based in Australia and does ace work.

Join date: Dec 2008
80

IQ
or Adrian at ASH customworks in New Zealand is a master of the trade.
Well im thinking so far:
7 string
PRS style double cut
Charcoal burst finish
Flame maple top
Mahogany body
Neck through, maple neck?
Ebony fretboard
PRS style headstock (altough I prefer the esp headstock 7 in a row in reverse headstock I think it would look dumb with that body)
Lundgren M7 pickups,
String through
Bone nut
Gold hardware???
Sperzal locking tuners???
I guess I'd like some form of a bridge on it??
And some sort of custom inlay set up
Suggestions or anything im forgetting?

Shinfo - I'm quite happy that the idea of this guitar isn't built for any purpose Ie. im not in some metal band looking to look brutal. I'm actually a bass player that spends alot of time playing guitar so the guitar probably won't leave the house/bedroom.
Also from what I am aware, You can buy covered lundgren m7 pickups direct from them.
Wouldn't they just be the same/very similar size specs to an EMG 707?

Join date: Dec 2008
80

IQ
Also from what I am aware, You can buy covered lundgren m7 pickups direct from them.
Wouldn't they just be the same/very similar size specs to an EMG 707?
EMG's 707 and 808 pickups use oversized housings and require oversized pickup routings. I have yet to come across a passive pickup that is the same size and I doubt Lundgren's are oversized as well.
ahh that sucks, well alternatively how about EMG707x or 707TW Or even so how would 7 string Seymour duncan blackouts go with fitting in?? I dont really have an issue with 707's but... there's just some dullness about them to my ears.

As I said, as much as I love the custom idea I think id be just as happy with an NT7 because I do like the specs on them alot, it is just the pickups turning me off it for the main part.
Last edited by tofuhead at Oct 11, 2011,
The only thing I would change is a the sperzels to gotoh 510's because Sperzels look kind of big and are heavy.
Absolutely go for the custom, if the guy's cool (which I don't know why he wouldn't be, as he's taking your money) you can decide whatever you're unsure about at any point during the construction up to when it actually goes on. For the bridge, you need some kind of TOM as it's a string-through. I'd recommend TonePros, they're pretty much the industry standard. If you don't mind splurging a little, have him put in some Graph Tech saddles, they're amazing. You also need to figure out what kind of controls you want - do you want just a regular volume/tone setup, or do you want some more options? You can do whatever you want - coil splits, phase reversal, series/parallel wiring... do some research and see what sounds interesting. That's really all you need to decide at this point though...