Mixing speakers...
So, I have an ampeg 4x12 cab with some kind of eminence speakers. Wellll one blew out on me, so I called ampeg and found out that the speakers are 16ohms inside the cab. The cab is rated for 200 watts but the tech on the phone said the speakers were rated for 30 watts each? Anyways, I threw in two 16ohm vintage 30s in there since they were 16ohms but they are rated at 60watts if I'm not mistaken. I did it in an X shape kinda like so:
V30 Eminence
Eminence V30
If the eminence are rated lower, will that cause problems? It sounds fine, but I just want to make sure everything is on the Up and Up.
The maximum power is still 4x the lowest powered speaker. So it's still only 120W all up.
So other than that, it's fine? It doesn't sound bad and I didn't know if going for 2 vintages and 2 eminence was better than 3 eminence and 1 vintage.
If they are all the same impedance it's hard to go wrong. You did pay attention to the phase of the speakers didn't you?
What mix you use is all about taste. You could run four totally different speakers if you wanted to. Just keep the impedances the same and each will get 1/4 of the signal.
Last edited by Cathbard at Oct 14, 2011,
I made sure I wired them up the same way as the old ones. Is it better to have them side by side or in an X pattern? And if they ARE out of phase, would that mean sound in the center "disappears" so to speak?
X is generally preferred.
Out of phase speakers lose their guts, yes, but they also sound a bit weird.

How have you wired it? Parallel or series/parallel?
Last edited by Cathbard at Oct 14, 2011,
Then this is how it should be with the polarity of the phases shown.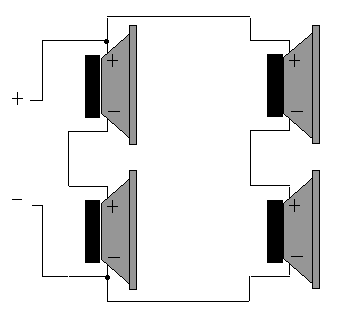 Last edited by Cathbard at Oct 14, 2011,

Join date: Jul 2005
1,128

IQ
How did you manage to blew an Ampeg speaker cabinet?

Not even sure to be honest. Just one speaker was sounding blown so I just decided to throw some v30s I had laying around inside of it. I'm not the BIGGEST V30 fan due to some harshness but they blend well with whatever Eminence speakers are in this thing.