McGalligog - Irish Melodic Death
Greetings all! My band McGalligog are set to release our new album "Powered by Death" on December 3rd. Prior to that we have uploaded our full album to Bandcamp and Soundcloud for streaming. Keep in touch via facebook for updates! Links are below.


Last edited by deganoth at Oct 18, 2011,

Join date: Apr 2010
40

IQ
Are ye actually from Ireland? If so whereabouts?
Cheers. We're a Dublin based band (Clondalkin, Stillorgan) but we play in various parts of the country. Looking to head overseas in the new year.

Join date: Jun 2010
80

IQ
First of all, your name is possibly the most Irish word ever spoken. Second, awesome music.
Digging that folky sound.
Very unique blend of sounds! Gave you like on FB too.
Would you mind repaying the favour and giving us a listen and a like on Facebook here:
http://www.facebook.com/HoiPolloi.Band
Cheers. We appreciate it.
Cheers, Glad you're enjoying it. Liked!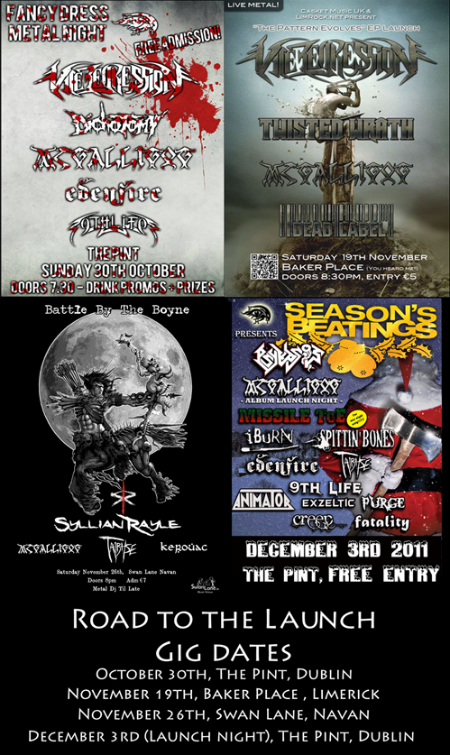 Pre Launch Tour arranged for 3 dates prior to December 3rd. They include
October 30th, The Pint Dublin
November 19th, Baker Place Limerick
November 26th, Swan Lane Navan
December 3rd (Album Launch date), The Pint Dublin
If ye'r local, get to these. Even if you're not, come along!

Join date: Jun 2008
662

IQ
Haha sweet songs dude! Not what I'd call death metal but I'm really digging the vocals. Overall, reminding me of Finntroll

.
Glad you're enjoying it. Indeed Fintroll were an influence at the beginning.