Bass Through A Guitar Head?
Okay! So here is my problem/ Question
I have this gig tomorrow night and I ordered an
Orange Terror Bass
last week (since my SVT classic went on the fritz two months ago). Well it arrived but this was no Orange Terror bass amp. The man/woman who sent me the amp sent me an Orange Tiny Terror Guitar amp instead of the 500 watt Bass Terror. I got it on eBay and the listing was definitely showing that it was the bass version of the amp for sale.... Nonetheless I am here with a dilemma.
I ask all the far more experienced bass players for guidance and advice. I know this is a pretty noob question to ask but I have never came across this before
Can you use a bass on a guitar amp head with a bass cabinet?
I heard that using the bass on a guitar head will
melt/fry
the head
I heard that
only guitar cabinets
are affected by the low ends of the bass if pushed too hard
Also I play a Musicman Stingray 4HH
active bass will this affect anything?
These are only things that I've heard :/ I can't say that it is true or not
I have two amp cabinets.
One is a regular 410H Ampeg SVT CL Cab with 8ohms handling up to 500 watts
Another is an Ampeg 410 115 cab that can be either 4ohms or 8ohms (same size as an 810)
The Orange Tiny Terror
has 8ohms and a 16ohms speaker outputs
Thank you!
BTW: I plan on sending the head back but since it's Veterans Day I can forget about sending it back tomorrow.

Join date: Apr 2011
10

IQ
You should be OK, it's not the best thing to do, but you gotta do what you gotta do. I've had to do the same thing. I only had a guitar amp for the longest time until i could get a bass one, and it worked out alright. I hope it all works out.
I hope it works out okay too. I only plan to do it for an hour set. I just want to be sure. I know as long as the impedance is right I should be okay... but then again I have never done this before

Join date: Oct 2010
10

IQ
Well, Ive heard its never a good idea, and it can blow the speaker. So... But thats with bass through an amp, not head.
It will be fine. But the 15 watts of the Tiny Terror would make it pretty useless. Just buy/borrow/steal a DI from somewhere and go straight into the PA and use a foldback as a monitor.

EDIT: if you're going to use it connect it to the 410 cabinet, you'll move more air (not that it really matters in your situation), don't use both the 410 and 115 together. And for the love of christ do not turn that head on until you've got it connected to cab or it will blow.
Last edited by consecutive e at Nov 11, 2011,

Join date: Oct 2009
170

IQ
As others have said, as long as you don't use a guitar speaker cabinet, you'll be fine. At fifteen watts you probably won't be heard, but you'll be fine.

I second the recommendation of a D.I. box until you get a proper amplifier.
Why don't you report the seller, send it back and get a refund? That's bad business on their part. You were guaranteed a bass head, you don't have to just accept the fact they sent you a guitar head.
Yeah I kind of figured with only 15 watts ;|. All of this is very useful of course I think that I will end up borrowing a bass amp for the show I was just curious about it as an act of desperation.

I did in fact report it but since its a holiday I cannot ship it out until Monday so I am stuck with it for a short while. I was very disappointed to say at the least :|. But either there was some sort of a mixup or he didn't know what he was selling. But bottom line I'm still without a bass amp ... sigh

Join date: Dec 2005
15

IQ
My first "proper" amp for Bass was a Guitar Amp, a Laney Klipp. They were far more popular among Bass players than Guitarists.

Join date: Nov 2009
246

IQ
Not a good idea dude. The heads not the problem, It's the cabinet. If you've got a compressor handy run that infront, and crank it. It's the attack of a bass that pops guitar speakers usually!

Join date: Jun 2008
150

IQ
Just dont turn the amp up too much and you should be fine. A bass can completely wreck a guitar amp if you are not careful.
Just dont turn the amp up too much and you should be fine. A bass can completely wreck a guitar amp if you are not careful.
Guitar speakers yes, guitar amps no. Learn to read at least. He can turn it up as much as he wants.

Join date: Jun 2008
150

IQ
Guitar speakers yes, guitar amps no. Learn to read at least. He can turn it up as much as he wants.
Chill. No need to be a douche.
He wasn't being a douche... Questions like this get asked at least once daily, and has been answered to completion here in this thread. He's just mad because for every right answer there is 5 people answering with guesses, they didn't read it, or just don't know. Misinformation, especially with often expensive musical equipment it dangerous or even deadly to the equipment or even the user.
Last edited by askrere at Nov 12, 2011,

Who said I was mad? The question has been answered. Darkdevil you obviously just came in, didn't read the thread and spat out a generic answer. No one gets any help this way and your answer wasn't even correct.
Who said I was mad?
Well maybe not mad

but I was kind of annoyed and I used you as a vehicle to vent my frustrations.

Join date: Jan 2011
290

IQ
It may not be the best tonal option, but I've resorted to running my bass with a long cord into one of the mixer's PA channels without a DI box. It's not the best tone, but it gets the job done. I'd look for a DI though. Seriously, running through a PA it's all bass and mids with no highs. Sounds that way anyway.
Lemmy used to play through guitar heads. 'nuff said.

However, they weren't 15W.

Join date: Oct 2009
170

IQ
John Enwistle made a career of doing that - he even had his own custom-fronted Hiwatt: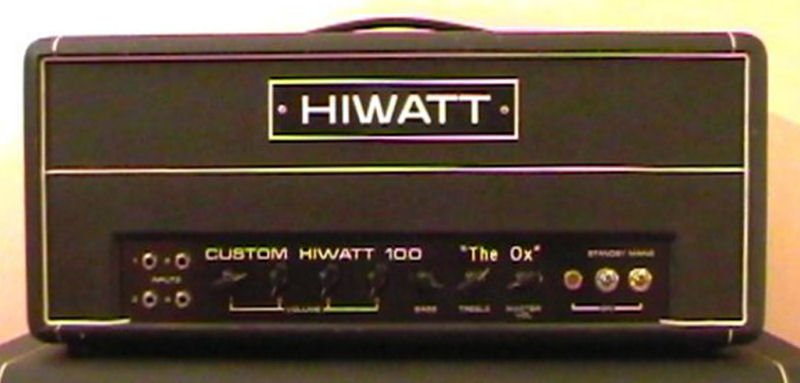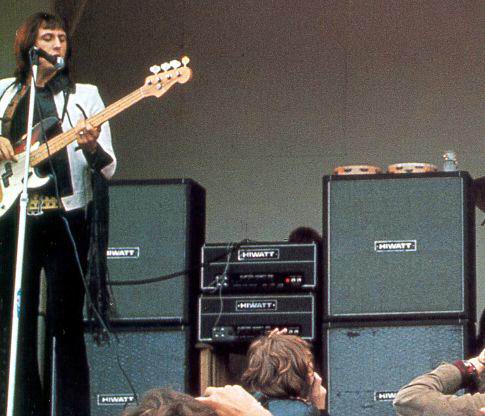 Chris Squire still runs one of the outputs of his Rickenbacker 4001 into a 100-watt Marshall guitar head. A lot of people seem to like the sound that guitar heads give you, but you have to avoid guitar speakers - unless you're made of money and want to change them out once a week.