There are ten people lurking without accounts right now
Please join, its like a ghost town here, but if you were here, we could have the most splendid times!

Join date: Oct 2008
30

IQ
good point! wrong thread *reported*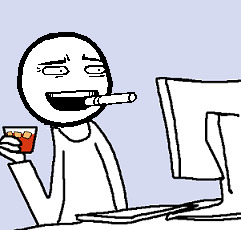 This doesn't go in the pit; it was clearly meant for A&I.

Join date: Nov 2005
264

IQ
good point! wrong thread *reported*
It was meant for here;
If you look at the bottom of the forum section/thread, you can see how many guests are online.
Thanks a lot guys. Now we all look spiteful and cruel. This is why we don't get nice things.

Join date: Feb 2009
560

IQ
This is exactly why I only ever lurk without signing in now.

Join date: Jul 2011
40

IQ
i'm a master lurker. i used to do it professionally! anyway, this is my first visit to a&i and the first read thread. hmm... now i feel like a peeping tom.

Join date: Oct 2010
81

IQ