N(cheap but good)GD :D
What's up fellas? as i see that on these forums every proud new owner of a guitar always make a NGD thread (and after checking like-a-thousand myself) it's my time to make one finally!

Wanted to show you my new guitar (as the title says Cheap but good): my new ESP LTD MH-100QM
Specs
(totally stock):
MII (Made in Indonesia, '11 model)
Basswood Body
25 1/2 Scale
Maple neck - Rosewood Fretboard
24 extra-jumbo frets (they are Huge...)
2 ESP LH-150 humbuckers (stock ones)
Floyd Rose Special (no, it's not licensed

)
Review
:
Well Have to say that it impressed me by how well this guitar plays!, neck is smooth and fast, awesome fret access, people say that the frets get in the way when doing slides 'cause of the huge frets, have to say that they don't do that much actually, it's just as fast as a normal neck.
The p'ups just scream!, atleast in this one the tone coming from them is pretty middy (wich i really like) and they're pretty damn Hot! pinch harmonics just fly out of your hands even on the neck p'up.
The Bridge is Really That Good, it's actually as described on the site: steel baseplate and etc, and zinc (or something) saddles and sustain block, after a good setup (my first, at bassicly zero Floyd-experience) it is parallel to the body and stays perfectly in tune even after divebombs, pull ups and vibratos, simply Great!! as it should be

.
Overall: best 300$ guitar i've ever played, Plays really nice, Looks really nice, Sounds really nice..... in fewer words i'm a happy chap!

.
(BTW i wrote this review based on a comparison i did between this guitar and the best Esp/Ltd guitar i've ever played, an LTD M-1000 from one of my friends)
Now onto the pics (sorry for the over brightness, it was caused by the camera's flash, actually the finish of the guitar is darker than showed, and it's more 'vivid' in person):
full body shot: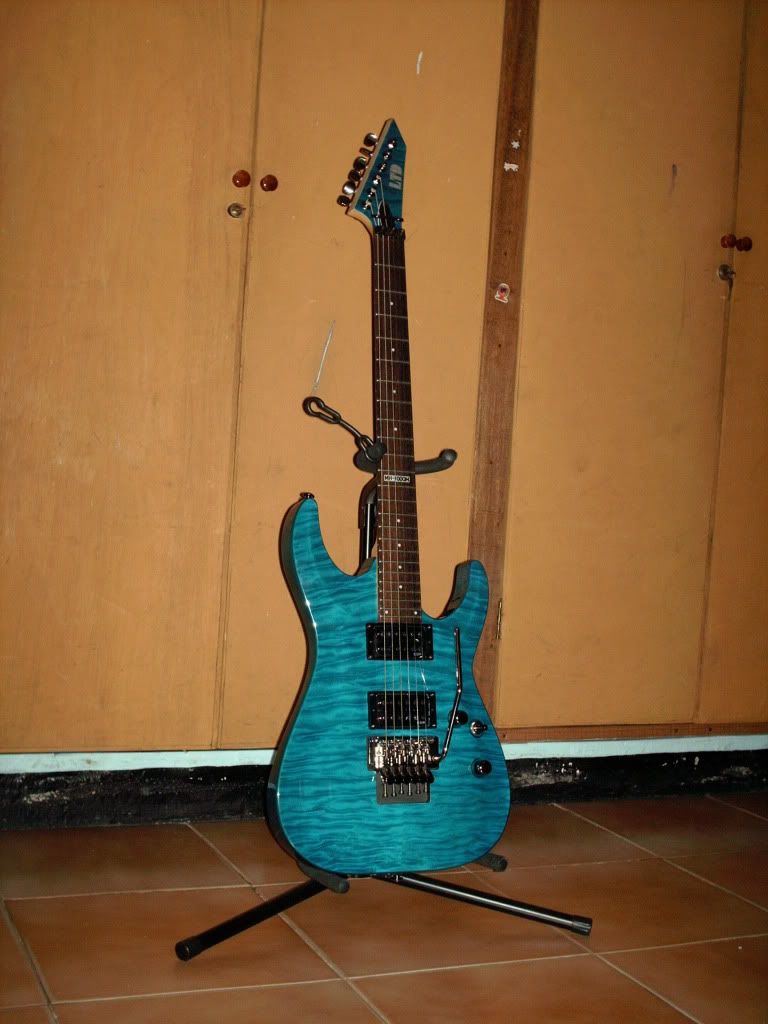 body close-up: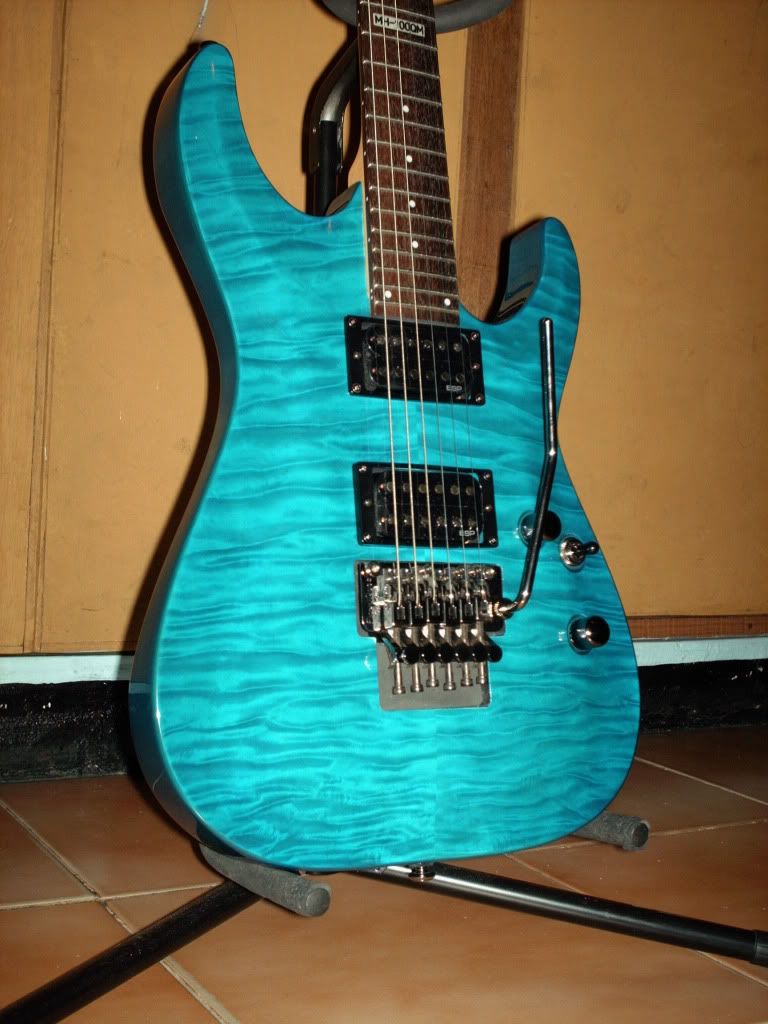 back shot:
headstock:
Thanks for looking at this!, i have very very few happy moments in my life, this is a Big one, so i wanted to share it with you

For the lazy readers: I got a new guitar, and i'm very happy about it, plays, sounds and looks really nice for the price.
Last edited by ADOLF1612 at Nov 16, 2011,

Join date: Oct 2011
30

IQ
Sweet!!!..

Take care of it and it'll last... oh and.. Play the $hit out of it...
hehe Thanks fellas!

, and yes i'll sure will



Join date: Jul 2009
50

IQ
Awesome


Join date: Apr 2010
1,630

IQ
looks very nice. i had an M series LTD quite a few years ago and dont remember it having the slightly carved neck joint. nice to see on a budget guitar. top looks nice too.

HNGD!

Join date: May 2008
80

IQ
Damnnn, that really is a nice finish, fella.
I love the blue! Great find!