How to build a tone control pedal?
How would you go about building a tone control pedal. I want it to act like the tone knob on my guitar but just in a pedal i can click on and off because a lot of my songs i can't switch my tone knob as fast as i need to and its just more of a hassle than a footswitch. So any ideas?
Well, buy a potentiometer and a capacitor. Its super easy to wire, just check out a tone pot schematic. The tougher part would be the casing.

Join date: Feb 2011
10

IQ
wah pedal?
wah =/= tone control
It should be really easy to wire, I could draw you schematic if you want. It'll be more complicated if you want any kind of boost or buffered bypass.
A schematic would be great! I've never made a pedal before so I thought this would be a good start.
Also when I looked up capasitors there were about a million of them haha. Which one should I go for?
http://www.premierguitar.com/Magazine/Issue/2010/Apr/Tone_Capacitors_for_Stratocasters_Part_1.aspx
Decent overview about different brands of capacitors. There's more articles about them (hence "part 1"), just do a search. Orange Drop caps seem to be the most popular and generally a safe bet. 0.022uf or 0.047uf should do.
edit: There might be a better way to do this, but I can't see anything wrong with doing it like this. It could be done with an spdt switch as well, I don't know why I drew it with an spdt.
Last edited by &baconstrips at Nov 25, 2011,
Join date: Jul 2006
261

IQ
i had the same idea, and designed a pedal to just change the EQ of the guitar signal. seems like this was the most over-board way to do what u wanted to do.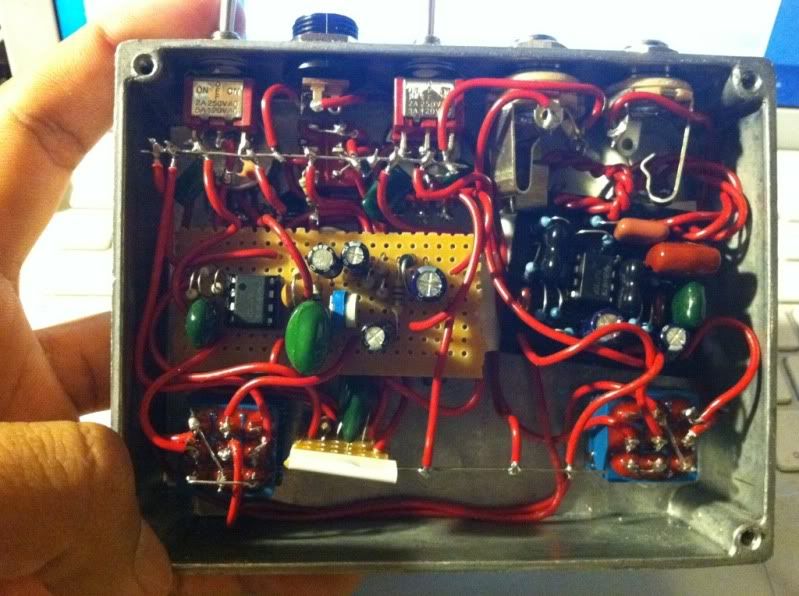 the left part is it. it works quite well, and with volume, tone, treble, bass, middle, mid freq switch, treble freq switch, and a rock/jazz/boost switch. it's pretty much a dumble style EQ with a few adjustments to be in a pedal. i use it to clean up my sound. basically cut the signal considerably, cut mids, then boost bass and treble. even with my amp's EQ set radically different, i can adjust it to accomodate.
I do have an eq pedal but I use it to shape my tone rather than for small parts that I want a fatter sound haha.
Here
Would these capacitors be alright? I would like to get them from this site because I can get everything else from here as well...
They would work, but the effect would be barely noticeable because their capacitance is rather low. 0.0047uf is a bit low, Anything 0.01-0.1uf will work better. The higher the value, the more dramatic the effect.
Ja, that will work. Let me know how it turns out.
Alright sounds good. Ill make a new thread when I get every thing ordered in and when I get started building it.
dano fish n chips? unless you want to make something on your own.
Also I just want 500K pots right? And is 24 awg wire good?