New Build, Semi Hollow Content
Hey guys, I posted a thread here a loooong time ago showing progress on two guitars I was making; one for me, and one for my girlfriend. Well, those are still in the works, with mine MILES behind hers, but they're coming along, and I'll probably update those within a week.
Anyway, that's not the point of THIS thread. This thread is about a guitar my buddy was itching to have, but never could find or afford. So I cut him a deal. I told him; "I need practice building, and you want the guitar you see in your head. I think we know what to do." Not long after, he had ordered all of his parts, and I ordered all of the wood. I'm not charging him a cent for this, because frankly I'm not experienced enough to charge anything at all. This is practice for me, POSSIBLY ( ) beneficial for him.
So onto the specs;
Body: Ash body, semi hollow with a maple backplate (Will explain)
Neck: Mahogany with an ebony fretboard, 22 frets, 24.75 inch scale.
Hardware: GFS Lipstick-buckers, and miscellaneous arch top bridge and white knobs.
Not too much fancy stuff going on here, the guitar will be painted a solid or possibly slightly transparent blue, since he digs the grain of the ash. The reason we went with a mahogany neck instead of something that complimented the coloration of the ash, is that it's getting painted, and he didn't want a guitar that was going to be overly bright, which would've happened if I went maple/ash/ebony all in one. (I think.)
He also wants some onboard effects, hence the massive backplate. We're going to hollow it out from the back, so this'll actually be a FLAT TOP semi hollow, with a recessed archtop bridge. The reason we're doing that, is to make sure there's plenty of room to work with all the electronics that are going into this guitar. The idea is to bolt on the back plate, countersink the screws for a real tight fit, and hope to high hell it works. If anyone has any input or ideas on THAT particular bit, please let me know. For all I know it could fail miserably .
TLDR; Building a weird guitar, here are pics.
The wood (one neck blank is mine)
The basic idea of where shit'll go, along with a body shape
More detailed pics will come when I can borrow a better camera from my girlfriends mom. I should have the body all cut out and such by the end of next week, work + limited access to a woodshop is a bit of a pain.
Sounds good

Oh, and good luck man

Thanks, this one's gonna be a really weird one

It's going to be jointed and cut out like next wednesday, so updates will follow immediately after.
Well I lied. There have been no updates yet because its been ****ing COLD here. Also the body has not yet been put together. I'm a dirty boy.
Anyway have some pictures.
Mahogany neck, ebony board. Headstock not done yet because its an asshole.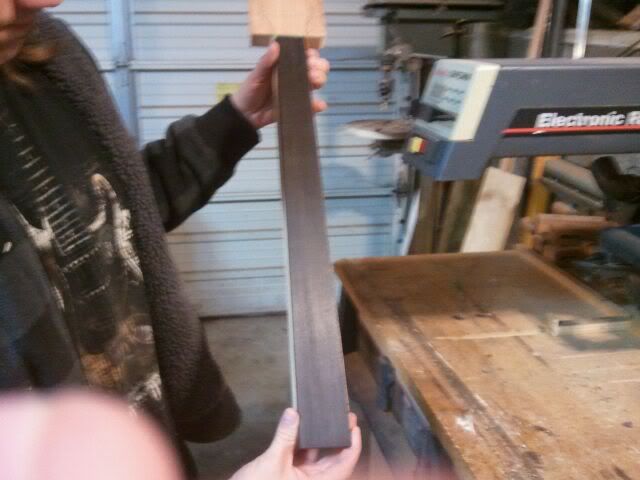 Join date: May 2010
80

IQ
Is the neck already tapered? what about sawing the fretslots first?
Is the neck already tapered? what about sawing the fretslots first?
Yeah, it's not radiused or anything though. I'm going to clamp it down, mark out the fret slots, and slot it.


Join date: May 2010
80

IQ
Ah well, different folks different strokes!
Ah well, different folks different strokes!
Aye, I had thought about slotting it before hand, but then I just decided not to

. It very well may be easier to do it that way, but as I don't have the frets themselves yet, I didn't want to leave an unfretted slotted fretboard lying around.
Moar updates!
So I jointed up the body, but in my retarded state of mind, I forgot that glue comes out of the bottom as well as the top. So I ended up glueing the blank to the table -_-.
I had to chisel it off, and I was displeased with this.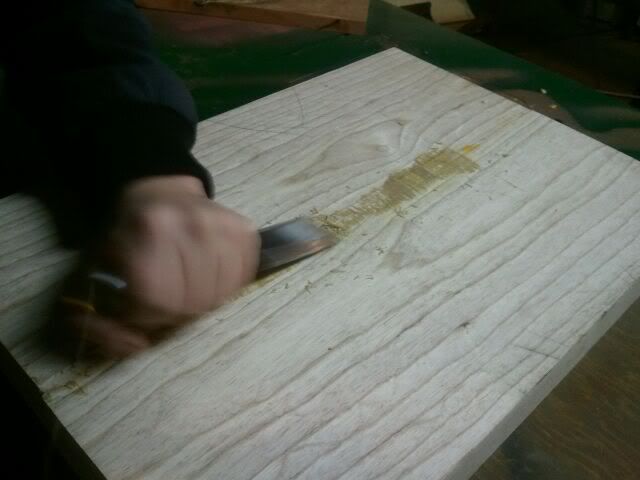 But, the body got cut out not long after. It's very ****ing heavy.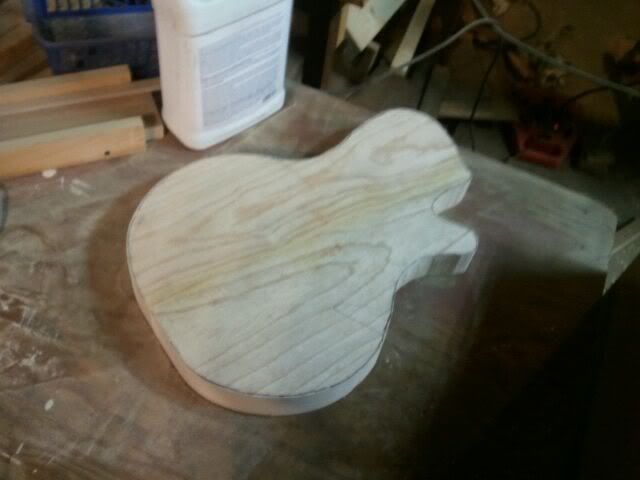 Here's the total mockup shot so far, minus the hardware. Did the headstock and such yesterday, still not TOTALLY pleased with it so you get no closeups
Bitches be jelly of my horizontal room.

EDIT: Or not, pic fixed itself

Last edited by valennic at Feb 2, 2012,

Join date: Apr 2011
80

IQ
no pics..?
I'm stoked to see this cause I love semi hollows

Edit: nvm, internet here is sketchy at best. good luck! looks good!