Finally a NAD!
After 4-5 years of playing on a Peavey Valveking, I've upgraded to this: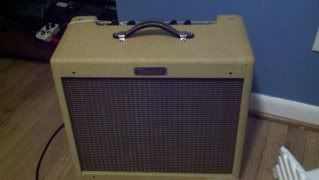 Tweed Fender Blues Jr. NOS
Purty aint she?
I was at guitar center, and I was originally going to buy a regular blues jr. but then a manager came up to me and said he had a NOS in the back also adding that it was 80 dollars more. Played it, fell in love, went to check out. A new employee rang me up and I looked at the receipt after I left the GC and he charged me for the Blues Jr. instead of the NOS version. So I got a free upgrade all fo free.
Still fiddling with the EQ. But so far sounds great. Love the reverb.
And just incase anyone cares, I'm playing a Gibson SG and running a Crybaby, digitech whammy, Fulltone OCD, Big Muff, and a DL4 all in that order.
yay.

Join date: Feb 2011
246

IQ
wow, nice one. Tried this out the other day and now I want one!
Congrats!


Join date: Mar 2008
780

IQ
BJs are great!
Congrats on your new amp and I have not seen you around in a long time. Hope all is well. Are you going to get us some yummy clipz? What did you do with teh VK?