Potentiometer Question
Alright so I want to change the volume pot in my prestige because it's a little noisy and makes unwanted sounds when going from 0 to 10 and thought, hey I might as well change the tone too. So that's what I'm going to do. I'm gonna pick up CTS pots from StewMac but I'm not totally sure what ohm rating I should go with. The guitar in question is an S2170FB with an HSH configuration so I assumed 500K for each to get suitable output from the humbuckers. I'm not considering 250K at all but should I also be considering 1M ohm pots for each as well? I'm looking at strong output from the buckers and a good focus on the mids and highs with a balanced clean tone that is smooth and not harsh on full volume and tone (which it is now) while having a uniform volume and output change while rolling from 0 to 10 on the volume (as opposed to a spike in volume and output as I reach maximum volume). Should I go with 500K pots for volume and tone or 1M?

Thanks for the help guys!

Join date: Dec 2011
20

IQ
500k. Make sure there linear pots for the uniform swells.
Edit: may wanna change pickups too, if you haven't.
Last edited by StateFarmsThere at Dec 8, 2011,
Alright cool thanks and yeah, I'm working on the pickups. Not to hijack my own thread (is that possible haha?) but I'm looking for a better bridge pup with a little more output and midrange attack for metal as well as in general, but mostly for distorted rhythm tones that really cut and can pull off a good djent tone if need be. I was looking at the D-Activator X and the X2N, but I'm leaning towards the D-Activator X because the X2N may be a little much. Playing through a 6505.

Join date: Dec 2011
20

IQ
IF you can stretch your budget a bkp aftermath set would be ideal.
Last edited by Krauser at Dec 8, 2011,

Join date: Apr 2010
1,700

IQ
500k. Make sure there linear pots for the uniform swells.
Edit: may wanna change pickups too, if you haven't.
+1 most guitars i have seen 1meg in are way too bright for my tastes.
change out the cap too while you are at it. do a little research and don't cheap out, but don't spend like $50.
Word I wasn't planning on cheaping out at all and was actually planning being rather generous with the money I put into changing things out on this guitar because it means a lot to me. It's a prestige so I wasn't planning on skimping in quality at all. That said, I'm rather new to potentiometers but I know the general consensus for how they work (higher ohm rating leads to brighter tones with greater high end while lower leads to smoothed highs in comparison). But what do you mean by "the cap"? I'm not the keenest on wiring and such haha I just play the things lol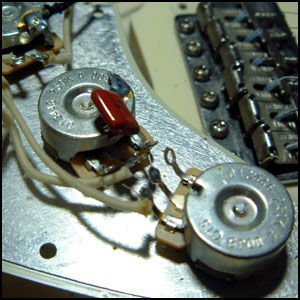 The cap is what gives the tone pot its functionality. It's the red thing on the back of the pot in that picture, although their appearance can vary quite a bit. I'd recommend one of
these
(.022uf Sprague Orange drop cap, if you're too lazy to click the link.) I just ordered two myself to put in my guitars.
Last edited by blaaargh at Dec 8, 2011,
Alright sweet thanks man that's mad helpful. I'm gonna go with two 500K CTS pots and I'll look into that cap for the tone control.