And behold the logo...

Join date: Jun 2008
110

IQ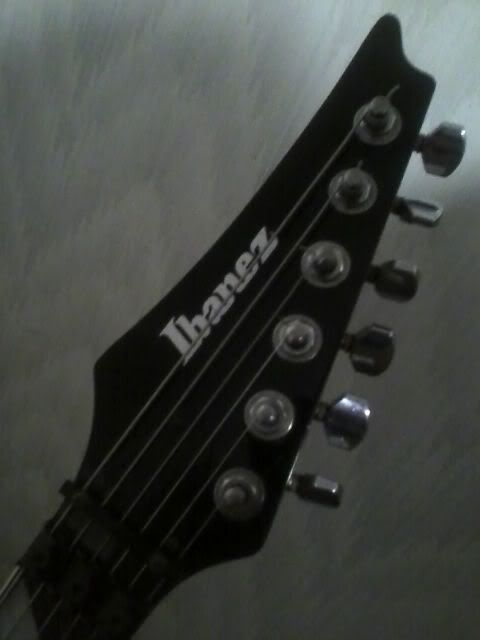 Looks factory doesn't it?

(Sorry it's a bit dark.)
The reason I did this is because it originally had huge ugly EX letters.
Now that the new logo is on, it's vinyl, and is pretty thin, should I risk clear coating it or do you think it will last a good while, since the headstock is rarely messed with or touched?
Clear coat for sure, for small contaminents, IMO, like dust, more than anything else.

Join date: Nov 2011
210

IQ
looks good

i'd leave it, in all honesty. clearcoating is a touchy process, and it's very easily done wrong.

the sticker won't last a long time but it's easier to put a new sticker on than it is to sand off a botched clearcoat job and try to redo it

Join date: Oct 2011
50

IQ

Join date: Jun 2008
110

IQ
Well, it's vinyl so it should last a while.
But I'm paranoid, I did buy a can of Krylon Crystal Clear Acrylic, and thought of using it, but I'm terrified to even try it, because i'm not sure i'd be able to level it out, or if the acrylic would eat the vinyl.

Join date: Nov 2009
640

IQ

Looks factory doesn't it?
No. It's too small. It looks very odd.

Join date: Nov 2011
210

IQ
If you do end up trying it yourself, take your tuners and vinyl off and scuff up the original clearcoat with some light grain sandpaper...say 320 grain or so. just enough to make it a little rough. put the vinyl back on, and do about 3-4 VERY light coats while holding the spray can at least 2 feet away. and i mean very light. you don't even want it to look wet. let it sit for a good amount of time, and wet sand it after your final coat with 1000 grit waterproof sandpaper.

but seriously, take your time. it looks good now, it will look horrible if you mess this up. I've done it and regretted it.
It looks ALOT better than factory
I'm not gonna lie
Join date: Oct 2004
150

IQ
Looks great; sort of reminds me of the logo's used on some of the LACS guitars (minus the 'Prestige' tag).

(Invalid img)