NRD! The Bitch Is Back
The bass forum is a little slow,so I figure I can make a thread out of this.
My newly repaired bass day,turning my old shell of a starter P-Bass into something usable.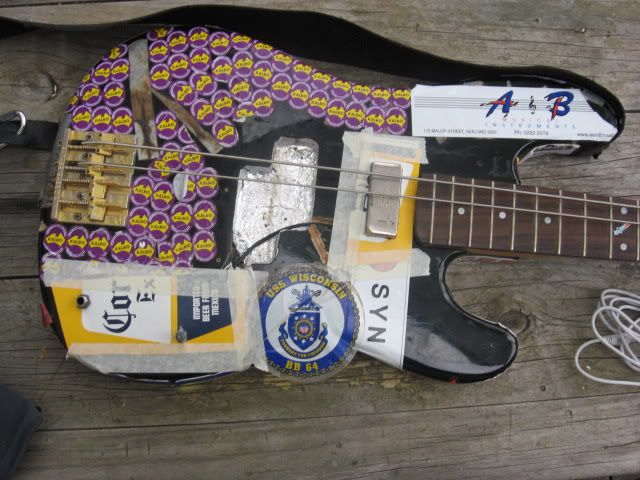 I really needed a beater bass that doesn't matter too much,for taking to classes/back-up at gigs,etc.My main bass is also RIDICULOUSLY heavy,so for those gigs where I can't exactly handle a big heavy bass for a one hour set,third night in a row or something,I now have this.
The pick-ups and scratch plate are long gone,so I routed out a whole for a neck p-up,slapped in a seymour duncan rick neck humbucker ($30).I had a bad ass II lying around aswell ($60,years ago).My soldering skills are not to flash,so the less there is to go wrong the better,so just one volume,all I really need.
Review: To follow!
I need to get some fresh strings for it,as opposed to a couple I had lying around from my last change,and play it through an actual amp as opposed to modelling software on my PC

Last edited by Ian hawkins at Dec 14, 2011,

Join date: Oct 2009
140

IQ
You should be ashamed of yourself!

That poor bass!

Join date: Jul 2008
81

IQ
It.... Its Beautiful!
Take To It With A Hammer.
We were all 14 and stupid once,hence the stickers.
We were all 17 and broke once,hence the scratch plate made from beer cases.
We were all 17 and lazy once,hence taping the scratch plate on,instead of actually putting in any effort at all.
But admit anyone,at any age,wouldn't mind a bass that just didn't matter in the slightest.
I for one am slightly proud that actually did something other than trawl the pit and make noodles with my holidays!

Join date: Oct 2009
140

IQ
I for one am slightly proud that actually did something other than trawl the pit and make noodles with my holidays!
Dude, you raped an innocent bass. Repent of your sins.
Seriously, if you enjoy it; that's all that matters. BTW, where are the strap buttons?
Maybe this is like religion.When I'm older,and on my death bed I'll repent,but till then, I'd rather take this to that messy pub gig than my legitimate bass.
It's a fun bass to play,that's for sure,even more fun when you have no fear about what's going to happen to it.
Fatalgear41,maybe were just from different sides of the bass playing arena

As for the strap locks,I think they were the first things to go,all those summers ago.Luckily superglue has held that strap in place for gig,after gig,after gig.
I see a Badass Bridge and a Seymour Duncan Rickenbacker pickup. That is one seriously powerful, yet fugly, bass.
I like a lot of things of this picture, but the fact that it was something completely unexpected is the best. And those only two strings... it's like,
- How many strings does your bass have?
- guess?
- *Guy tries to guess, but can't*
- It has two. *Shows off the bass*
-

Well,it's got 4 strings on it now,thus it's worth twice as much as it was before.The badass bridge and the duncanbacker together are probably worth more than the bass was in the first place.
It actually doesn't sound too bad really.It sounds closer to my peavey than it did before,so I guess it's an improvement sound wise.As for looks,well,it came with a fall out boy sticker on it,so anything is better.
It sounds good enough for a beater.Should tide me over until I get the pennies together for a rick to replace my main bass,so you can all expect a nice glitzy nbd when that finally happens.