Dumble ODS #124 and Matching 112 Speaker Cabinet
About two years ago I built a Dumble ODS #124. At the time I finished the build I didn't have much time to tweak it, build a head cab for it and get a speaker cab for the amp.
Over the last two years I managed to build a head cab (two summers ago) and this summer I built a 112 cab for the amp. The last week I have had time to tolex the speaker cab with my winter break starting. Over the past few months I also got to look back on the amp, fix a few errors and tweak it a bit.
The build is fairly standard. Minus a few things...
- 50W output section
- 3 way bright switch, polystyrene caps. 110pF-off-50pF
- Correct polarity on presence cap
- Audio taper on both Level and Ratio controls
- Glaswreck's PAB mod, 470K+33nF in series with 22M PAB resistor
- 5.6K MF NFB resistor, using 8R load
- 350K OD trimmer set 96.9K from wiper to ground
Voltages spot on, 437V on 6L6GC's plates. 286V/294V on the PI. 190V on clean and 200V on OD.
Running Winged =C='s in the output section now, biased around 48mA. Liked these over the TAD, Ruby and NOS JAN 6L6GC's I tried. Gotta play with the bias a bit and find the sweet spot.
- V1 is an old RCA 12AX7
- V2 is a Mullard reissue
- V3 is a 7025 pull from an old BF Twin
Gotta swap some tubes a bit more and really dial in the tone and get her singing. Should be fun, looking forward to this!
The speaker cab is a 112 ported back cabinet. Built from baltic birch with box joints. Running a 12" Eminence Delta Pro in it.
As for the tone, so far so good! #124 is defiantly a great amp for strats (all I really play). Very sweet tones and nice and balanced too. Beautiful rich clean tone. And the OD just rips, super smooth yet just enough bite. I really think the slightly attenuated high end of the Delta Pro helps this setup.
Anyways here's some pictures...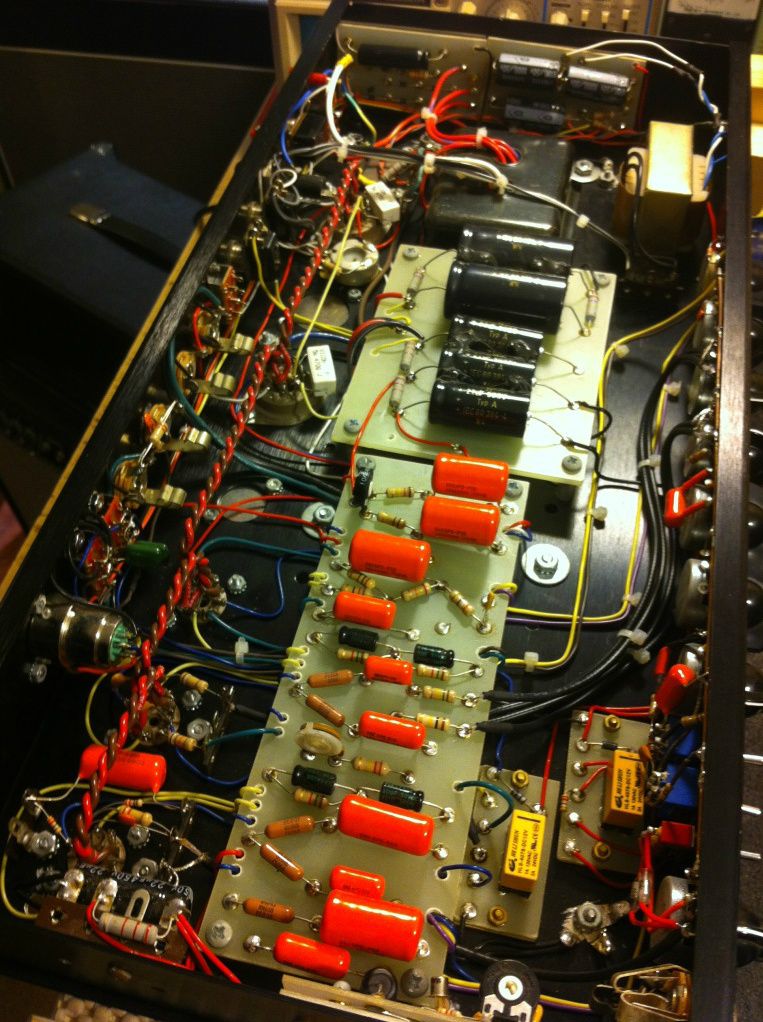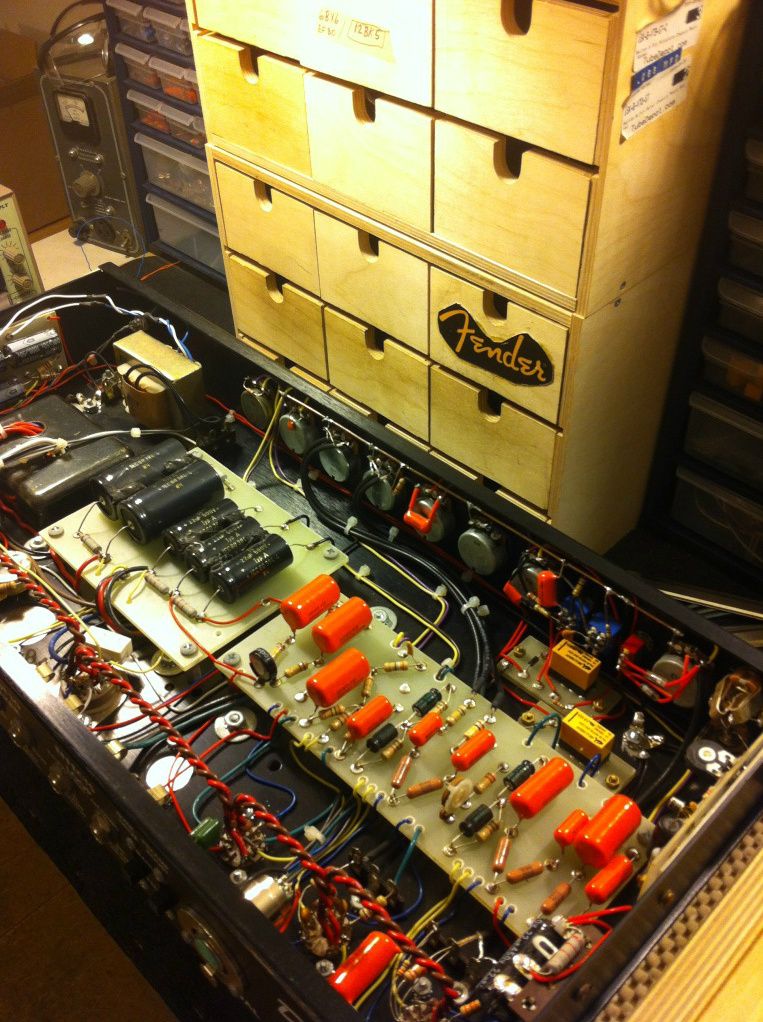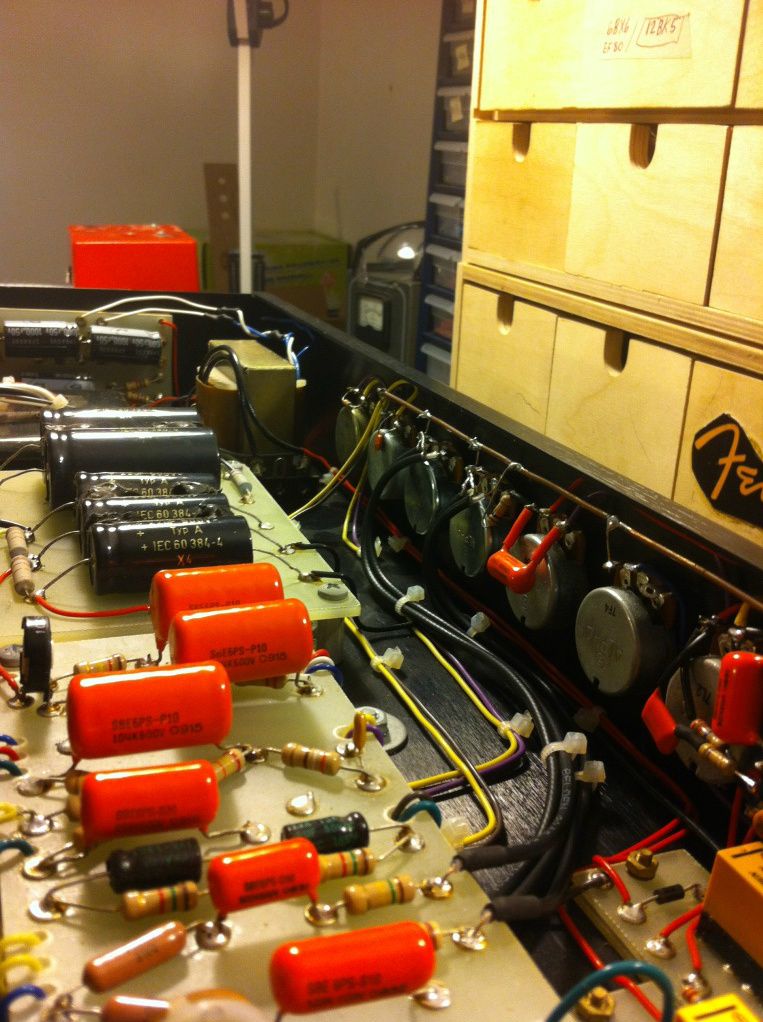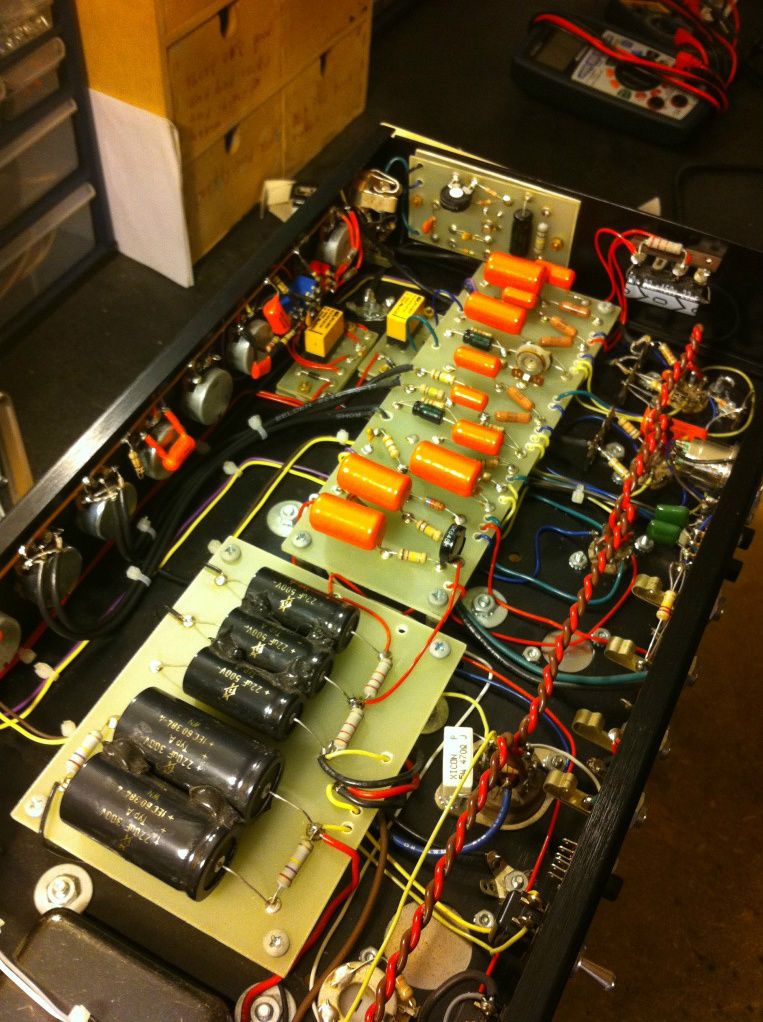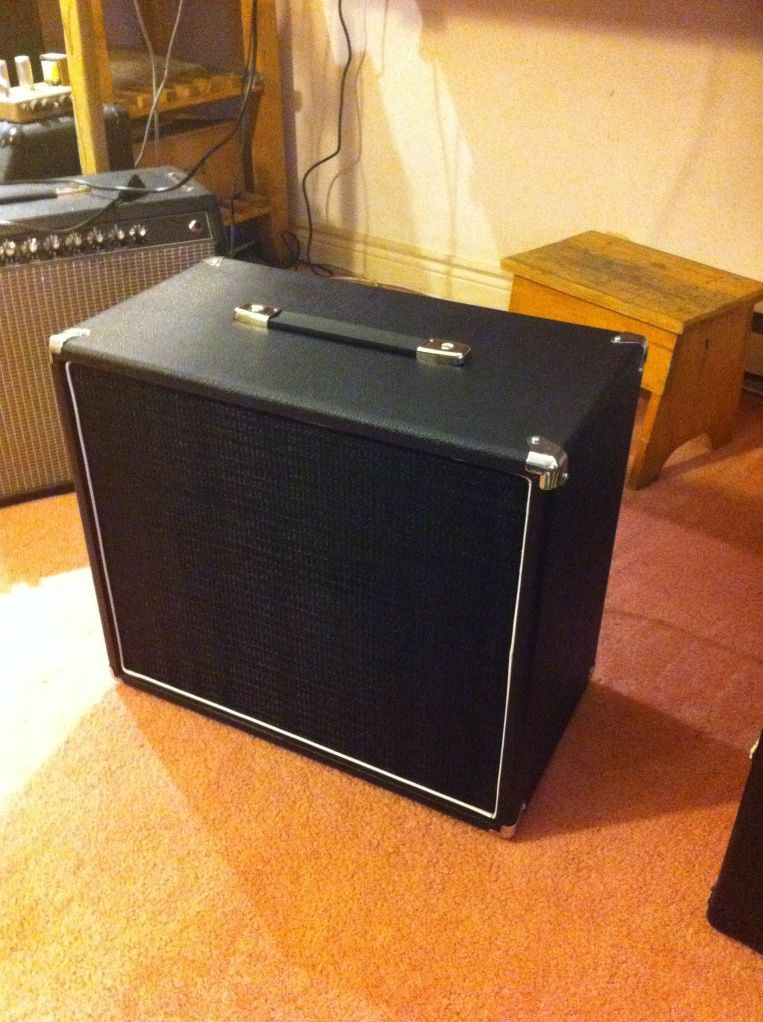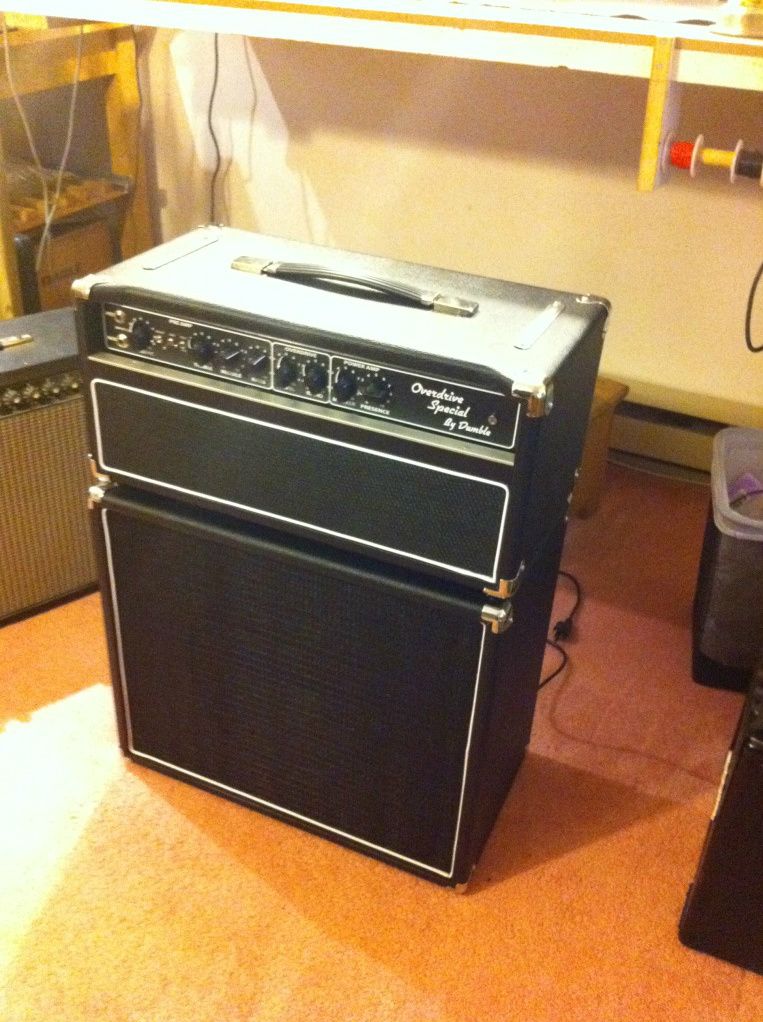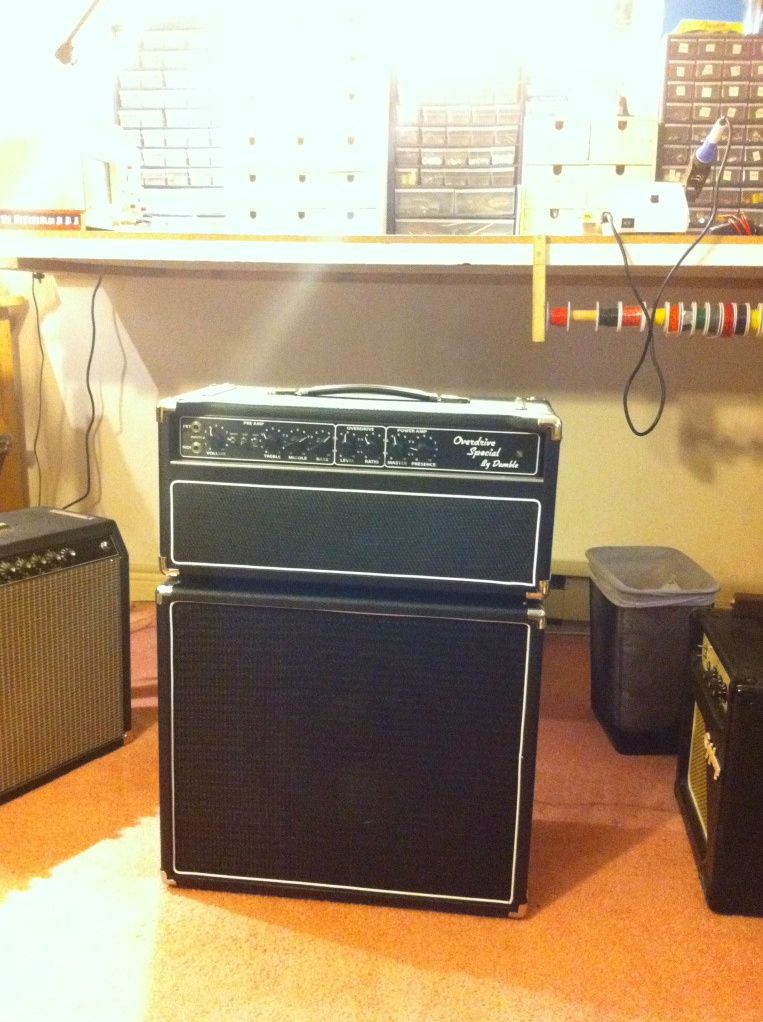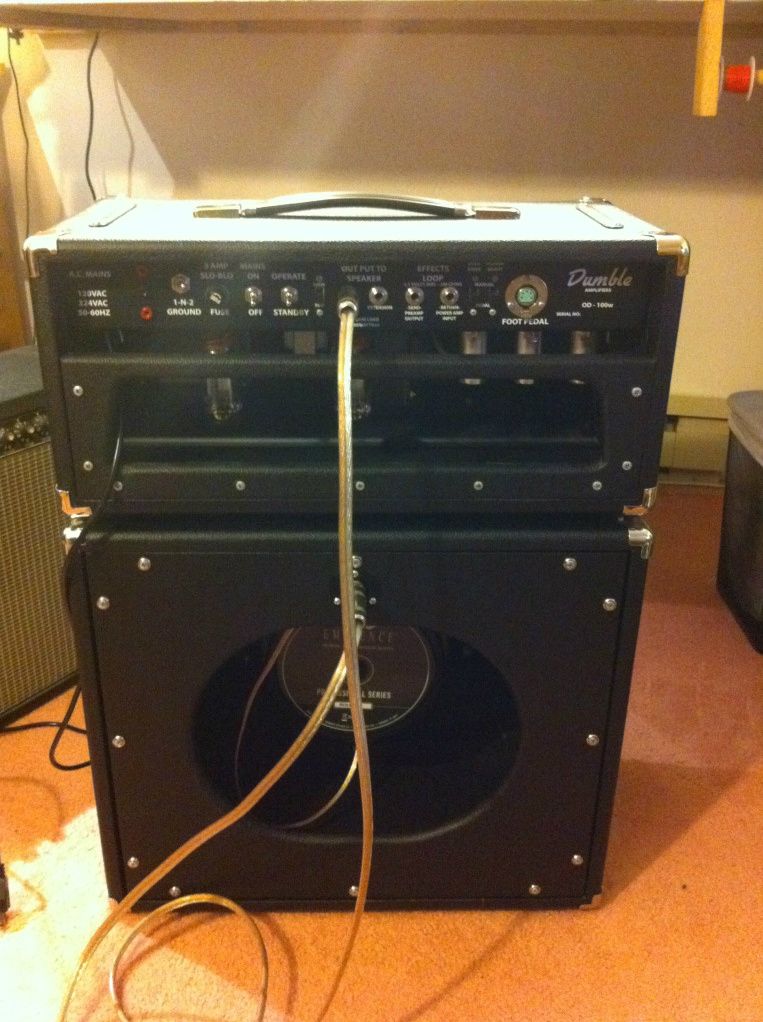 Last edited by kurtlives91 at Dec 23, 2011,

Join date: Dec 2009
530

IQ
hey make me some cabz :poke :poke :poke

wait wait hold on buddy.

polystyrene.

you drinking the kool-aid?

shame on you.
Last edited by AcousticMirror at Dec 23, 2011,
-_-

They sound good for bright caps. Bit smoother and peaky then ceramic or silver mica.

Join date: Dec 2009
530

IQ
-_-

They sound good for bright caps. Bit smoother and peaky then ceramic or silver mica.
waaaaaaaaaaaaaaaaaaaaaaaaaaaaaaaaaaaaaaaaaaaaaaaaaaaaaaaaaaaaaaaaaaaaaaaaaaaaaaaaaaaaaaaaaaaaaaaaaaaaaaaaaaaaaaaaaaaaah
Looks awesome as usual


Join date: Apr 2008
50

IQ
unreal man... just awesome!

Join date: Oct 2008
80

IQ
Stellar build quality (I think?).

I look forward to seeing more.
Looks so sweet ... and clean!

BTW, can it do Ratt?

Was kidding.