New Guitar Day. Schecter Exotic Star
Schecter Exotic star snow leopard. It is by far the best schecter ive had, plays beautifully, sounds GREAT, Looks awesome. Not a big fan of the not star inlay but thats the only detracker. Its not quilted like others ive seen, its a flame finish, looks great in person. Im reaaaaalllly impressed by the schecter super rockII pickups, clean its abit boomy but with the coil tap it sounds really nice an crisp. Playing with distortion they are amazing, really love the mids they have, has a great crunch, every note comes threw clear. The neck is like the schecter Classics, kinda narrow up high by the nut and not terribly thick, unlike my Hellraiser which is thick and wider up top. Really love the ebony fretboard, my first guitar with ebony, plays super smooth. So all in all im extremely happy with the purchase. I traded in a Boss gt-6 and few small things for it and paid $445 out of pocket for it. Well worth it. If you havent played a Schecter, Go try one out, you wont be sorry.
Now for a few pics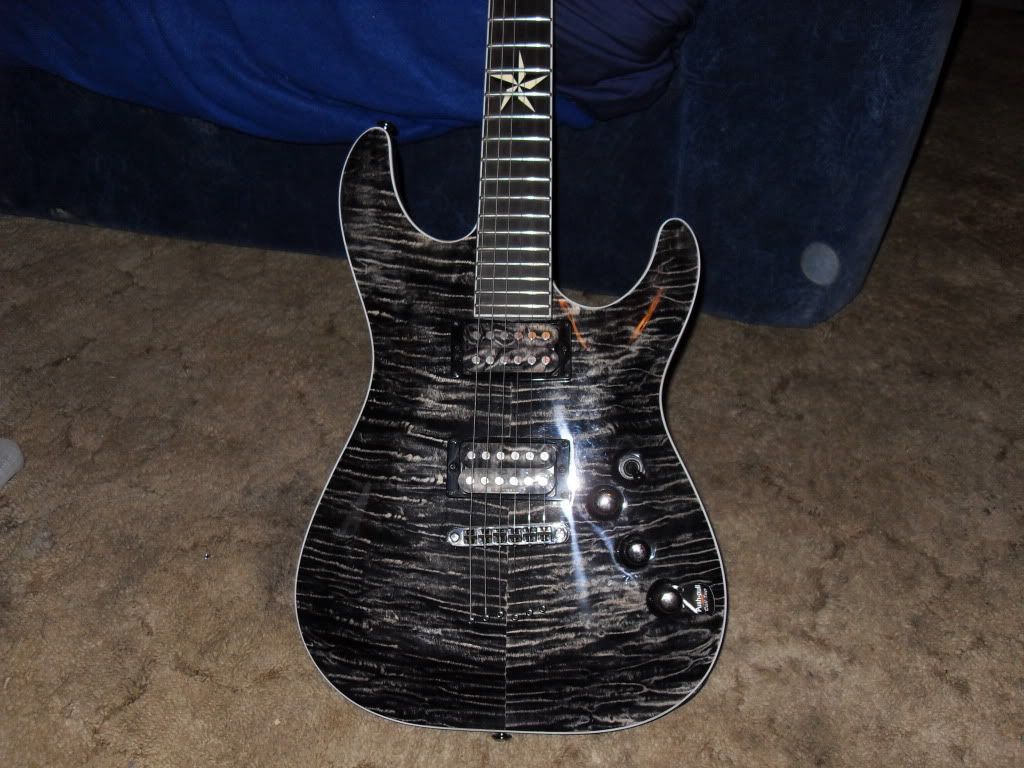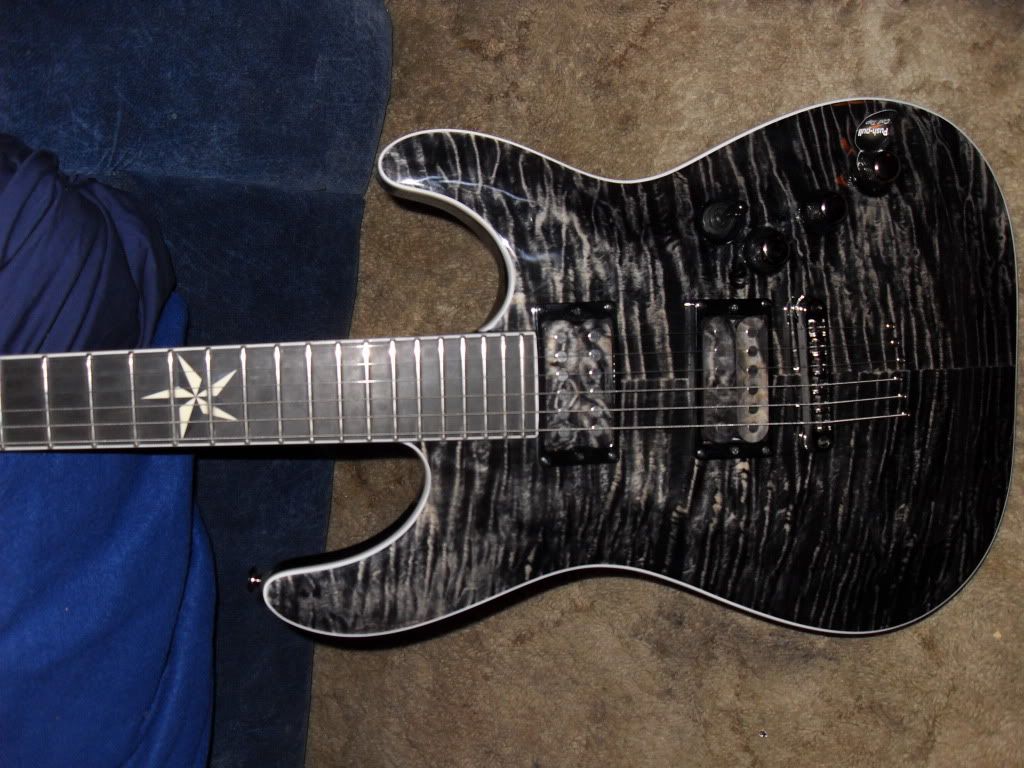 definetly looks cool. congrats, hngd

Join date: May 2007
260

IQ
That thing oozes 'cool' everywhere!!
Hngd enjoy it!


Join date: Feb 2008
90

IQ
I'm not big on Schecter, but that is a pretty finish. HNGD!

Join date: Oct 2009
66

IQ
Looks like it was carved out of a rock. Absolutely stunning. Enjoy your guitar and make it squeel like a bleeding pig! (Did that sound metal enough?)
Thanks guys, it really is a superb guitar. dont think ive played any of my others for more than a few minutes since ive got it haha

Join date: Jul 2009
120

IQ
these are gorgeous! i settled on a c-1 classic instead of tracking down one of these. how are you liking the pickups?
i am really impressed with them, its way more boomy than my classic on clean, but the way it sounds distorted is awesome.
I have one of these as well, in Lava Red. I find the neck a tad thick (preference) but its definitely a solid guitar. I've had mine for 3 years I think now, maybe 4, and she's put up with all of my crap and abuse. I also enjoy the blank ebony board with just the nautical star, it looks "cleaner".

Great guitar.

Join date: Jan 2009
30

IQ
I had one as well, but i just traded it in for a new amp

Mine was beat up as hell though, and i didn't need it as i don't play that sorta music anymore. It was a good player though, just the fretboard looks too ugly for me

Gaudy but looks nice. HNGD!
Do those pickups have a flamed veneer? Interesting. HNGD
Wow man, that is tasty as hell! HNGD!
yes the pickups have a flamed wood piece made into them haha

Join date: Nov 2011
150

IQ
The pickups look awesome

i think so too, its kinda odd, but its deff not something you see everyday

Join date: Dec 2008
80

IQ
That's actually a really sick looking quilt/finish. HNGD
not enough abalone.

i keed. nice new guitar, beautiful.

haha my other three guitars make up for the abalone haha, i do like my abalone.

And its not really quilt like they say, its a flame, my Classic an Hellraiser are quilts, this looks more like my EC1000
Last edited by The_Sh0T at Dec 25, 2011,
Congrats!


Join date: Jun 2010
120

IQ
I really disliked the neck profile/finish on the exotic star i played but if ti works for you thats cool brah

HNGD