Guitar stringing/Lock tuning question
I recently took my guitar in to a guitarshop to get setup for some heavier drop tuning. It is a Schecter Blackjack ATX Solo-6. I was unpleased with the services rendered and one of my complaints was that there were no wraps on the strings when done it was just stuck in the tuning peg and bent (not even 1 wrap) the "techs" excuse for this was "it has lock tuning and you dont need to wrap guitars that have lock tuning." It is the first time I have EVER heard of this... infact I have an Ibanez with lock tuning albeit a different style of lock but it came wrapped and I have taken it it somewhere else before to have setup and it came back with fresh strings... wrapped. it wouldnt have been that huge of an issue however it is not keeping tune either... anyway for the TLDR... Is the tech full of shit? Should you wrap strings on lock tuning guitars or is it unneeded?

Thanks.

-David

Join date: Dec 2009
190

IQ
You should wrap until it's in tune.

Join date: Mar 2008
60

IQ
I recently took my guitar in to a guitarshop to get setup for some heavier drop tuning. It is a Schecter Blackjack ATX Solo-6. I was unpleased with the services rendered and one of my complaints was that there were no wraps on the strings when done it was just stuck in the tuning peg and bent (not even 1 wrap) the "techs" excuse for this was "it has lock tuning and you dont need to wrap guitars that have lock tuning." It is the first time I have EVER heard of this... infact I have an Ibanez with lock tuning albeit a different style of lock but it came wrapped and I have taken it it somewhere else before to have setup and it came back with fresh strings... wrapped. it wouldnt have been that huge of an issue however it is not keeping tune either... anyway for the TLDR... Is the tech full of shit? Should you wrap strings on lock tuning guitars or is it unneeded?

Thanks.

-David
Ive never wrapped mine, Ive never heard of anybody that did either lol.
Part of the reason other than tuning stability with locking tuners is speed the string change is quick and easy, remove old string put the new one on pull tight tighten the tuner till snug, tune string, repeat.
my question is then, how am i supposed to fix the tuning if there is no wrap on it for me to adjust? I mean it SHOULDNT go out of tune since it is locked and I have not unlocked them so I am assuming either the humidity in my place changed or he didnt do a good job of setting the neck. now that i took it back to him to have fixed its now in a totally different tuning than i originally wanted. Anyway I guess it varies by preference on the stringing.

Join date: Jul 2011
30

IQ
Are you saying your guitar has locking tuners? If so, locking tuners don't really need wraps around the posts... at least Sperzel tuners don't because their posts are so short that they really can't fit any wraps except maybe on the 3 unwound strings. I've heard some people say they put wraps on locking tuners, but that almost defeats the purpose of the locking tuner in my opinion. New strings, whether you have standard or locking tuners, need to be properly stretched and so that they'll return to the proper pitch after vibrato, bends, etc.
Here's how Sperzel locking tuners should be strung. Notice the wound strings have maybe a 1/4 wrap on the post. One full wrap probably wouldn't make it on there. I don't think it would compromise the tuning stability, but it may just make the tuning post look crammed or busy.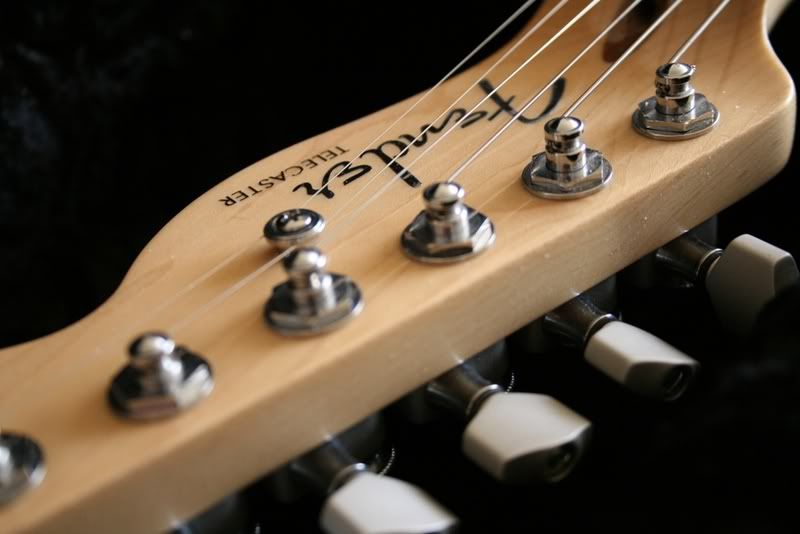 Last edited by TH3M B0N3Z at Dec 27, 2011,
Join date: Apr 2010
1,680

IQ
you don't need them wound. i have had nothing but bad luck with locking tuners though.

Join date: Aug 2011
80

IQ
You don't need wraps on locking tuners. That's the whole point of them.
u have schecter locking tuners on there. basically u need no wraps, u just pull the string through and there is a post that rises within the tuner that hold the string there. so u could have the string pointed straight and it wouldn't move