100GBP Challenge 2012 - Another Cheap DTN Build
Alright, this is for the 2012 Ultimate Guitar Build Challenge 100GPB DivisionHere's what I have planned:Woods:
-A 2-piece, bookmatched Black Cherry (2nd pic) body (haven't decided the shape yet) with an oak top
-Most likely a 5 piece Poplar and Oak neck
-Either the rosewood fretboard (blank) from the first pic below or a Poplar fretboard.
-White plastic binding around the body and headstock, and maybe around the fretboard.
Parts:
-Cheap Tuners (3+3) that I bought from Stewmac (Iirc they're the cheapest ones Stewmac sells) years ago for another guitar, which had a broken tuner. I ended up getting a free set of higher quality tuners from someone who upgraded, so I never used these)
-Either a leftover hardtail strat style bridge from my last build (bought as a pair) or a Tune-o-matic with a custom tailpiece (design can be seen in my last build thread. I'll post it in here if I decide to use it - that's what the chain in the first pic below is for)
-Hoping to finally use the Tele-style jack (1st pic) that i bought for my first build (went with a strat-style jack mounted on the bottom edge of the guitar instead, and I didn't like it with my last build, so it's still left over)
-Simple controls, 1 tone, 1 vol, 1 3-position pickup selector switch, and I'm planning on using the extra knobs from my last build, though that's still undecided
-For pickups, I've always wanted to try my hand at winding my own pickups, so I'll either wind my own pickups or use pickups leftover from previous builds and upgrading other guitars. If I go with the leftover pickups, I'll either use the 3 singles I took out of my Starcaster Strat Copy when I upgraded it to Lace Sensors or a humbucker which I bought for my second build before I decided to go with P90's instead, and another from ebay.
-A 2-way hot rod truss rod from Stewmac
-Jumbo Fretwire
Click the pics to see them bigger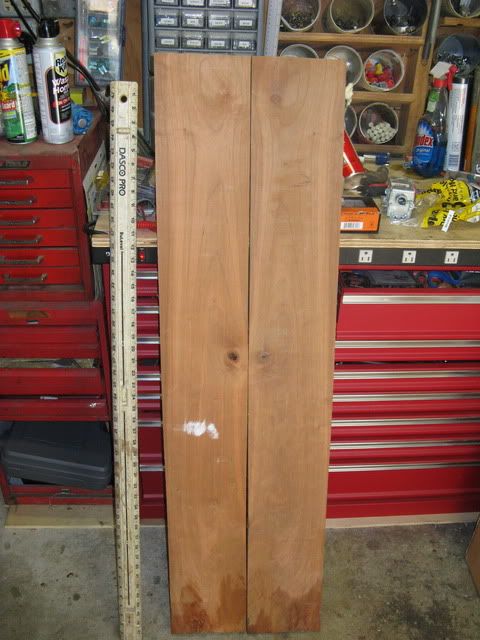 I know, you all hate the choice of woods, but my last build had an oak and poplar neck and it sounds great. Myth Busted.
Alright, here's the price sheet. Almost all of it's estimated costs, so they may be off a little, but I think I got everything close.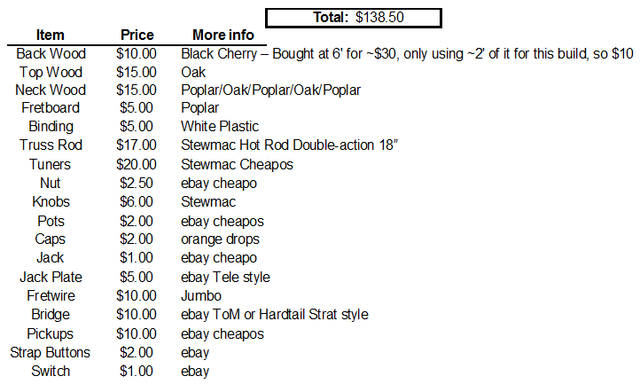 Last edited by DuctTapeNinja at Jan 6, 2012,
Looks like this could be a great build. Could you please work out an approximate price for each component?

Also, just out of curiosity, what's the chain for?
I'm working on the price list right now. It's taking a while since most of it was from ebay and was bought long enough ago that I can't just go back and see how much it cost. I'm having to work out what it would cost if I bought them now from prices of other things on ebay.

The chain is for the custom tailpiece I'll be doing if I end up using the ToM bridge. I'll post up the design if I decide to go that route.
Oh right

I missed that the first time. Looking forward to the design!
Edited the price list into the OP. If anything looks too out of whack, let me know and I'll take a look at it again, but I think I got everything pretty accurately. Almost everything was just the cheapest I could find when I bought it, so the prices listed reflect that.

Last edited by DuctTapeNinja at Jan 6, 2012,
I want to know more about this custom tailpiece!
I want to know more about this custom tailpiece!
Then I have good news for you. I've made a couple decisions here. I will be using the tailpiece design and the ToM bridge. As such, I should post the design here. The pic is below. I know, it looks a little funny with how the chains attach to the tailpiece itself but I'll make it look good when I get to it. If you have any questions, just ask. And yes, I know it will make it difficult to change strings (if all the strings are off at once) without letting it scratch/chip the paint. I'll wrap it in masking tape whenever I need to have all the strings off.

Also, I will be winding my own pickups. But, since it's cheaper to buy ebay pickups and disassemble them than buying a kit (or parts separately), I will still be buying cheapo ebay pickups to start off with. I'll walk you guys through it when I get that far.


Join date: May 2010
80

IQ
I like the idea behind that tailpiece, best of luck!
Wow, a floating tailpiece. Never seen that before. You could essentially use it as some weird kind of tremelo I guess, cool!

Join date: Mar 2009
30

IQ
I like the tailpiece, very interesting idea. You could prop it up with a bit of wood (or anything really) while you changed the strings. Make a little jig for it!

Doing any fretboard inlays?
Doing any fretboard inlays?
I forgot about that. For my last build, I bought inlay decals designed to go over the dots on a fretboard with dots and just buried it under the clear coat. It looks good (and with it sanded out properly, you can't feel them), but if you look close you can tell they're not real. I'd like to actually do real inlays this time, but I haven't decided on shapes or materials yet. At the moment I'm leaning towards trapezoid shaped inlays made from the spare oak (or whatever wood I end up using for the top)
Btw, don't expect too much progress too quickly. As anyone who's followed either of the builds I've already done can tell you, progress for me comes slowly.
I've found a source of cheap mahogany and maple, so I think I'm going to go with them instead of the oak/poplar/blackcherry I was planning on using. The difference in the body should be about $5, and the neck should come out about the same, but I'll update the price list after I actually purchase the wood. Should know by the end of the day today, but I'm making no promises.

In the meantime, I started work on the tailpiece yesterday afternoon. I started off with some 3/8" square stock we had lying around.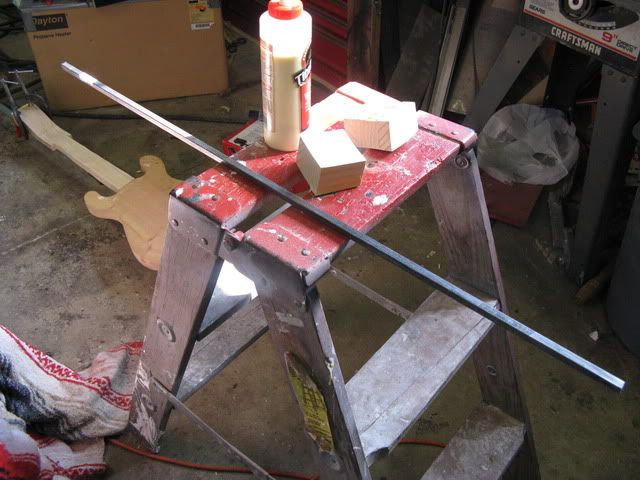 First I clamped it in the vise and bent it in a nice arc.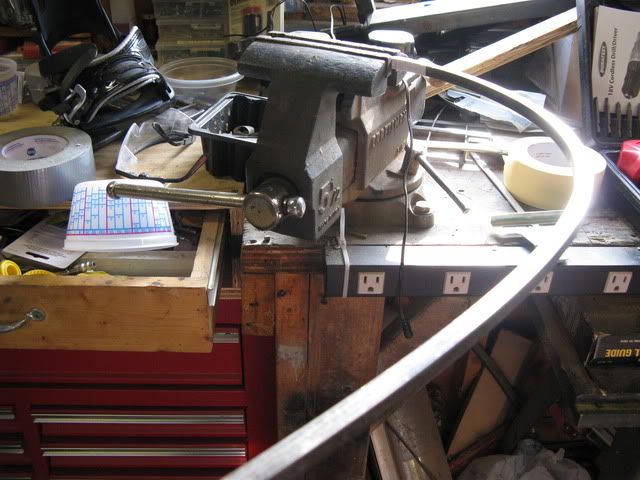 Then I cut it into two short pieces
Then I dragged out the welder
and welded them together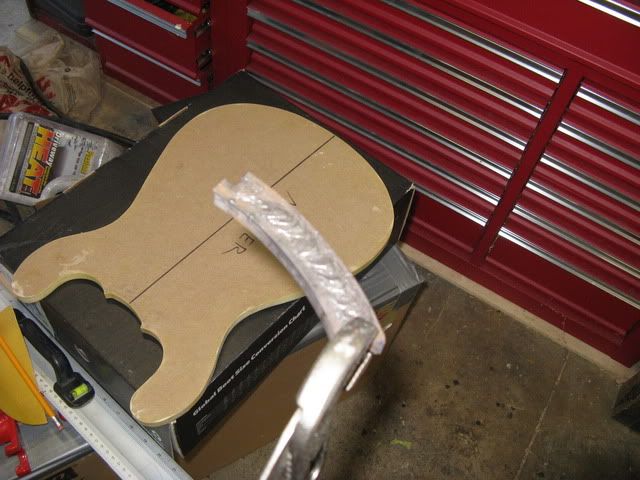 and dug out my grinder with a 60 grit sandpaper flapwheel on it and started smoothing it out
And then I had to quit because my back was bothering me. (fat people problems ftl) Next up, I'll drill the holes for the strings/ball ends using a normal stopbar tailpiece as a guide and then get to shaping it.
Now that I'm settled into school again (just finished my second week) progress should hopefully come a little more quickly. Christmas break was hectic for me.
Last edited by DuctTapeNinja at Feb 3, 2012,
Join date: Oct 2010
470

IQ
Good luck with it, man. This build looks so freaking cool

Alright, I bought the wood for this today. The body will be mahogany with either a rosewood veneer strip or a 3/4" strip of maple through the center. The neck will be maple with either 2 rosewood veneer strips with a 3/4" strip of maple through the center or maple with a strip of 3/4" mahogany through the center. I'll start gluing up the blanks tomorrow. I'll update the parts list once I've decided whether or not the rosewood veneer is included in this build. The money's there, since I only spent $8 on the rosewood veneer. I ended up spending $30 on Mahogany and $7 on Maple, which puts me under the $40 I put aside for body/neck wood, and I had a little wiggle room in the budget anyway.
Ok, I just finished gluing up the body (pics will come tomorrow, I forgot to take some and it's too frickin cold to run out to the garage right now and take some - sorry). It's 7 pieces. There's a 3/4" strip running through the center consisting of a 1/4" mahogany strip surrounded by two 1/4" strips of maple. Then each "wing" is 2 pieces of 3/4" mahogany glued on top of each other. I will be carving the top and running a strip of binding to hide the joint so it looks like each wing is 1 piece. The neck will be the opposite of the body. It will be maple, with a 3/4" strip consisting of a 1/4" strip of maple surrounded by two 1/4" strips of mahogany.
Oh, and I'm thinking about doing a material finish (on just the front - the back will just receive a good clear coat). I've been dying to try one since my first build, and since I didn't include that rosewood veneer in this build I have a little money left still to pay for the fabric. For those who don't know what I'm talking about, if I do it I'll be going by this tutorial:
http://www.projectguitar.com/tut/mat.htm
Here's one of the body blank: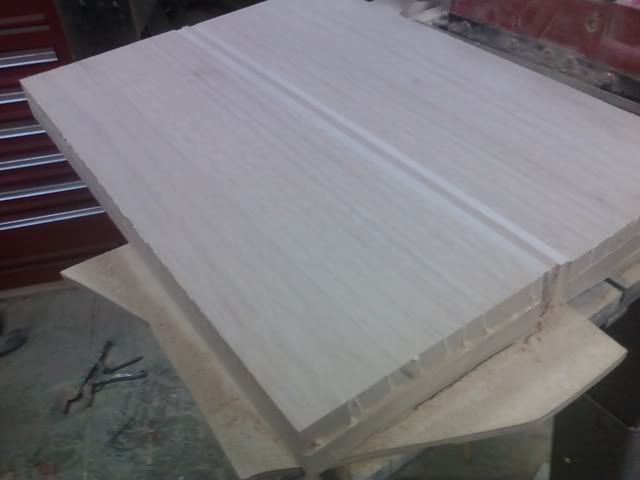 And one of it cut to profile shape: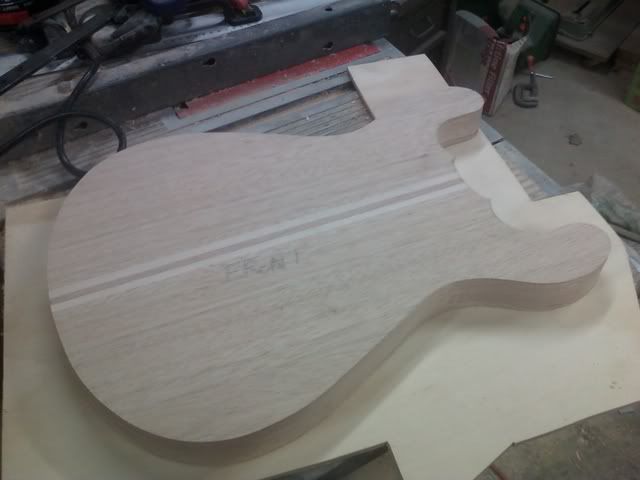 Got a lot of smoothing to do on the profile.
Hey, I'm just posting up to let you guys know this project isn't dead. It's just been waiting on cheap parts from China a lot. The current hangup (which I've been waiting about a month for) is the truss rod that I ordered off eBay. I finally got it today (sort of) and there's a hole in the padded shipping bag they used to ship it, and no truss rod in the package. So either the trash packaging (srsly, who ships an ~18" steel rod internationally in a bag?) tore on its own and the rod fell out and was lost or some asshole at the US postal service thought he really needed it. So I'm just going to order a Stewmac piece and claim it at the price the chinese one was. If that's a problem, then just bump me into the unlimited category, I don't really care about the competition anymore. It's all about the guitar I end up with and I'm frustrated as piss about waiting. Stewmac always gets here in 2 days with regular shipping.
Pics of where I'm at:
Last edited by DuctTapeNinja at Apr 19, 2012,

Join date: Jan 2008
20

IQ
...is your neck joint going to be a butt joint?
looks really clean (Y)
...is your neck joint going to be a butt joint?
looks really clean (Y)
Nope, but I'm not carving the end of the neck till i have the fretboard on it and I'm not carving the pocket until I've carved the end of the neck.
Last edited by DuctTapeNinja at Apr 21, 2012,