bending time

Join date: Sep 2006
30

IQ
OK.
First: time is in itself not a distinct definition. Spacetime is a better one, where space and time are woven together. Manipulate one, you manipulate the other.
Second: we define out our universe is shaped. There is evidence that the universe is not simply 4-dimensional as relativity predicts, but is some higher (N>4)-dimensional. If this were true, it becomes easier to think of it as our 4-dimensional universe wrapped around the (N>4)-dimension. To us, this would make no observable difference in how we see the universe. Picture how we view the Earth: we know it is a 3-dimensional sphere, but to us on the surface, it appears 2-dimensional. Likewise, the universe, could be (N>4)-dimensional, but to us on the surface it appears 4-dimensional.
Third: The speed of light is immutable. It is a fundamental constant. There is no changing that.
So what is changeable? The energy density at a point in spacetime. Energy warps spacetime.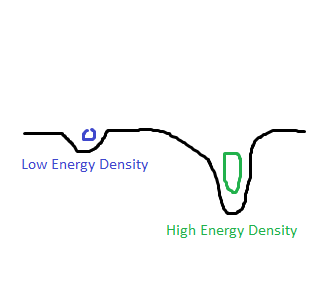 This, in turn, causes time to move at different rates in these pockets of warped time. But this is irrelevant to what I'm saying.
In the normal view of a "flat" 4 dimensional universe, the universe seems to be bent into nothing. Which makes no sense. However, in the (N>4) view of the universe, the universe could be said to be bending into the higher dimensions. If this were true, then things like this could happen:
This is a diagram of our universe, bent around a higher dimension. To us, on the "surface" of it, it will always appear 4-dimensional. In this model, an even occurs, and the information from that event travels away from it at the speed of light. We know an event occurs when the light reaches us, so in effect, we are always looking into the past.
Now. The grey lines represent a link in the universe of two points, through the higher-dimensional space. This could theoretically be accomplished by increasing the energy density of a point until the universe breaks through at another point. In this example, the two points, the event E, and the observer O, effectively occupy the same (undefined) point in space. Any action by either one will be instantaneously observed by the other.
The orange lines represent a link in a point sometime in the future of E, and in the past of O. Any information about E could enter this point, and arrive at O before it should, and before other information. It will essentially have time-traveled into its own future.
The purple lines represent a link in the future of O, and in the past of E. At this point in time, O will already know what has happened at E. However, by looking at this point, E will also be able to see what happened before E, instantly. In this example, we could see, for instance, a star expanding and exploding before the light from that explosion reaches us.
There's a whole lot of practical issues with doing any of this, but it is mostly theoretically sound.