Purple heart uke!
Hey guys, I put this build up on another site but there seems to be no interest ( 250+ views with no replies) maybe its cuz its a cigarbox build... who knows. I hope you guys like it better then they did. Here we go...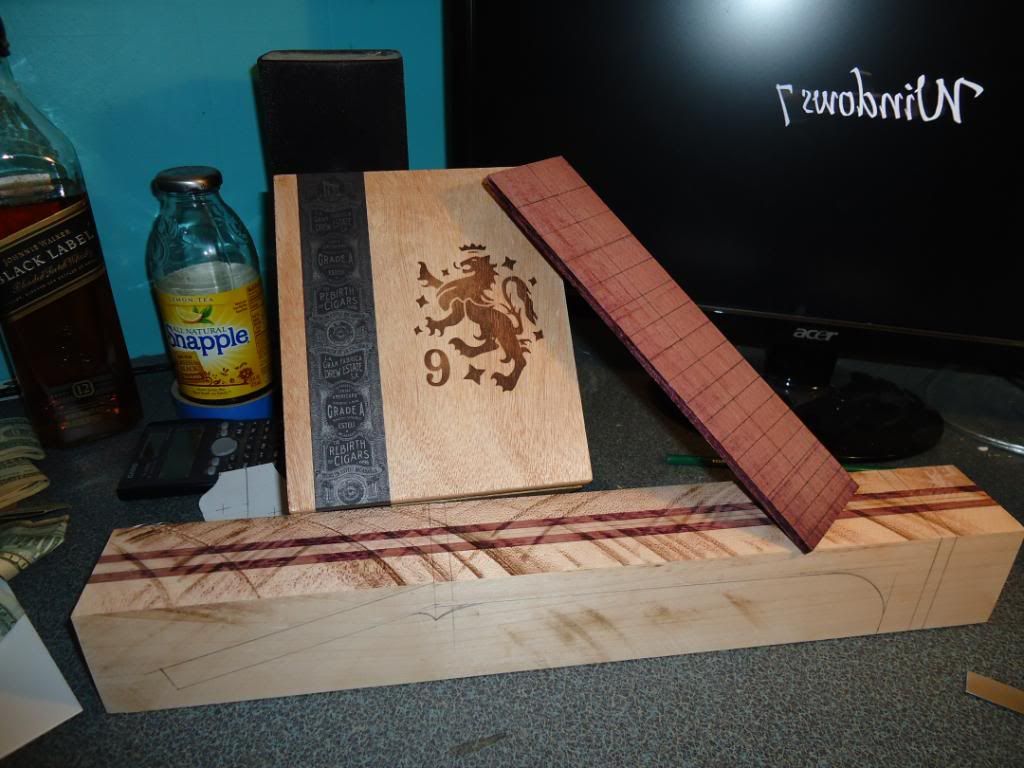 I dont know if a truss was necessary for such a short neck but i went for it any way
Bound fretboard before clean up
Neck cut on my new grizzly bandsaw( recommend checking grizzly out, nice stuff)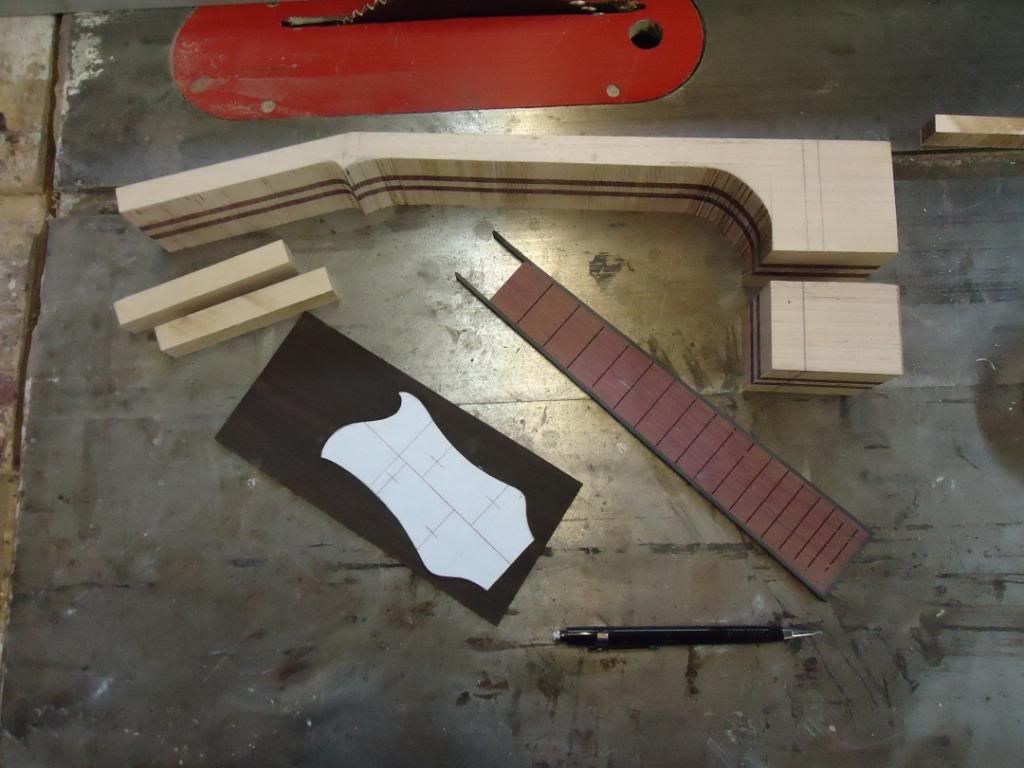 glued planed and ready for veneer
glueing the ebony headstock veneer

Join date: Jan 2008
10

IQ
Very nice! Purple heart has always been one of my favorite woods. Whats the tonal characteristics like? Im anxious to see the finished product! Whats it gona be a baritone?

Join date: May 2010
80

IQ
For such a nice wee neck you should do the bit more work and build a body too!
Nice neck

Thanks for the replies everyone.
onesidedfight- im not sure if the purple heart will have much of an effect on the tone since the body will be a cigar box (although they do sound cool, you cant expect to much from it). I have already built a uke for my grandpa and i thought it was neat so im building one for myself this time, i will have to compare their sounds. Its not a barritone though. I think its considered a standard uke because it has a 14.75 scale length with 17 frets.
Lightbluemk2- if I had access to a side bender i would make a legit body but this is sort of just a fun little project to keep me busy and give me more practice making necks and setting up the action/ playability. i hope to get away from cigar boxes soon once my money situation improves.
moar pics:
rough neck cut
gluing on the heel block
I polished the fret board up to 12000 grit because i was board last night but Im not sure if it will except a tung oil finish now, any one know if it will be ok or if i should take it down a few thousand?
Shiny!
and here is a pic of my first CBU

Join date: Jan 2011
180

IQ
Beautiful, I'm working on a cigar box build right now!!
Very nice build, inspires me to wanna make a uke too!
Jake- thanks, and you should get a thread up if you can, I'd really like to see your work

Leon- you should give it a go, its not really a big project but the end result is very cool and fun to play around with. thanks for the comments!
Got a little more done today guys!
fret board after getting its second coat of tung oil, looks more like blood wood then purple heart here
I cut the insert that will attach to the body and then tapered the heel. cant wait to start carving!

Join date: Jan 2011
180

IQ
Jake- thanks, and you should get a thread up if you can, I'd really like to see your work
Not much to post pictures of yet mate, all I have is the box with the designs drawn on it haha, and this is a beautiful build you have here!!

so school started up again yesterday so my progress might roll on a little slower then i would like it to, but for now here is whats Ive managed to get done since my last post.
Fretting!
Taped up to keep the finished board clean
Binding channel routed. Had a minor blow out with the ebony veneer but luckily i found the piece and was able to glue it back on. This is one of the most nerve racking parts for me at least.
My "R" inlay. I decided to double up the MOP and get two logos for the cutting time of one.
safety first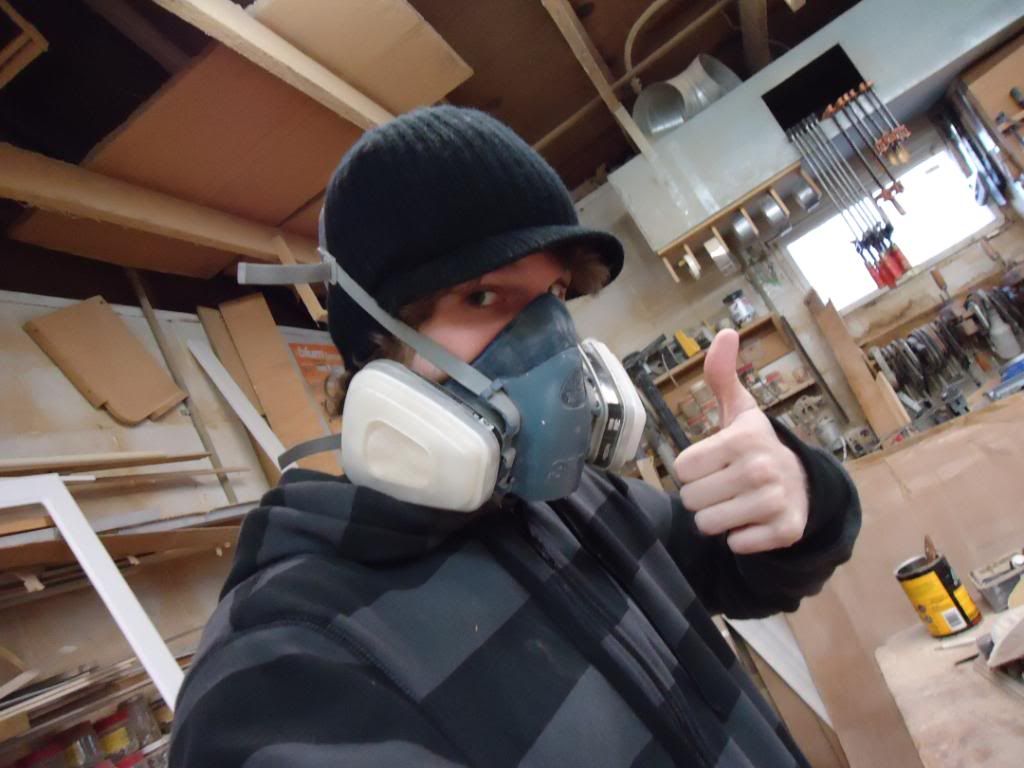 and after about an hour and a half here are the finished R's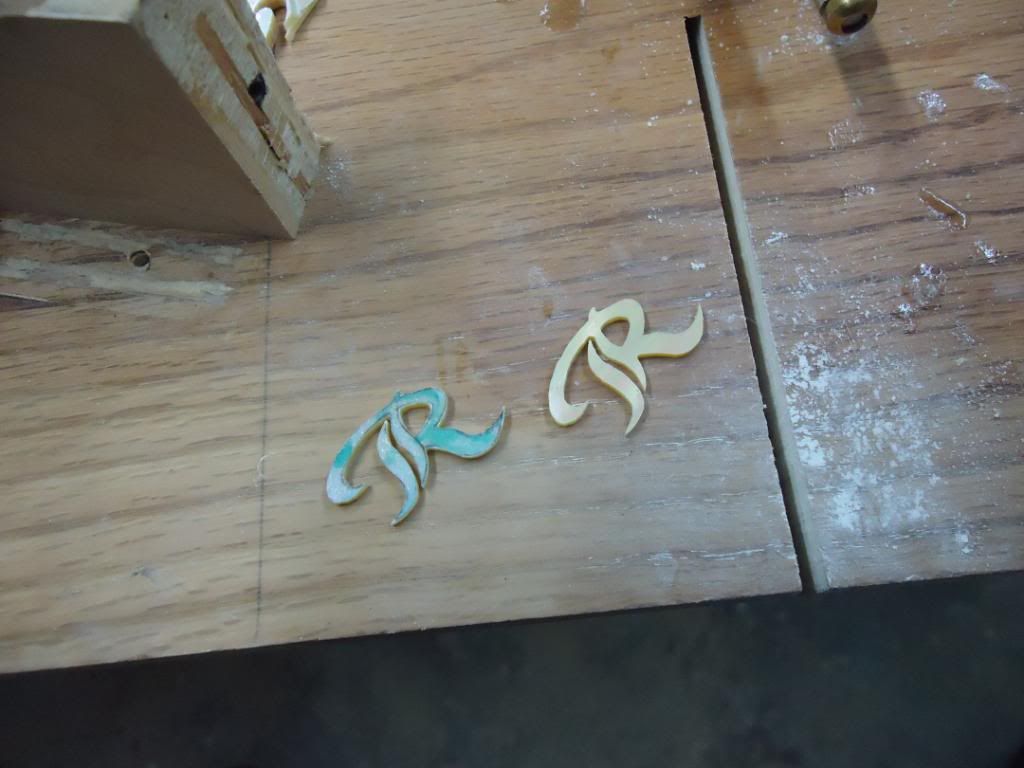 I hit a speed bump in the build process guys. I got greedy and went too deep routing out the inlay cavity in the ebony veneer and when took a break to check my cut I watched the cutter of my 1/32 stewmac dremmel bit simply fall off... although I was pissed, it was sort of comical the way it happened. Anyways I decided to try a new place for a replacement bit. stewmac cost like 18 per bit plus closer to 9 or 10 bucks for shipping. I found this other site with the same size bit for $13 and only $3 dollars for shipping. I let you know what I think of it and if its worth checking out the site once it arrives. hopefully this can save every one who does do there own inlays some cash because paying almost $30 every time one decides to break gets old quick.
How deep was teh cut? Those things that small will be fragile no matter what, I just got in a few days ago in a parcel. Sites besides stewmac will of course be much cheaper for probably the same thing


Join date: Dec 2009
190

IQ
Honestly, I thought something dirty when I read "purple heart." Glad to see you aren't making the wang-uke!
The cut was only about a mil deep but up to this point I had only been cutting in maple and rosewood which it handled fine but ebony was to much for it apparently. Ill finish up in 2 or three passes with the new bits. Lesson learned.

A wang-uke would be an interesting build to say the least, I couldn't bring my self to do it though, lol.
Update time. the delay was caused by a broken 1/32 inlay bit. I got to greedy and tried to take a full mm cut out of ebony in one shot. didnt work but rather then paying 18+ $9 shipping from stewmac I found this place which came out to around 16 with shipping. Chck them out if you need smaller bits, it will save you a few bucks. also the quality seem equal to the stewmac bits.
http://www.bitterrootguitars.com/servlet/the-Inlay-Material-cln-Inlay-Bits/Categories
Pics:
finished slot and epoxied inlay
I want the rosewood bridge to match the ebony veneer so i stained it
binding being glued up
before the clean up
binding went better then my first attempt but i think the plastic im using is two thick for such tight curves. heres the one spot that did not glue up right.
time to clean it up a bit
just patchin up the less then perfect glue spots, but you can see the finished inlay
Pics!
Finished binding
carving the neck
finished carving, stills need to be sanded
Added a black heel cap
my fret beveling tool in action
sound holes marked out then cut
neck slot, its going to need to be reinforced to prevent the joint from failing
and finally the neck with 2 coats of oil on it, just waiting for it to dry then i can finish up the project

Join date: May 2004
75

IQ
A couple of things-

First off, that is one of the most beautiful necks I have seen built on this site. Absolutely incredible.

That being said, it feels like an injustice placing that neck on a cigar box. That neck looks (from my untrained eye) to be professionally done, you should be selling these off/ collaborating with people who have the means to make an equally beautiful body.

Also, I understand the decision with respect to quality, but the amount of waste generated from your neck building process is absolutely abysmal. It's one of those small touches that makes the neck beautiful, but I'm sure there's a way around it.
I appreciate the comment sir, and I now regret cutting the neck the way I did but I was not thinking ahead at the time. Had I taken a bit more time planning I could have had some nice left overs for other necks. Live and learn I suppose.

My necks will be going on equally nice body's shortly, my quality has not been where it is now for very long and is by no means close to perfect, but i wanted to practice the most intimidating part of the guitar ( the neck) with out getting to costly. The cigar box instruments have allowed me to get to a decent level so that I feel more comfortable spending money on nicer wood and larger projects. I have sold the CBGs that I have made in order to buy more tools and such. Its working out nicely so far, getting paid to practice something I love.

Sidenote: look for my next build (full size guitar), the wood will be here on Thursday so expect a thread soon after!
So close to being done!!
Glued the neck to the body ( I did reinforce the joint but my camera died before I could get the pic)
Bridge being glued into place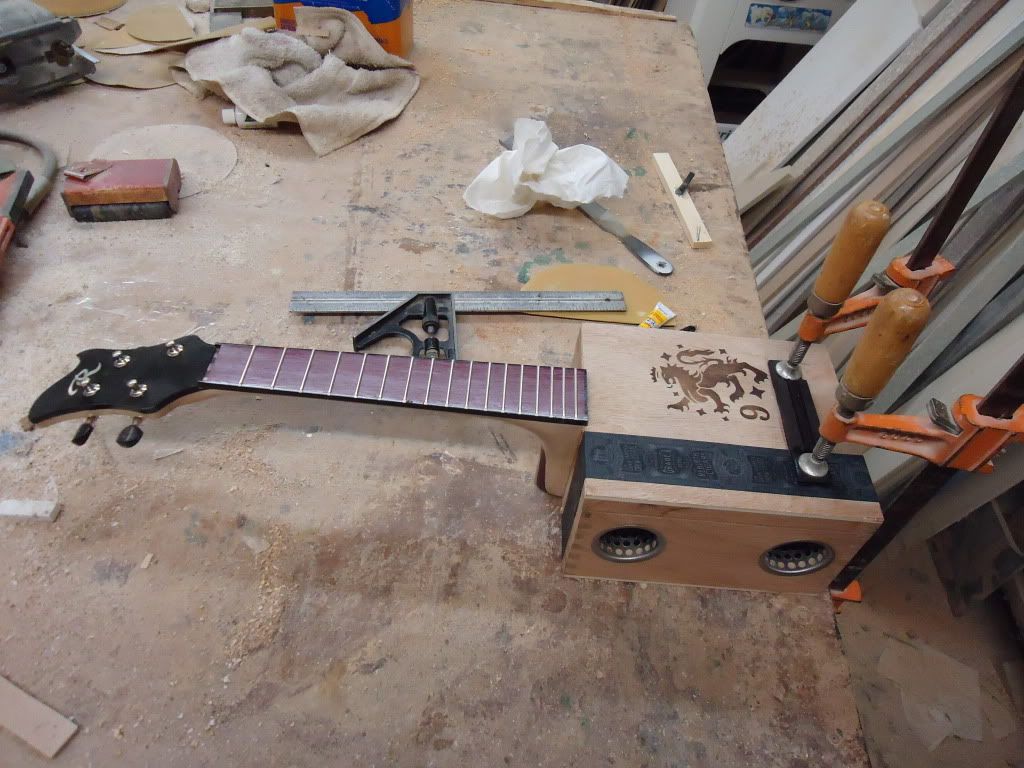 All I have left is to put a few coats of clear on the body, then shape the nut and the saddle. I'm really excited to get this one strung up and hear how it sounds.
i am starting to build a couple cigar boxes and was wondering what is that you are using for the holds (looks like small collenders) where did you find them?
Zenbone: I'm guessing you mean "holes". They are sink strainers. You put them in your sink drain in order to catch food and keep your pipes from clogging. You can find them in different sizes at home depot and probably other hardware stores in the sink repair section. I think they look better then just a plain hole.
Zenbone: I'm guessing you mean "holes". They are sink strainers. You put them in your sink drain in order to catch food and keep your pipes from clogging. You can find them in different sizes at home depot and probably other hardware stores in the sink repair section. I think they look better then just a plain hole.
Thanks, that is what i thought they were but i wasn't sure. Love the build... cigar box guitars and ukes are awesome. i have about 6 really nice wood boxes just waiting for my return home.
Very sorry for the delay everyone, I got busy with other projects that I was excited about and left this one sit for a while but now I finally managed to finish it!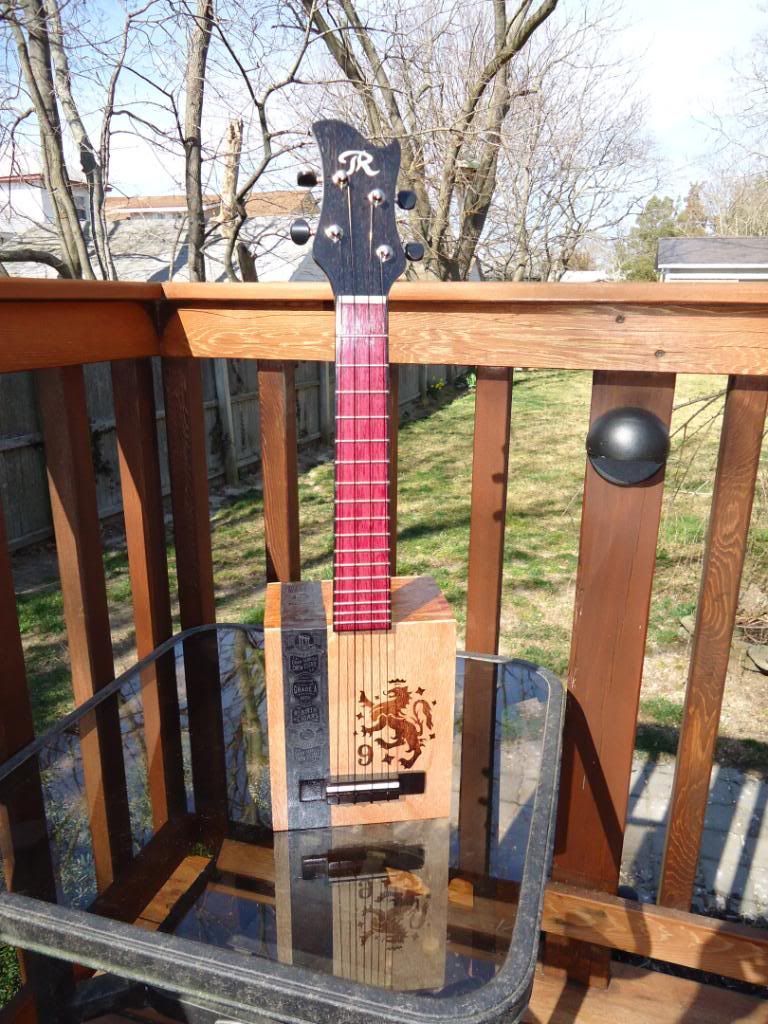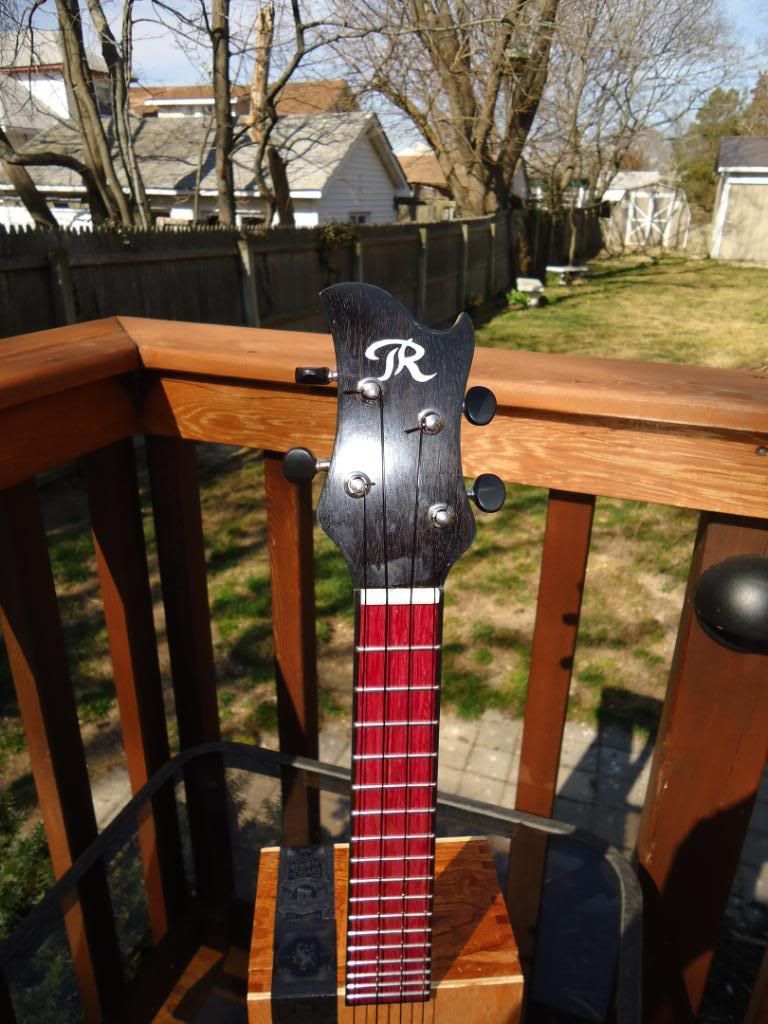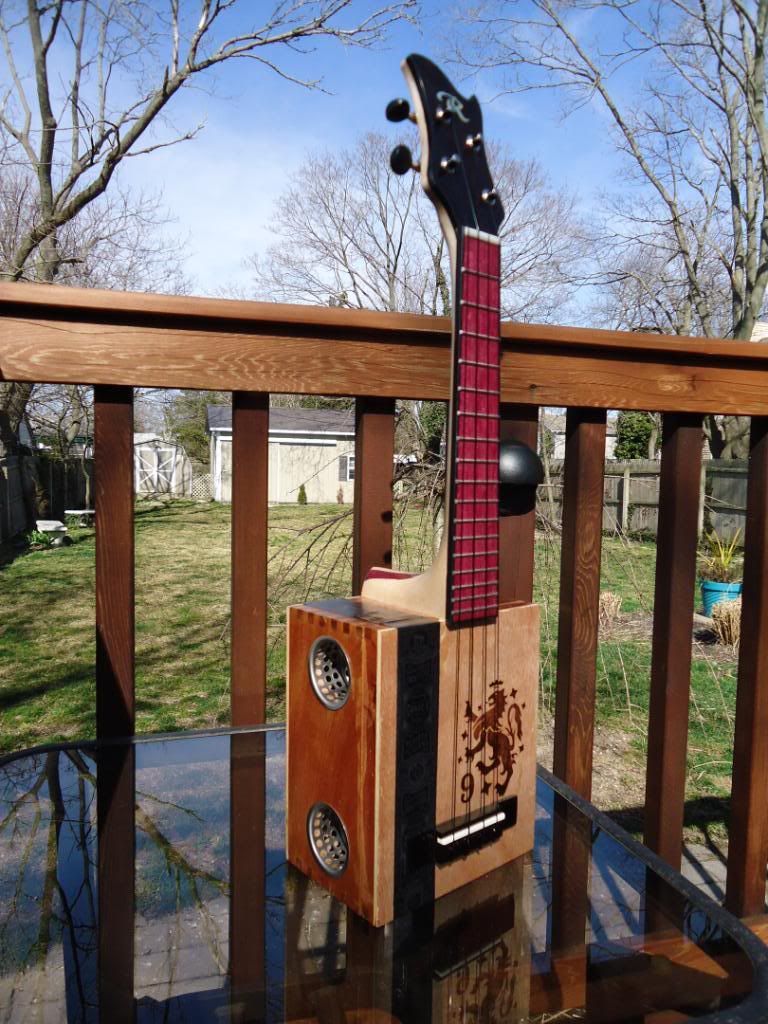 This things really neat, its about 3/4th as loud as my store bought uke and has a much brighter tone. It is lacking in the low end but I did not expect any kind of fully rounded amazing sound from a cigar box any way. For what it is I am very happy with how it turned out.
Thanks for looking guys!

-Tyler

Join date: May 2011
60

IQ
If you want more practice building necks I may have some work for you...

In all honesty though this looks great man. I'll be looking for your full size build!