New guitar...needs work.
Its a Martin D-18 kit guitar (custom flame maple binding) a guy I know built about a decade or so ago. Traded him a shotgun for it (yes, that is legal here). Its got some cracks, loose braces, and a warped neck (bolt on thank god) but I'm gonna fix it up and get a Stew-Mac 12 fret Slotted headstock neck for it... Turn it into a custom HD18SV. It was dry as a bone when I got it so I have my "emergency rehumidification kit" inside it (a "water pillow", a tobacco humidifier packet).
Here it is (best pic I can get ATM):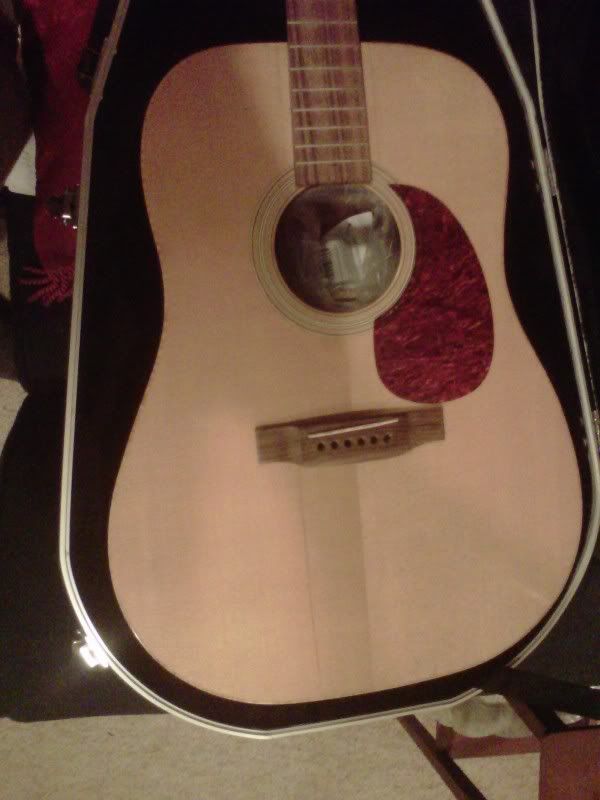 Here's what I want to do:
From some quick research, it appears that what might look like a bolt-on neck on these Martins is not... The bolt simply holds everything in place while the glue dries. It's a conventional mortise/tenon glued joint.
This means neck replacement will be... Difficult.

You say the neck is "warped"... something that can be addressed with the truss-rod, perhaps?
The other repairs sound relatively minor.
The guy I traded for it told me it's just bolted on, he didn't glue it down. (He never actually completed the build)

The warping is something I doubt the truss rod (or even a planing) could fix, its pretty bad side to side (and it's twisted to different sides at the head vs. at the body)

The only real problem I see with replacing the neck is swapping the neck block for a stewmac one. But even if I wasn't going to replace it I'd still have to pull the neck off to shim it and reset the angle.


Edit:
Adding info I couldn't post from my phone.
Last edited by Ranger01 at Jan 22, 2012,