help identifying p bass URGENT
I'm trying to find out what model this fender p bass is. My dad is buying a storage unit and is trying to figure out whether or not this is an american p bass. I tried to get a closer look but it is hard to tell from the picture. this is the clearest picture we have. any help identifying this bass would be greatly appreciated.
click to see bass
The picture is too zoomed out, can't tell you anything for sure about it other then that it's a black Fender Precision with a white pickguard.

If you could get a picture of the serial number I could tell you when and where it was made, but that picture doesn't even give us a clear headstock label to work with.
I can't get any other pictures. This is all we get. If i had a serial number I'd be able to easily tell. Since it is a storage auction we cannot get other pictures or touch the merchandise in the unit.
Assuming it's recently built (ie 2008+) it's more than likely a MIM. It's really hard to tell with the crummy photo, but straining my eyes at the headstock it looks like it's probably MIM too, but could be wrong there. This is of course presuming that it's not a good few years old (as if it is, it's anyone's guess). I can't help but suspect it's MIM just looking at it, the wood on the board, etc, but if it's been played a lot that could just be dirt. I find it hard not to prejudge a Fender style instrument with that awful black body/white plate/rosewood board/plain headstock combination as cheap.
Last edited by Ziphoblat at Jan 26, 2012,
I agree, my first thought was MIM too, but I really can't tell for sure from the photo.

Join date: Jul 2010
130

IQ
It looks like one of the Fender, "Squier Series" basses from the 90's. These became the MiM line.
They used MiA quality bodies and necks; Chinese quality Squier parts for tuners, pickups, bridges and knobs; and were all assembled in Mexico.
I'm basing the judgement on the logo. It looks pure black w/o any sort of outline that adorned the Fender Logo later on.
Here's the one i use to have: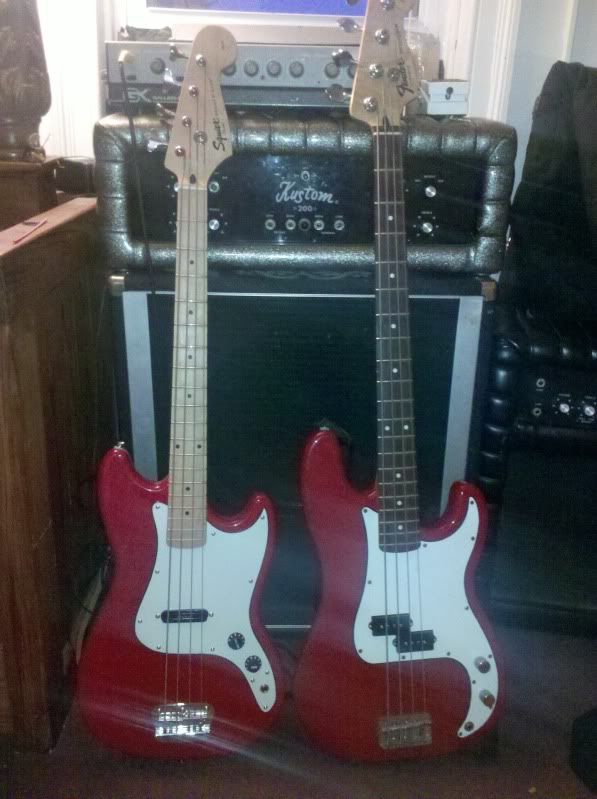 I'm basing the judgement on the logo. It looks pure black w/o any sort of outline that adorned the Fender Logo later on
But the black logo has a gold outline, its a more recent MIM Standard, and there's no way to see if there is an outline in that photo. Hell, all I can really tell is that its not a 70's style logo.
TS, at the very least go in assuming its an MIM.
it ended up being a MIM. we bought the unit anyways because it had a nice drum set in it too. It looks like maybe someone who owned a small club stored their things in the unit. There are microphones and some other audio equipment as well.