Ovation Custom Legend 1789 for sale?
Hi all,

I'd really like a little advice.

I'm getting very serious about my electric guitar playing and it's time to upgrade both amp and guitar to something serious. Currently looking at a Gordon Smith and one of the Blackstar amps.

Obviously this costs money!

I own an Ovation Custom Legend. The 1789 model. I bought it around 1995 from new. It's spent a lot of it's time in its case so is in excellent condition.

I'm considering selling it but I've no idea what these go for. I've searched various sites but these don't seem to come up for sale that often.

Anyone got any ideas?

I'm just looking for guidelines here.

Cheers
Mike
How are these pictures?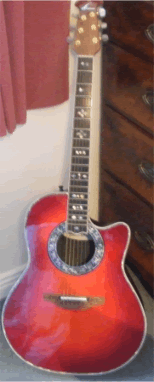 Join date: Jul 2011
40

IQ
nice guitar, it'll look good with my other ovations. 50 bucks and a box of nestle ice cream cones.