NAD: Blackheart Hot Head 100 :) Clip inside

Join date: May 2008
230

IQ
I've had this for about a week now. Played it constantly for about a week now. I figured I would use it for a bit, then give my thoughts about this head. Gonna do a review, features, sound, build quality.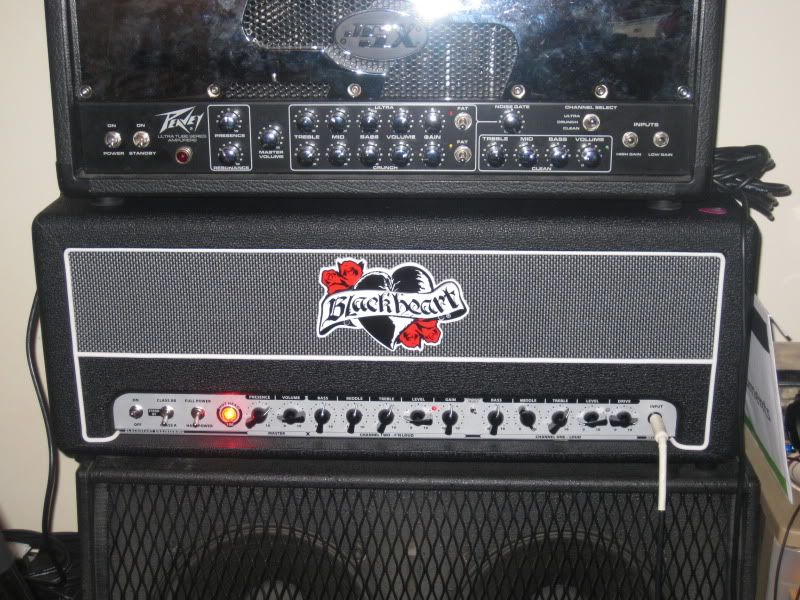 Features:
100 watt all tube head, with 4 JJ EL34 power tubes, and 6 JJ 12ax7 preamp tubes. Two channel amp, with great names. (loud, F'n loud). Has a switch for class A and class AB, and another switch for pentode/triode mode. P/T halves the power. Class AB is 100 watts, Class A is 60 watts. Using the P/T switch it can go to 50 and 30 watts. Series/Parallel effects loop, switchable on/off. Master volume and presence control. Gain, volume, and a three band eq seperate for each channel. Send and Return level for the effects loop as well. Has everything you really need for the most part.
Overall 9/10 - Only thing it could use is some reverb, but most heads don't bother with reverb, I have a delay pedal I use anyways though.
Sound:
Here's where it really matters.
On the loud channel, gives you great cleans. Really chimey, its a brighter channel than the other, but results in great chimey cleans, especially with a bit of reverb. Eq does what it supposed to do, reacts nicely. Turn up the gain around 5-7 and it can get a little gainy, really adds great little crunch, especially with humbuckers. The warmth of the buckers balances nicely. When switching half wattage, it gets a little warmer. When switching from class AB to A, it become more open, more sensitive to dynamics I guess you can say.
On to channel 2. It doesn't have as much gain as you would think, but it has enough for maiden, sabbath, Van halen, gnr etc. It actually does quite well with these types of tones. Without any pedals, its a bit darker on this channel, especially when the gain goes past 8. With little gain, say around 3, you get enough for blues tones and such, sounds wonderful too. Put it up to around 7 or 8 your in GNR territority. When in AB mode, its more raw and heavier sounding, while more open sounding and less compressed in class A mode. As you turn use the P/T switch it gets a little darker, but nothing the eq can't fix.
It really loves to be turned up. With my attenuator I use it on class A on 30 watts to get breakup a little ealrier and it really makes it come alive providing i'm not attenuating too much.
If you happen to have a pedal board with an eq, maybe a tubescreamer for tighter gain, this channel really sings. Just an eq really is all you need as most have a level slider too.
So it does cleans, little crunch, blues tones, heavier rock, but does it do metal?
With a boost and an eq, it can almost do metal. Its like there is certain frequency that gets in the way for metal that I need a parametric eq to get rid of lol. Its the nature of the amp (minus the clean channel) is rather warm which tends to muddy metal up.
Overall 8.5- Its just not metal amp, dosen't have as much gain as i'd hoped.
Looks sturdy, came with JJ's, heavy as hell. got worries about durability.
Overall if your looking for an amp for 80's hair metal, blues rock and blues, this is a great head for those things. Add in a nice pedal board and its hard to beat. I love the amp, I now only use my jsx for metal.
Here's a clip I recorded like last week, I'll do a few more clips if you guys ask, don't be afraid to be specific.
I think I used an eq with the level boosted a bit, class A 30 watts, sm57. AL3k with guitarheads zbuckers.
http://www.soundclick.com/player/single_player.cfm?songid=11392740&q=lo&newref=1

Join date: Feb 2009
40

IQ
Happy NAD!


That is lush.......sounds beautiful.
HNGD!!!!!!
EDIT: If you have the time, could you give us a slightly crunchy and a clean sound? I really wanna hear what it can do when it's just starting to break up.....
Last edited by JKHC at Jan 29, 2012,
Congrats! How does it stack up to the JSX?


Join date: Nov 2006
1,192

IQ
Cool. Haven't seen a Blackheart in a while. They had a bunch of interest when they came out and seem to have lost popularity since for some reason.
Join date: Mar 2008
780

IQ
HNAD

my Killer Ant is pretty cool

What you described genre wise is kind of what I expected. I never assumed it was built for metal.
Clip won't load for me

That actually sounds really good. Kinda like a boosted JMP with a bit more bass end.
HNGD the BH100 is a beast. It can get a metal sound, but try running it on class AB instead of A.
Sounds nice mate

HNAD!
... Clip won't load for me
Update Flash or use another browser or "Allow" soundclick.com.

Nice great sound clip as well. Good to be able to hear it along with the review.

Join date: May 2008
230

IQ
That is lush.......sounds beautiful.

HNGD!!!!!!

EDIT: If you have the time, could you give us a slightly crunchy and a clean sound? I really wanna hear what it can do when it's just starting to break up.....
I'll defintely record a few more clips this afternoon. With a tele, strat, clean, crunch, rather than just balls to the wall rock lol.
Compared to the jsx, this amp is warmer, has a different voicing. I could get better sabbath, maiden, gnr tones out of the blackheart, while the jsx does megadeth style tones and other tones that need a bit more clarity.
While I like both cleans, the jsx clean channel is a little darker, not a bad thing just different. the jsx stays clean louder though before breaking up.
This made my GAS for a Blackheart explode. Cool sounding amp, hnad!