Plywood Bodies
My cousin gave me a Epiphone SG the other day. He got it for free and he doesn't play guitar.
It's pretty beat up and the pickups aren't amazing but they're not too bad either. It sounds decent. I don't have a beater guitar so I was stoked to get it. The neck, fretboard, and tuners are actually really nice quality.
So I figured I'd refinish it because it has some chips and dents in the gloss black finish. My plan is to strip off the laquer and paint and then stain the guitar wine red and give it a satin finish. I'll leave the neck and headstock black obviously.
As I'm breaking this guitar down I realize its a plywood body......


You know I've always heard that plywood is shit tone wise, but I didn't find that to be the case at all. My concern now though is if I strip and sand this down to the wood will it have a wood grain worthy of a stain (non opaque) finish. The layers will be visible on the side and there is no guarantee that the wood grain is even running parallel to the neck.

-Tony
Personally I would give it a solid coat.

Not all ply is bad, but it would depend on the year of manufacure to a degree, too. And place - Korea or China?

Join date: Jul 2009
10

IQ
I discovered the same when I stripped back a guitar myself for a rebuild (I forget now what make it was, it's been a while) and had the same concern. Mine was about 20 years old, and to be honest, despite my similar concerns, the staining brought out unusual yet attractive graining. If I still have a photo of it I'll add it, but it might well be worth trying. You can always solid coat if it doesn't work out and the process isn't too expensive!?!
Chinese models tended to suffer from quite poor quality control - I've heard it's better now, though.
I would have thought the wood would have minimal grain, what would be visible would be facing the right direction.
Probably not a great photo, but by stripping it were you hoping for this -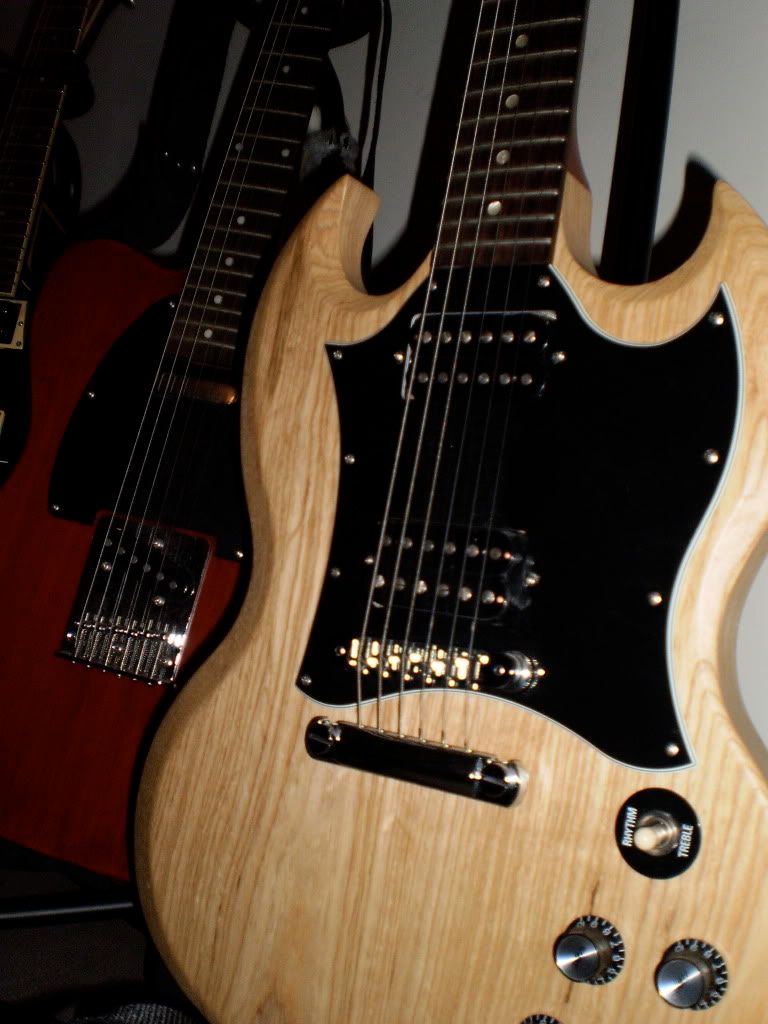 (It's my SG Special in Swamp Ash - natural finish)
You know, it cant look any worse. I think I'll strip it and then decide what to do. Looking into the cavities I can see there are 10+ layers of plywood and I think the top layer is running in the correct direction.
-Tony

Join date: Mar 2008
191

IQ
There's always that zoot suit riot SG thing.

Join date: Dec 2010
203

IQ
Just FYI, this is the top ply of the guitar I'm currently breaking.
I'm just about to take it off so I can put a figured top on, but I actually think it would look pretty snazzy left as it is and stained.
I guess you won't know what you've got until you get the current finish off but you might be pleasantly surprised.
That would look very nice with a transparent finish ... TransBlack?