Haircut :(
Since I was a teenager, I always wanted to have long hair, but I couldn't do it because it's prohibited for men to have long hair in private schools, so I always had my hair cut very short. I could finally start letting it grow when I started college, but now I got a job and I have to cut it, after almost 4 years...
Young guys with long hair are uncommon in my area, so it kind of became my "trademark" after a while; I know it's stupid to be sad for such a thing, but believe me, it's not easy to get adapted to drastic changes like these.

Any of you guys ever felt like this after having long hair for a couple of years?
\_/

My care cup, it's empty.

Join date: Apr 2011
20

IQ
get a Hitler youth and maybe I'll care more

Join date: Mar 2011
41

IQ
I've been growing mine out for over a year.... I don't know what I'd do if I had to get it cut.

Nope. Always had short hair.

My hair's thick, so if I let it grow out, I'm afraid the barber's going to have to purchase a lawnmower.
They are only making you get a hair cut for a job? Usually they make you cut them all.

Join date: Nov 2009
110

IQ
Mine is thick and thin so i grow it out
Join date: Nov 2001
288

IQ
Why do you have to cut it?

I had long hair for years, I never had an employer who cared about it. So long as I kept it in good condition and (usually) tied back in a pony tail, I could do whatever I wanted with it.

Look at it this way: Women can have long hair without it causing a problem, so if an employer tries getting you to cut it off they are being sexist and discriminating against you.
Meh, i'm not very paranoid about my hair.
I used my hair pretty long for a few years. One day i just went to the barber and cut it like Eddie Vedder in this picture: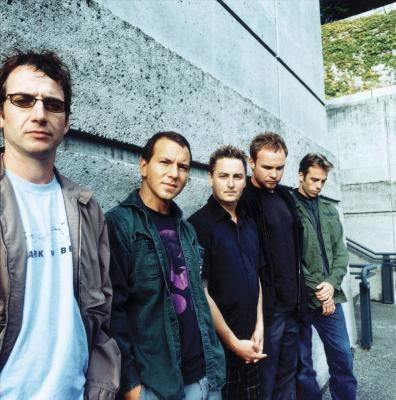 When i got home, my parents said that i looked like i just came from a Nazi concentration camp...

I used it like that, pretty short, for a couple of years. Since last year i'm using it longer.
But not too much, since i'm a lawyer and you have to maintain a certain "image". That doesn't stop me from looking like a bum when i don't shave.

My hair looks like this, right now:
Havent had mine cut in perhaps 3 years - geuss I need to get it short (seeking employment, looking weird cant help my chances) but I am apprehensive about the change, even though I reckon Ill like it better short once it has been done.
Well, I know there are some countries that let you have a job even with long hair, because you can sue them if they don't accept your beliefs or your image; but Mexico sucks in that kind of cultural aspects... there are some companies that won't give you a job even if your tattooes are completely hidden from public view. It sucks, but I can't do much

Getting my hair cut was a great idea. You don't realise how much hassle it is until it's gone
Man, grow up and realise long hair on guys sucks. I had a long hair period too, but you have to let those things go.
My hair is so thick that, when it grows out, it grows into an afro.

Needless to say, I'm not allowed to grow my hair out.

Join date: Feb 2005
111

IQ
Eventually you realize how much you like having short hair and you grow to prefer it.
Facial hair, on the other hand...

Man, grow up and realise long hair on guys sucks. I had a long hair period too, but you have to let those things go.
I...I must admit something totally irrelevant popped up in my head.

Join date: Aug 2011
122

IQ
I feel your pain TS.

I was very sad. I cut mine for money.
Me before:
Me now:
Needless to say, I look much sexier now. I get all the ladies.
All those short hair elitists should burn.
My ponytail brings all the boys to the yard, the're like 'it's better than yours', damn right, it's better than yours, I could teach you but I'd have to charge.
My fluffy ponytail of gloriousness occasionally brings girls to the yard too, all too rarely though.


Join date: Dec 2008
210

IQ
Man, grow up and realise long hair on guys sucks. I had a long hair period too, but you have to let those things go.
This
Get a haircut, and get a real job

EDIT; mines been long for a long ass time, probably 7 or 8 years. I shaved it once and I've been cuttin a little bit off here and there just to maintain it and keep my cigarettes from burning them while I'm playing guitar. It's not like I care but it's hard to jam when my buddies house smells like burnt hair
Last edited by bastards at Feb 3, 2012,