Favorite Guitar/Amp Combo

Join date: Oct 2008
120

IQ
Mixing and matching my guitars and amps I have come up with two combos that create the greatest tones on Earth.
- Rickenbacker / Fender Princeton Chorus
- Telecaster / VOX AC30
The Ric/Fender is pure clean, sparkling, chime.
The Tele/VOX creates hard, rich, rocking grit.
Two very different tones. Both incredible. I'm glad I found them.
What's yours?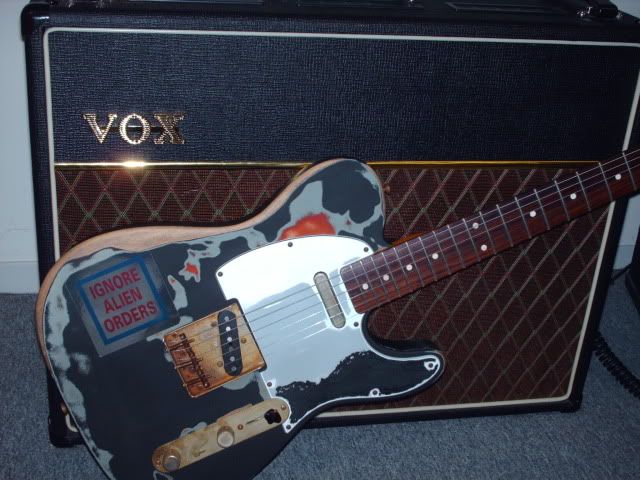 My Music Man and any amp out there.

The greatest guitarists on earth play EBMM.

Join date: Dec 2009
240

IQ
ESP Eclipse II and a Mesa Boogie Roadster or a G&L ASAT Classic with a Mesa Mark 2C. both those combinations sound amazing to my ears, and I really wouldn't be able to decide if I had to.

Join date: Oct 2007
571

IQ
My Fender Jim Root Tele and a Peavy 5150 with either Marshall 4x10 or Mesa Oversized, since the guitar has EMG's in it the tonality is somewhat unimportant, but I love the feel of the thing.

Join date: Sep 2009
223

IQ
Strat/Bassman

Les Paul/JMP

Jaguar/Showman

Casino (or Country Gentleman)/AC30

Telecaster/Twin

Superstrat/5150

Prestige/Triple Rectifier

ES-335/Twin Reverb


There, I think I got all the most popular ones.

Join date: Oct 2008
120

IQ

Casino/AC30

I try that combo and can never get anything that blows me away. It's good, but that's it.
Strat/ 57 deluxe is pretty amazing

I use a Les Paul/Fender Blues deluxe........Not so common, but sounds sick.

I also use my Les with a shitty solid state Randall 40W from time to time, just for running extreme amounts of effects through the sterile cleans. Sounds pretty cool.

Join date: Feb 2009
120

IQ
Right now, the only actual amp I have is a Fender Champ 25SE and I use that with all my guitars. The only thing I use extra is a BBE Green Screamer. I can get close to what I want out of it. But then again, what choice is there.

I really miss having an all tube amp. I get sort of close with what I have, but it just doesn't saturate like a good amp's preamp section.