Does wire thickness matter when wiring cabs? Help needed ASAP!
Hey I replaced a couple speakers in my 2x12 cab today and all is great but I want to re-wire it all as the wire already there looks a bit knackared.

Today I bought some and noticed its thicker than the current wire. The current wire is pretty thin!

Is this ok to use? It says 24/0.2 on the packet. I have no idea if it's ok.

Thanks, Luke.
If I'm right, and I may not be, I think that is the equivalent of 18 AWG, which is probably fine for lower wattages on short runs., It won't hurt to have heavier wire than you had before. It just means you'll be able to route more power through it without the cable burning up.
Thank you for the reply. I'll crack on with it then

But someone do stop me of its not right ha ha
24/0.2 means 24 strands of 0.2mm thick wire, it will easily take the load inside a cab even with a hefty wattage tube amp. It should take a minimum of 5000W peak, which you will never own an amp capable of producing.
Last edited by GABarrie at Feb 16, 2012,
Excellent thank you. I'd prefer a slightly thicker wire. The thinner one, feels, well too thin!
nah man, lighter weight cables can take more punishment, thicker cables can get damaged easily
Shit I just tried moving the head with a speaker cable still attatched. What an idiot.
The input jack will be ok? As the speaker cable has bent slightly. Argh.

thanks
it depends, is it the jack on the head or the cab that's an issue? the cab jack is probably a chassis jack socket and fairly sturdy under pressure, the one in the head is more likely to be a PCB mounted one and yanking it can often break the soldering
It's the head. It's hand wired from 1969.

It seems sturdy. Should I open it up and check? What am I checking for I so?

Cheers
first off, see if it's like one of these:
if it is you're probably ok, which is likely being hand wired.
if it looks like this: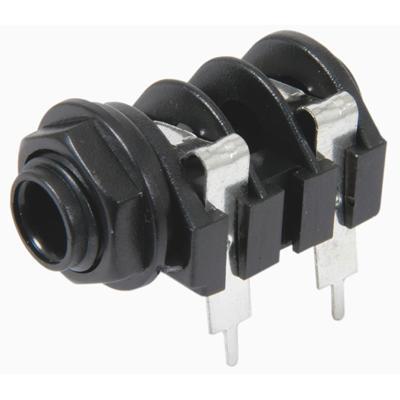 set into a PCB check the solder connections on it
Thanks mate I'll do that after finishing my cab. It wasn't a massive yank, but enough to bend my cable.

Thanks again

Luke
Cheers all looks fine

Hmm...there is a slight hum coming from my amp...any ideas?

I didn't really notice it before...