NGD!!! ....well, actually I just finished this project.

Join date: Apr 2008
50

IQ
I don't post here often, but I just finished this project and thought I'd share it here. I do quite a bit of building... some from scratch, some from parts. This one is a parts build (although I pretty much rebuilt the neck).
I got the body and neck on ebay. The body was pretty nice. The neck, a different story. It was made by a guy that was making and selling a bunch of necks on ebay, using exotic woods. When I got it, it was a mess... frets were cut wrong, it wasn't finish sanded, and the whole thing was coated with a gooey mess of some sort of oil. The seller wouldn't make good, so I decided to make the best of it. Removed the fretboard, installed a proper truss rod and an ebony fretboard.
I had a set of GFS Fatbodies in a drawer, so for now, that's what is in it. It actually sounds pretty good. The combination of ash body and ebony fretboard give it a lot of snap and good sustain.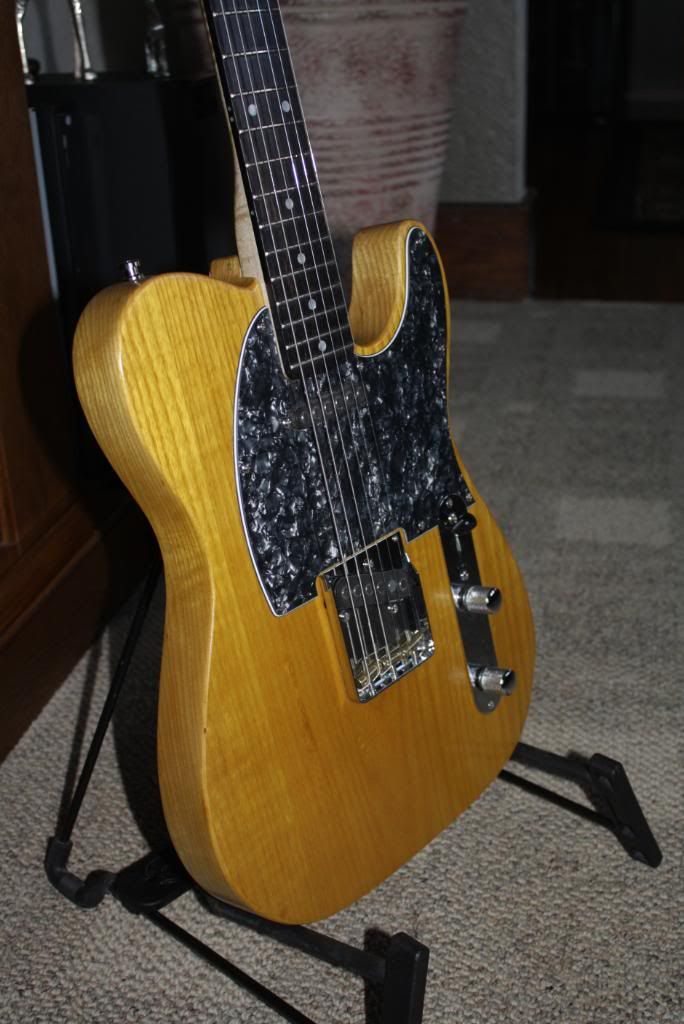 Thats looks amazing, awesome build and HNGD!

Join date: Jan 2012
20

IQ
Damn that's a beautiful looking neck!
Great job!
Looks great! love the flame maple!
Good GOD, the back on that neck! Very nice-looking too, has a really vintage vibe(makes me think of 60s television for some reason) but at the same time doesn't look boring and tired(shoot me but I think the whole Fender-sunburst-and-red-tortoise-shell-pickguard idea is generally pretty ugly), very fresh!

HNGD man!

Join date: Dec 2011
80

IQ
Sweet jesus that is one beautiful guitar.
Nice work on the neck and board!
Happy NGD!