Npd...d..d.d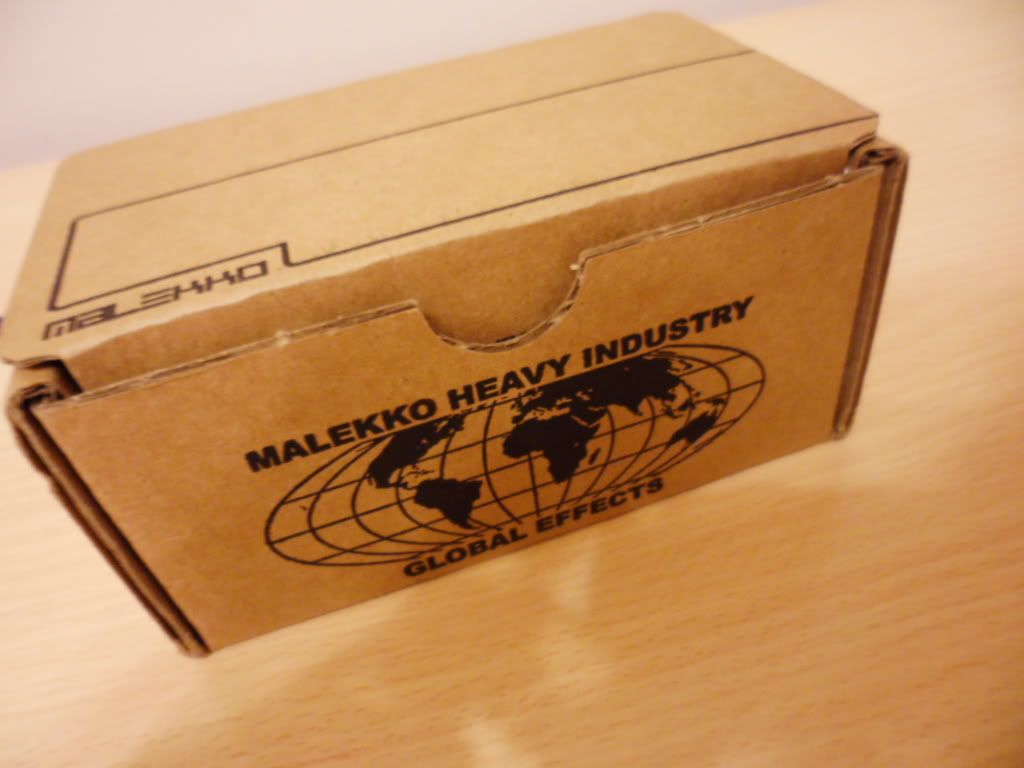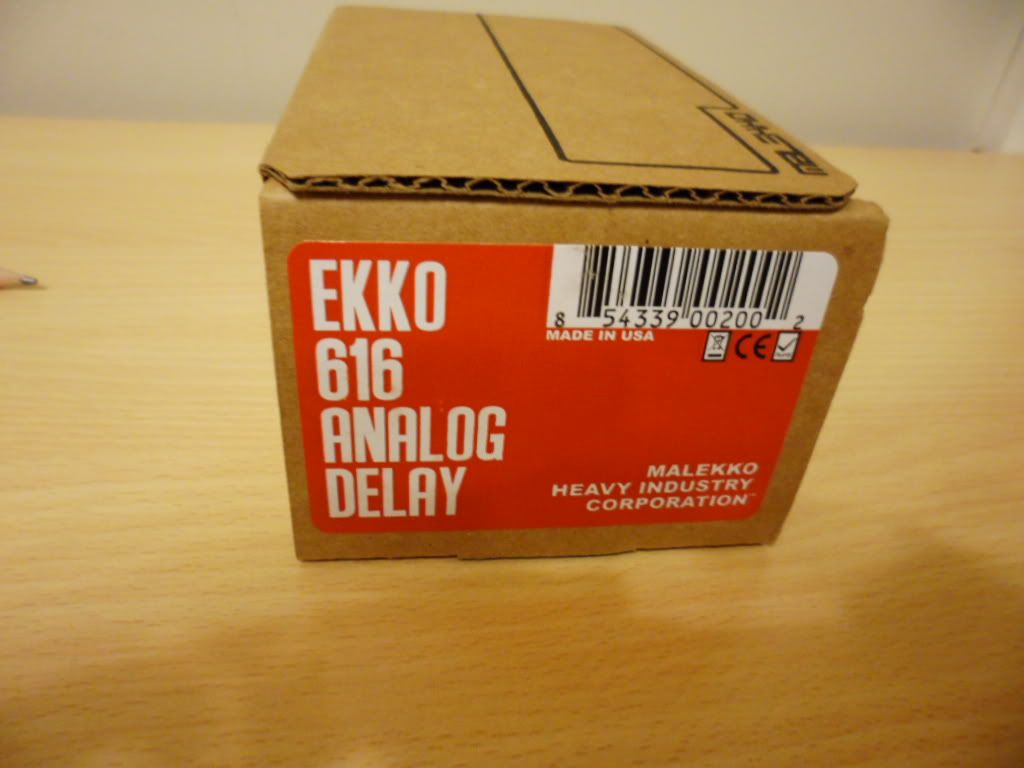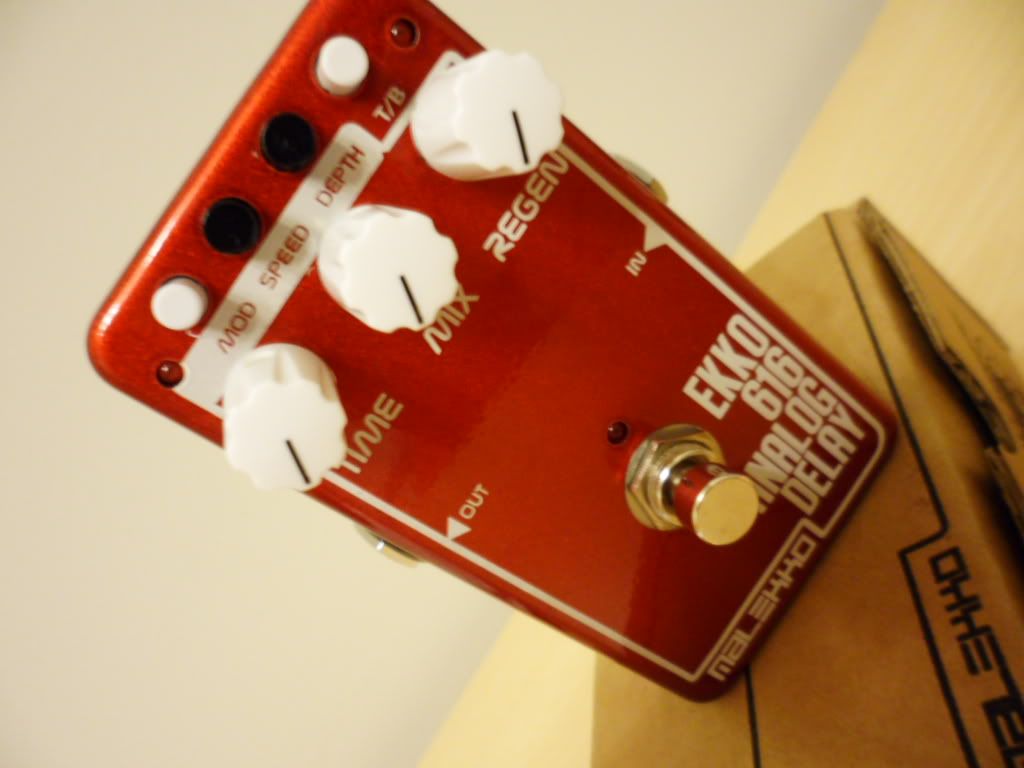 I thought these were now discontinued but as it turns out malekko is shelling out some more; i haven't had a chance to have a play with it yet so I'm using a review i found and adding a little extra from pgs and the malekko website

BACKGROUND: Malekko is a company built on the idea that making mistakes is learning faster. This young five-year-old company, started by two musician friends, has a track record of tirelessly creating prototypes until they finally come up with a special pedal.

The Malekko Ekko 616 is the result of that signature determination that has become the DNA of Malekko. It was designed to be the brightest analog delay on the market with a modulation that can go from smooth and subtle choruses to full-on Lesly sounds. It should be noted that there are two types of 616s out there: original and modified. Due to a bad batch of components, the first 616s had a lingering repeats problem. If you turned the pedal off during a delay, the pedal would finish the remaining repeats when you turned it back on. If you have or end up with one of these pedals, Malekko has offered to fix it for free. For this profile I lucked out, thanks once again to my friend Q, and had the opportunity to play both.

GUITARS: Gibson Les Paul Custom Classic Silverburst, Fender Eric Johnson Signature Strat, 1986 Fender MIJ '62 Reissue Tele with Texas Special Pickups.

AMPS: 65 London 2×12 Combo

FIRST IMPRESSION: It's not silver. This is never a good sign. However, the red looks like it was taken from a really fast sports car, say a Ferrari 458 Italia. This usually is a good sign.

The repeats are clear and rich and with the Strat, can get some very cool Joshua Tree sounds.

At this point the modulation seems out of control. It takes a while, but I finally get a setting that is usable but for the most part, I just keep it turned off.

PROS: Much richer and less sterile than a digital delay. So many digital delays sound tiny with every repeat computer perfect. This delay has great highs without being brittle and the bucket brigades make for a just- less-than-perfect repeats which gives the 616 so much character.

The true bypass/buffered knob is a really cool option to have on a pedal and I wish more pedals had it. On the modified pedal the buffered is a little brighter than the true bypass.

CONS: The Regen knob is a case of controlled chaos. If the knob is at eleven o'clock or higher the repeats keep going and keep getting louder.

The true bypass mode is supposed to have a darker sounding delay then the buffered mode. On the original 616, it seems like it doesn't just make the tone darker but alters the tone of the guitar itself. It feels like there is actually a decibel level decrease.

FINAL THOUGHTS: The oscillation and modulating effects make for some great Mute Math sounds. Not the most useful when playing "Inside Out," but cool if you like the random wacky sounds pedals can make.

Rich and clear are the best words to describe this pedal. It is a great delay if you use a none tap-tempo digital delay and are looking for something with a richer tone that doesn't sound muddy. In fact, even if you're not looking for a richer, warmer delay, I would still recommend the 616.


The Ekko 616 is the latest analog delay pedal from Malekko Heavy Industry. No longer will clock noise be an issue with your delay. The Ekko 616 has virtually no clock noise and with the buffer engaged, it could be the quietest analog delay on the market! The switchable buffer/true bypass allows you to get either a brighter full frequency tone or a darker more Floydian sound respectively. Malekko is well known for the high quality Echo 300 and Echo 600 pedals, now the Ekko 616 brings the price down to the working musician's budget. The Ekko 616 also features adjustable modulation with the controls right on the front instead of having to open the pedal up and deal with annoying trim pots.
The E616's specially voiced repeats allow a larger bandwidth to pass than most traditional analog delays. Turn the mix pot all the way up and the repeats will be slightly louder than the dry signal if needed, allowing greater flexibility. The regeneration pot will take you from a simple slapback to a nice gentle decay of a few repeats then all the way to taking off into outer space with just a turn of the pot! Engage the modulation button and the Malekko EKKO 616 takes on a whole new personality, from subtle chorusing or beautiful vibrato to way WAY beyond. The EKKO 616 also allows you to select your type of bypass between buffered or true bypass. Tired of annoying volume drops? An internal trimpot (labeled "gain") will allow you to set the EKKO 616's level to your specific setup.

Join date: Nov 2007
30

IQ
review it yourself :P

nice pedal.. I wonder how it goes for a slapback sound...
talk about cutting corners.
Well at least they're his own pictures.

Great pedal, congratulations on your purchase. I use mine a lot, it's great for slap back! The thought of leaving it off of my board is unthinkable!