tuning drops mid song?!?!?!?
so a while ago i installed gotah locking tuners in my prs se custom to eliminate my G and B strings from constantly dropping tune. well the problem still happens nomatter what i do. i can breath on those two strings and they go out of tune.
its currently and has always been tuned to drop c as that is the main purpose of that guitar. these tuners have been on for over a year and im just tired of dealing with it but dont have the cash to buy new tuners. the problem does seem to not be so bad in half step but i like the sound of that guitar in drop c.

any ideas for a fix? or what i can do? as always thanks!

Join date: Dec 2009
10

IQ
How heavy a string gauge are you using? And are you sure you're putting your strings on right? Sounds stupid but I was rushing putting on my strings for a while and the damn thing kept going out of tune.
Did you stretch the strings when you put them on your guitar? It's very important.
i know you have locking tuners but probably it's your not giving enough slack or way too much to the strings.
Try winding them like this also.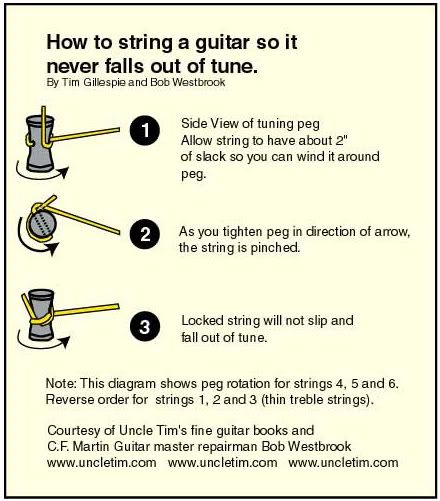 Join date: Dec 2006
130

IQ
Did you stretch the strings when you put them on your guitar? It's very important.
Do this, the next one, and you could try putting some graphite into the nut slots. Pencil works fine.

Join date: Sep 2008
50

IQ
Make sure you've wound them around the post correctly. I was having loads of problems with my high E string awhile back and the problem was that the string didn't wind around the tuning post correctly.
I'm not familiar with cutting nut slots, but it could be possible that your nut is not cut properly causing the strings to go out of tune.
sorry for the delay on getting back. i have been at work.
yeah i stretch the strings. i put them on and let the guitar sit for a while and tune it as the day progresses. the only thing that i havent payed much attention to is how i wind them. this is the only guitar that refuses to stay in tune. all my others stay in tune all the way through the strings life. but the PRS on the other hand is a pain in the butt. ill try winding like shown in the diagram and i have tried graphite in the past. maybe i havent put enough in the slot. ill give it a shot and see how it goes. thanks guys.

Join date: Apr 2010
1,580

IQ
is it set up?

check truss rod, probably not that though.

are you sure it has nothing to do with the bridge? i am not overly familiar with PRS SE's but if it has saddles are the saddles staying in place? are you breaking strings frequently?

how is your action adjusted?

worst comes to taking it to a tech, but sometimes its necessary. a lot of them are friendly enough just to tell you a suggestion, or maybe show you quickly and not charge you. i know i had a slight issue with a nut on an older guitar, i asked the luthier at my GC (yes my guitar has a luthier, certified luthier) they were one of the pilot stores for that position i have heard. but he takes it hits the nut with a file for a minute and hands it over and it was fine. i asked him how much and he just said it wasn't a big deal and have a nice day.

a lot of them will do that because that is starting a relationship with the tech and you the consumer.

______________________


how do the nut slots look and how do they look cut in terms of if the strings are in the proper spot, to deep, binding on the nut if it is at a sharp angle.
Last edited by trashedlostfdup at Feb 18, 2012,

Join date: Feb 2011
300

IQ
Trashed has some good sugestions

Now is this a hard tail or is it a trem?
I have very little experiance with the hardtail model, but the bridges are noth the best. I sugest looking into the Badass style wraparound. It is a fully adjustable bridge with independent saddles for every string. If $$ is an object, try guitarfetish.com they have this style of wraparound bridge for much cheaper than the real deal, and they are pretty diecent quality.
Have you gone to heavier strings than what were stock? If the increased gauge is too severe, the nut slots may not be big enough, causing the strings to not lock in place as they should be.

Also next time you string it make sure you wind the strings properly. The vast majority of tuning problems are caused by the strings slipping... Though if you're using locking tuners, it almost seems to me that it would have to be slipping at the nut. Are you winding the strings around the peg a lot? With locking tuners you usually don't need much of a wind at all. Sometimes even 1/2 a wrap is enough if the lock works properly. Too many wraps can cause the tension to be erratic, because of all the extra slack in the windings that can pop loose as the strings vibrate and stretch when bending, etc.
Just get the nut filed out and it´ll be ok, Prs se´s tend to have that problem which is easy to fix.