Replacing pre-amp components with better parts
So here is the deal- I just got done installing a "re-voicing" kit into my "extra" Crate Blue DooDoo. There is no more mud in the amp but's its because the bass is gone. I don't like it and I want to convert it back to stock with higher end components.

Once I get done chopping up the comparison video I took I'll add it so you can see how bad it is.

I'd like to replace all the resistors and caps with higher quality parts and then compare to the stock one again. What types should I use?

Thanks
See all those cheap capacitors(orange ones)- what is a better replacement? Silvermica?
how about for the ceramic? And the electrolytic?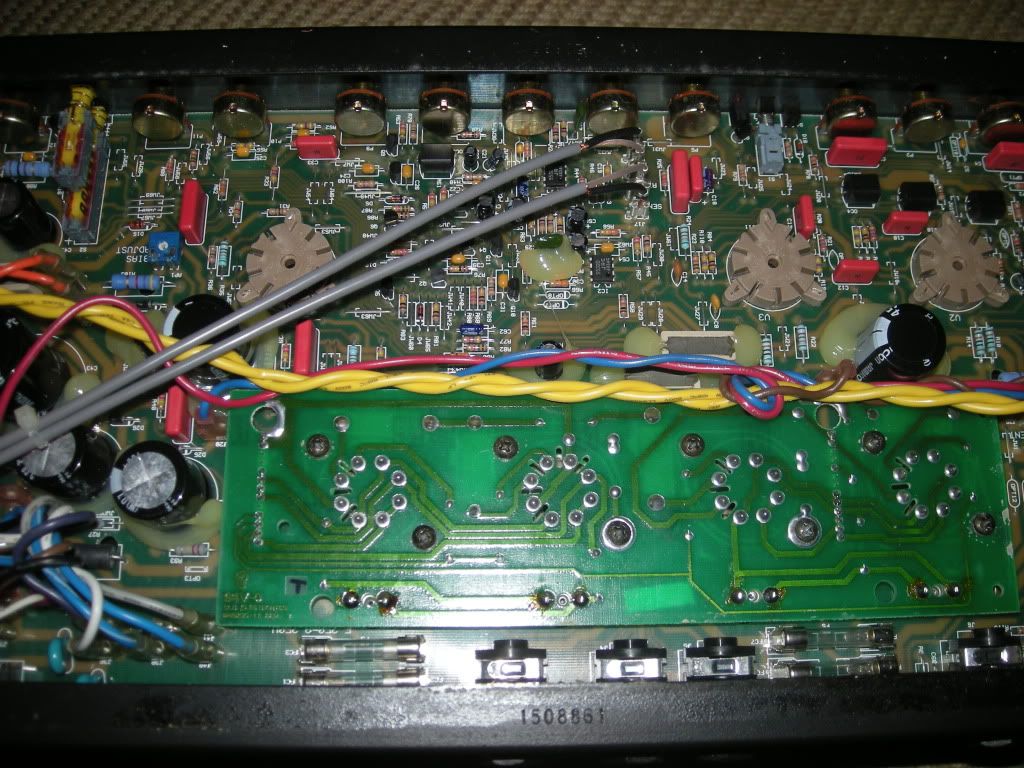 Last edited by R45VT at Feb 26, 2012,

Join date: Jul 2006
261

IQ
that's not gonna help very much to be honest. i think they're WIMA box caps, and they're not that bad. the yellow ones aren't the best in the world but theres just too much crap going on that it's gonna be such a hassle to pull out the PCB it's not worth doing all that just to change a few caps.

if you're changing cap VALUES then i'd understand. but if you're keeping same values just changing the component type, i wouldn't do it.
Thanks EC.

I bought a mod kit that changed the voicing on of the amp and hated it. It killed the bass and added a ton of mids.

So at a minimum I am going to be replacing the caps and resistors back to stock values. I can test and fix shit just fine inside and amp but I don't know how to change the cap and resistor values to suit what I am after.

So basically what I am asking what is the best type of replacement components I can put in there while I undoing everything?
Last edited by R45VT at Feb 26, 2012,

Join date: Dec 2009
530

IQ
which parts did the voicing mods replace?
4 caps in tone stack and some resistors values.

The stock set-up is muddy and doesnt really have low end clarity. I have the schem and would be willing to pay someone for their time for their suggestions.
Last edited by R45VT at Feb 26, 2012,
This is the tone stack. The caps that were installed were silvermica.
You can see C14-16 are big players in it.
Does it look similar to another amp that I could copy the specs?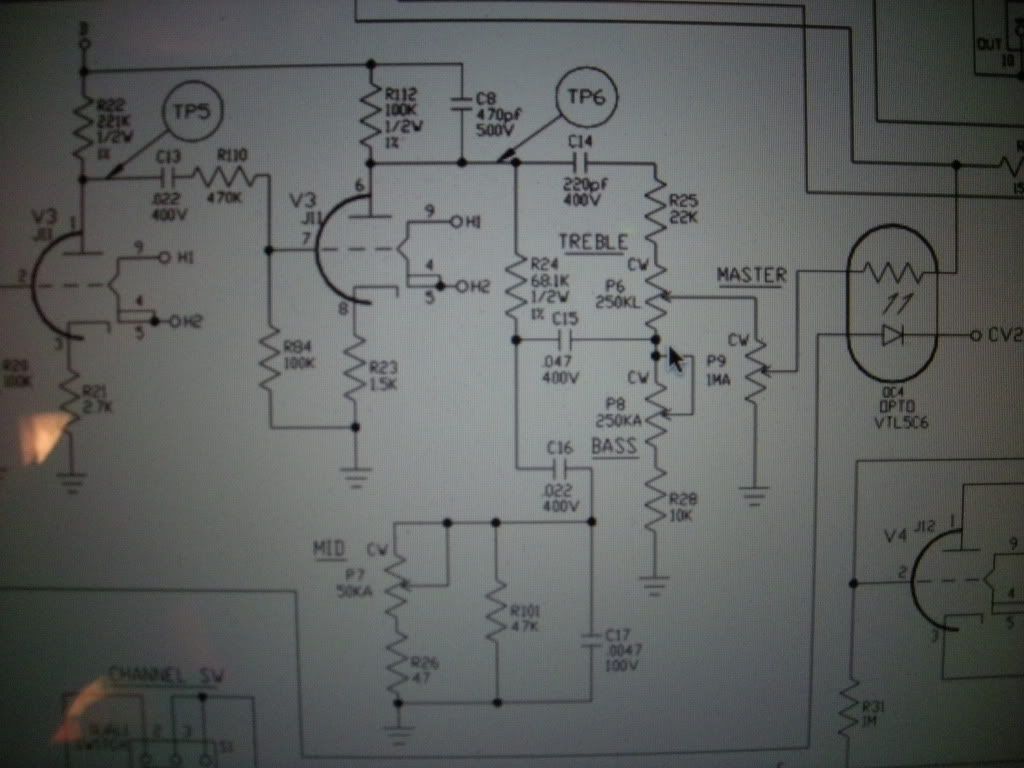 Last edited by R45VT at Feb 26, 2012,

Join date: Jul 2006
261

IQ
it has a skyliner tonestack. well sort of i guess.

clip C8 - i dont like these
clip C17 - it robs some of the high mids i think
clip R101 (the 47k in parallel with the mid pot and R26) - more range of mids
change C14 to 390pF - more high mids
change R28 to 1k - bigger range of bass, you can have less bass or more bass.
change C16 to .047uF - if you need more low mids
play with R24, i like 100k there. more resistance will give you more highs and apparent tightness in the bass.
lower R25 if you think you need more highs. most tone stacks don't have R25, replaced with jumper.

if you can change pots, i'd change treble to 250k audio taper, bass is fine, and mids to probably 100kA or 250kA.