NAD (California content inside)

Join date: Nov 2011
90

IQ
Its a Mesa Boogie Express 5:50 2x12 combo. I've been wanting to go from a half stack back to a combo for a little while. Ended up trading my Laney for this beaut. She is in absolutely 100% mint condition with maybe 10 hours of playing time. This thing is a tone monster!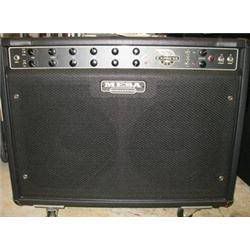 I had a choice between this and a Stiletto combo and I chose this one. I'm sure a lot of you probably would have picked the Stiletto but I chose the Express for a few reasons. One is that after trying multiple different amps I have come to realize that I am more of a fan of 6L6 more american voiced amps. While the Stiletto sounds good, it along with the Laney were just a little to bright sounding for my taste even with the treble dailed back a bit. Also the Express is almost 15 pounds lighter.
And the big reason I chose the Express is the Clean channel. The clean channel on an amp is the most important thing to me because I use effects for just about everything, as long as I have a great core clean tone, I'm set. The clean channel on this amp is one of my favorites on any Mesa amp, or any amp for that matter. Very thick, full and warm sounding. Great bottom end without being overbearing like some Mesa's can be without a lot of EQ tweaking. In 5 watt class A mode the clean sound is nice with a slight bit of breakup and great harmonics. In 50 watt mode the sound is huge. It takes pedals extremely well.
While the core tone is great, this amp doesnt do really high gain on its own, but stick a tube screamer in front of it and man does it tighten this baby up. Great great great modern rock sounds with huge low end and cuts very well. The boosted distortion on this amp is great because its thick and heavy, has lots of low end, but retains clarity without getting fuzzy like some high gain amps do.
So overall I love this amp. The Laney was great, but this amp suits my needs better. I am more than happy with this trade. Also as part of the trade I gave him an old Behringer em600 that I didnt need, but he gave me a early 90's Kramer KS-400. Its not in bad shape for a 20 year old guitar and I am honestly surprised by the sound and playabilty of the guitar. Its a little gem for someone looking for something cheap. That being said I am going to try and trade it for a cheap bass as I need a bass more than I need another guitar at the moment.
Last edited by guitarguychris1 at Mar 1, 2012,
My buddy has one. He's recorded and gigged with it. I can definitely agree that the cleans are great, but engage the contour and turn it way up for it to get into metal territory.
Join date: Mar 2008
780

IQ
yep - cleans are nice
HNAD


Join date: Mar 2008
110

IQ
I love those amps. Played one for a bit at GC a while back and it was really nice (especially the cleans and crunchy tones).


HNAD!

Join date: Nov 2011
90

IQ
Thanks guys, I am loving it. I can't wait to gig with it. To bad I have to wait until april for that ":sad face: