Ngd :)

Join date: Nov 2011
90

IQ
I've heard mixed reviews about the Breedlove Atlas series guitars, and even I wasnt that impressed with them, until I picked up one with a cedar top. First of all the guitar is beautiful in its simplicity. The contrast of the light cedar and dark mahagony seperated by the black binding is stunning. I love the very light satin finish so you really get a feel for the wood grain. The sound is big but balanced, not overly bright or mellow. When you strum a chord you can feel it in your chest, but it sounds great playing fingerstyle. Overall I think this is just a great all around guitar and with the beautiful case it came with a great bang for your buck. If this exact same guitar was made in America instead of overseas it would easily be twice the price.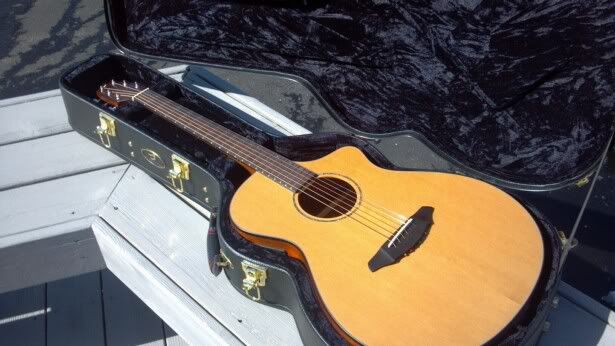 Last edited by guitarguychris1 at Mar 6, 2012,

Join date: Nov 2010
90

IQ
That looks nice. I've never tried a cedar top...but be careful. I hear they're more breakable than spruce...That guitar is beautiful though...

Join date: Jul 2011
40

IQ
beautiful new baby ! no breedlove dealers around me...sadly.
congrats, and i'm with you on your choice. my favorite breedloves are cedar or redwood top models. enjoy it


Join date: Aug 2011
112

IQ
I need a decent acoustic.


Join date: Nov 2011
90

IQ
Thanks guys. I'm loving it. I played it for about 3 hours when I got home from work. One thing I forgot to mention, the action was set up perfectly right out of the box. Bar chords are no problem with it set up so well. Breedlove's website says the atlas series are made overseas but come back to their factory in america for quality inspection and set up. I wasn't sure if I really believed that, but now I do.
I just got my Breedlove atlas solo c350 about two days ago. It has a great sound. The action and feel of the guitar are really nice. I do t want to put it down. I tried many guitars makes and models before I bought my Breedlove. They all seemed to be missing something. Then I played this one and Within a moment I knew I was getting it.