New Bass Day x 3. Cool Narnies.
Haven't really been around much lately, been a busy boy. My bed wake up time changing from 12pm to 6am and being too screwed to do anything really (Long weekend HURRAH!).
Anyway I've got some new basses, as my camera is about 350 Kms away this iPhone shot will have to do. Let's face it, my NBD pics have always been pretty shit regardless of the camera anyway.
Anywho: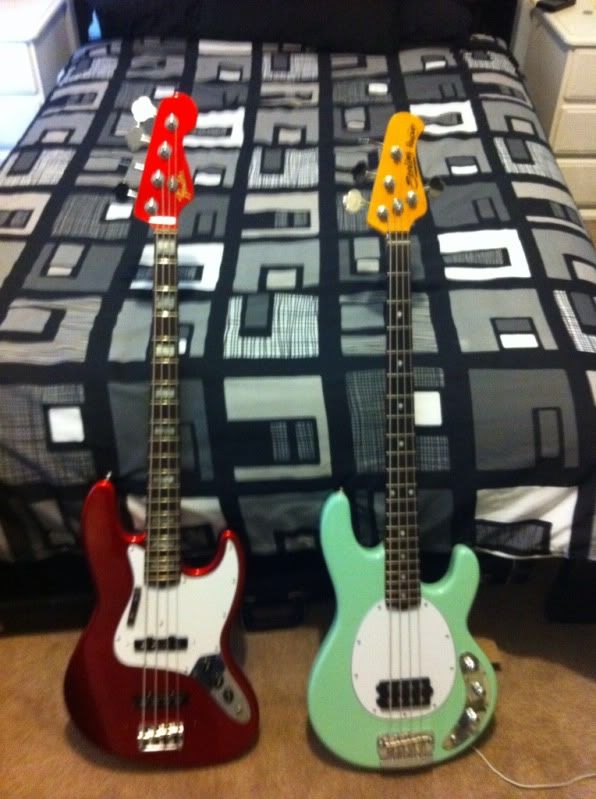 If you've been in the Plan thread you might've seen the 50th Anniversary Jazz. It came in awesome birthday boy wrapping paper.
The 50th Anni Jazz is awesome, they basically took all of the awesome-est features and specs the Jazz bass has had since it was first created and rolled them into one awesome CAR package. I love it. I got a rosewood thumb rest for it. Still deciding if I like it or not.
Next to it is a Sterling by Musicman Ray34CA I picked up yesterday. It's never really happened to me before but I rolled up to Pony Music and tried a few basses for shits and giggles and ended up just HAVING to have this one. I compared it to another Sterling Classic they had there and a couple other basses including a Warwick Pro Series Corvette. I don't know what it was but this one just killed everything.
For anyone who's thinking of going there Pony Music is really awesome. They're just so accommodating and laid back. I asked the guy if I could try it with some kind of dirt pedal, I wasn't really sure on which one because they didn't really have anything similar to my Wounded Paw. He promptly grabbed about 6 pedals for me to try, hooked them up to a power supply and daisy chained them for me and said to play around and replace them with whatever I can find. I was in there about almost two hours and no one batted an eye lid. A different sales guy would come up every half hour or so and ask if there was any other basses he could grab for me to try. They let me swap around heads and cabs by myself at will and encouraged me to be as loud as I wanted. Can't praise the place highly enough.
The other bass is a EBMM SUB I bought on eBay which I'm probably going to sell when it arrives. No pics as yet.
EDIT: Wow, that picture is REALLY horrible, I'll see what I can do.
Last edited by consecutive e at Mar 9, 2012,

Join date: Oct 2009
170

IQ
Seafoam lives! HNBD! Enjoy it!

Join date: Jun 2007
40

IQ
Finishes so sexy.... inlay blocks too much awesomeness....

So which of these little fellas has been getting the most play time?
I'm starting to think that i don't like the look of stingrays... :S
However, as I said before, that jazz is pure awesomeness/sexyness... I like the look of the painted headtsock, but i would prefer it to go unfinished. the color is just so nice, and I have to say, I don't know many bass models, but at least about body shapes I think jazzes are the most beautiful.
Congrats, and enjoy!
I don't know why I envy you more, if because of that jazz, or because you find an accomodating store... probably, the last one is harder to find

also: why are you buying and selling? did you find a good deal used, and reselling to get some cash out of it?
The basses are nice, but everyone knows the monkeys are the secret to great tone.

HNB'sD. I have to say the SBMMs are growing on me. Are you thinking of flipping the SUB just because the Ray is so good?
Flipping the SUB because the Ray was about double the price I paid for the SUB and I can't see a passive SUB sounding better than the Ray. Financially speaking I really shouldn't have bought it. I really need to get my girlfriend and I into a house, but she gave the OK on the condition I sell the SUB.
As for play time probably the SUB at the moment, because it's new. Just chucked some Fodera Strings on it (I'm not big on the stock Slinkys) and it sounds great. The Jazz is getting some La Bella stainlesses when I get back to Melbourne.
Sudaka, I used to loathe the look of Stingrays around when I first started playing, I thought they were hideous. They've really grown on me over the years and I think the "Mint" green is gorgeous. And The sound. Man the SOUND! The necks on these Classics are really nice too. Very, very similar to a Jazz neck.
The basses look amazing :O /jealous
Hnbd!
I really need to get my girlfriend and I into a house, but she gave the OK on the condition I sell the SUB.

Kiss all your expensive new gear days goodbye lol. I get all the best deals from guys whose wives and girlfriends are having them sell something to unclutter and make finances.
Also does narnies mean beans?
Is a Sterling just the budget version of a Stingray? There so many names and prices and for the most part except maybe the bongo, all look pretty much alike. The nicest ray I did see was a sea foam, with tort guard and a maple neck, but the blow out cost was still over $1500...
Selling the SUB was my idea really, it was just sensible. She bought the Jazz for my birthday too. So she understands what I go through.
I suppose you'd call it the "budget" version. They're still not cheap though. It wouldn't surprise me if they were built in the same factory as the Lakland Skylines actually. The sound and feel is true to a "proper" Stingray, IMO there really isn't a lot of difference. I would love a tort 'guard for this bass.
Is a Sterling just the budget version of a Stingray? There so many names and prices and for the most part except maybe the bongo
Sterling by Musicman (SB14 or Ray34/35 models) = budget Stingray
Musicman Sterling = an EBMM model, a little different then a Stingray
And now SBMM is coming out with an even more budget SUB line that has nothing in common with the old SUB line. Maybe to see how many times they can rehash the same words in different orders.


Join date: Nov 2006
220

IQ
Very nice


Join date: Apr 2005
30

IQ
I love CAR, especially with the sexy matching Head stock! Very nice.