Strat body help
Hi I've got myself what was labeled as a fender strat body off eBay, but I'm unsure where it was made or whether or not it is actually a fender, what I do know is that it looks as though it's 5 pieces of alder with a veneer on the front and back, it has the stamp in the neck pocket but it's blurred so I can't see the numbers and it has the barcode thing underneath shielding, pics will follow
That looks like a normal MIM Fender body to me - not many companies bother to put the three holes on the lower cutout like that.

Though if it does have a veneer, that raises questions. It looks like it had a solid finish, and Fender don't veneer guitars that have solid finishes. In fact, only a complete moron would waste time and money putting a veneer on a body that was going to have a solid finish, let alone veneer both the front and back (which is a practise I've never heard of Fender doing, not counting Squier/Chinese Fenders).

Join date: Apr 2008
50

IQ
Hmmm... doesn't look like any of the Fender strat bodies I've seen, but there are a lot of variations out there. What is the distance between the two outer trem screw holes? Maybe a few more pictures?

The veneer thing has me puzzled...


Edit... did some checking... the three holes would indicate that it is a standard MIM body. I don't recall my MIM as having those...
Last edited by stormin1155 at Mar 11, 2012,
The veneer thing is what has me and my dad confused because it looks as though it was originally solid black, well that's what colour the trem hole in the back is anyway, like I say though underneath the shielding is a barcode thing, and it has the same kind of stamp as my fender, what are he 3 holes for?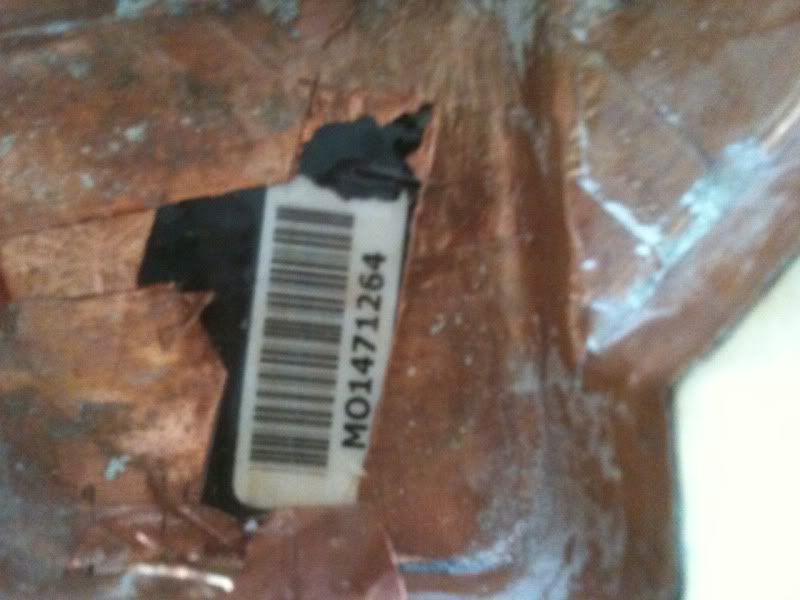 picture of the serial barcode
The bar code does look like a Fender. The small holes are for indexing on the CNC machines. I've got a Mexican Standard with one indexing hole but I'm sure there are different variations. The relief cut in the front doesn't look right. The cut on my Fenders don't go past the strap button. Yours goes way past the button but that may have been done during the sanding process. Fender does use veneers on MIM sunburst bodies but not usually solid colors. The pickup routing looks right and the hole in the neck pocket is normal. I'd say it's a definite maybe.
The person who had it before us made a bad job of sanding it, the part that you arm rubs on he has took too much off, so he might of done the same in other parts, one thing my dad thought about why they put the veneer on is to cover the joins but then again fender use like a resin coat before they paint it