Unlimited Challenge 2012 - Puzzlecaster

Join date: Mar 2008
191

IQ
Looks pretty damn good to me!
I had another question to put to the electronics guys on the forum,

I have a Artec MB-1 blender preamp lying around I was thinking about using for this. It has a 2.5mm jack input for a undersaddle piezo pickup, however I've been looking into the LR Baggs T-bridge, which has individual piezos and a summing board giving you a single wire output, plus a shielding wire. Surely I could just wire these two into a 2.5mm jack in order to make that bridge comparable with my preamp right?
should be fine, if the shielding cable is just electro-magnetic shielding to prevent interference microphonics etc. then you may be better sending it straight to ground rather than the preamp though unless the ground of the output is tied up in it. Cleaner signal if the shielding bypasses the preamp but if the ground and shielding are one cable the preamp won't work.

Basically if the output from the summing board has 2 connections you're good to take the shielding straight to the back of a pot, else use it for the sleeve on the 2.5mm jack.
Thanks for that. The 2.5mm jack has 3 connections to the pcb board, I'll get out a multimeter and test for continuity between them, because it looks like a couple of earths and one hot, but I have no way of really knowing. If you google artec mb1 you can see a couple of shots of the underside with the pins there, but surely thats the case right?
I'll do some proper research for you tomorrow, hopefully on my lunch break, or whenever, I'm actually working on my guitar build tomorrow >.<
Thanks for that man, much appreciated
As far as I can tell, the 2.5mm jack for the piezo should be mono, the third connection is most likely a break grounding the piezo side of the circuit to prevent him if nothing is plugged in. Looks like the shielding wire is the ground and the summing wire is the hot for the t-bridge. As far as the rest of the blender your best options are probably the two volumes, the two tones, the selector switch, and the blender output, I think that one will output what the selector switch chooses.

EDIT: when I'm on my pc and can draw I'll do a diagram if that would help
Thanks GA!, that helps, but if you're willing to draw a diagram that would also be very helpful for clarity
Hooray for progress, been a exciting day.
Thickness sanded the body, came out pretty damn good. There's a couple of areas of minor colour bleed into the pine but nothing a bit of light sanding and alcohol wont get rid of Im sure.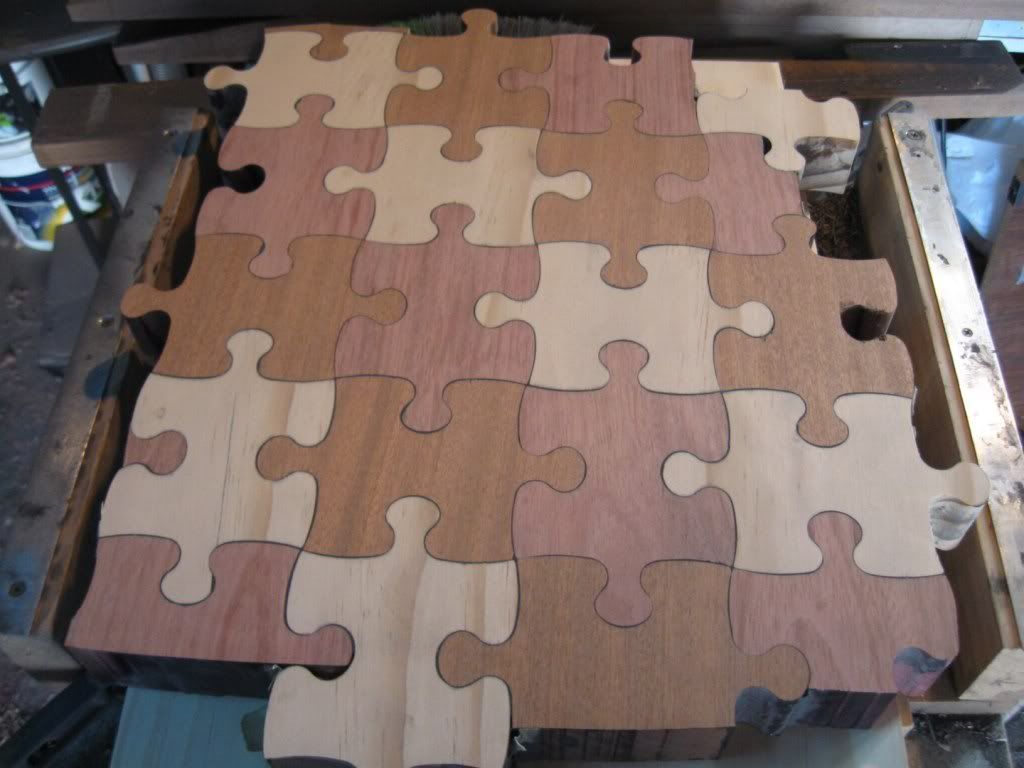 Also cut my fretboard on the cnc, didn't settle on a inlay yet, so laser'd out a puzzle piece as a template and think I might use that
I also thought I might do a couple of contours on the body, so cut a practice body out of some pine so I can be sure I have the processes down before I cut out the real deal, I'd hate to ruin the puzzle body after doing so much work to get it this far.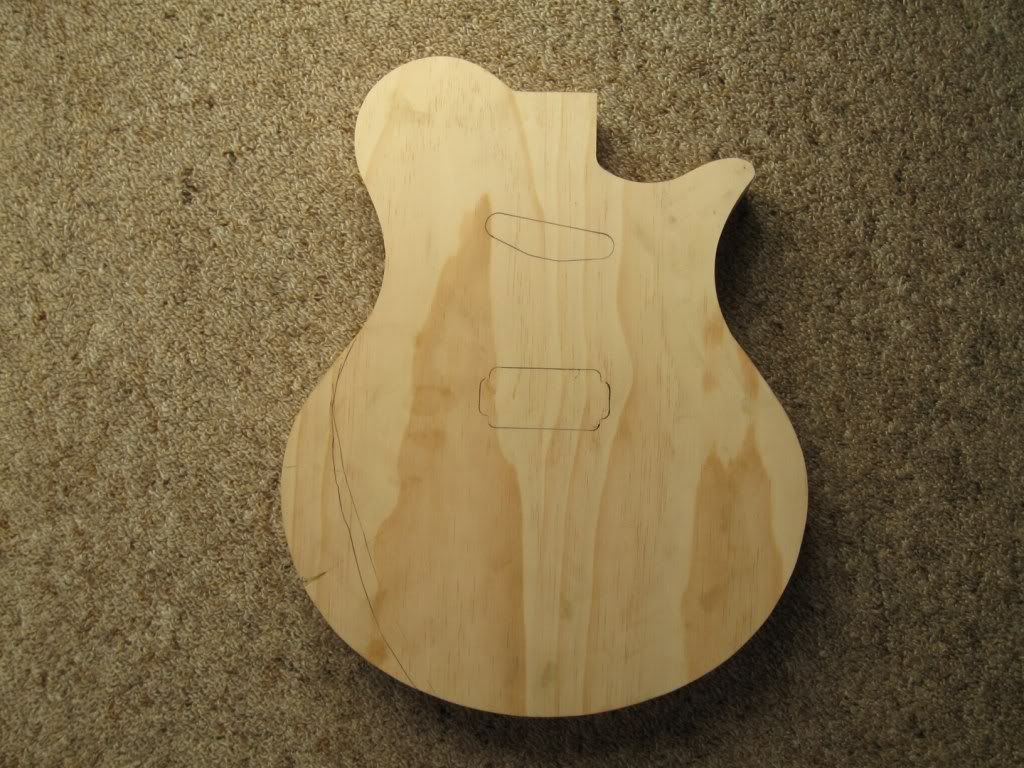 Another special note to JCG, notice the edges, nice and smooth even curves, right off the router, barely any sanding needed. Proper preparation, good bits, and routing technique goes a long way.
Knob idea?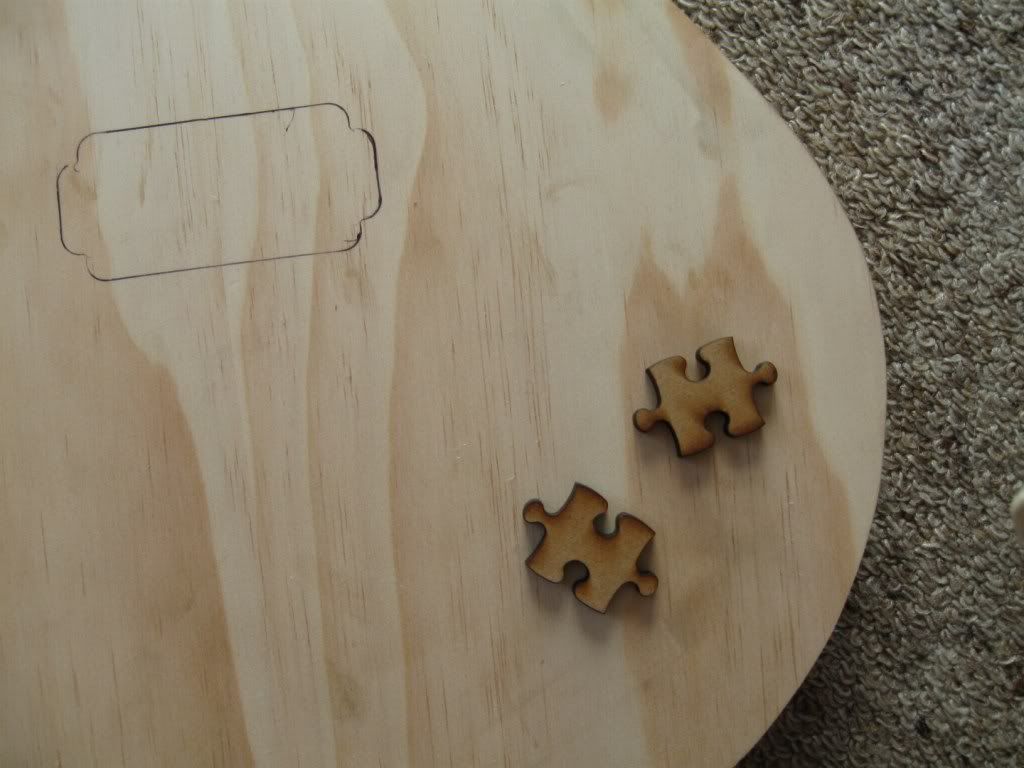 Join date: Aug 2007
131

IQ
Do it! They would be good knobs.
I love how you made each puzzle piece of the same wood diagonal with each other. Looking good.
Man this is looking great!
Hey man, if after the build, you don't want that pine practice body, you send it to me, yeah? : D
HOLY COW!!!

that is a crazy idea. i really REALLY want to do this with a telecaster inspired guitar. 100x better than the legocaster i've seen floating around.


how did you sort those pieces out? whose the supplier?
Uhhh, I'm the supplier, read the thead!
this is one of hopefully two challenge builds, but that all depends on how I go for time in the next few months.

Join date: Apr 2012
10

IQ
This looks so nice, how much?

Did a wee bit this morning,
Neck blank planed to shape, started the headstock cut. No scarf joints here, it's a solid piece that I'll cut the profile out of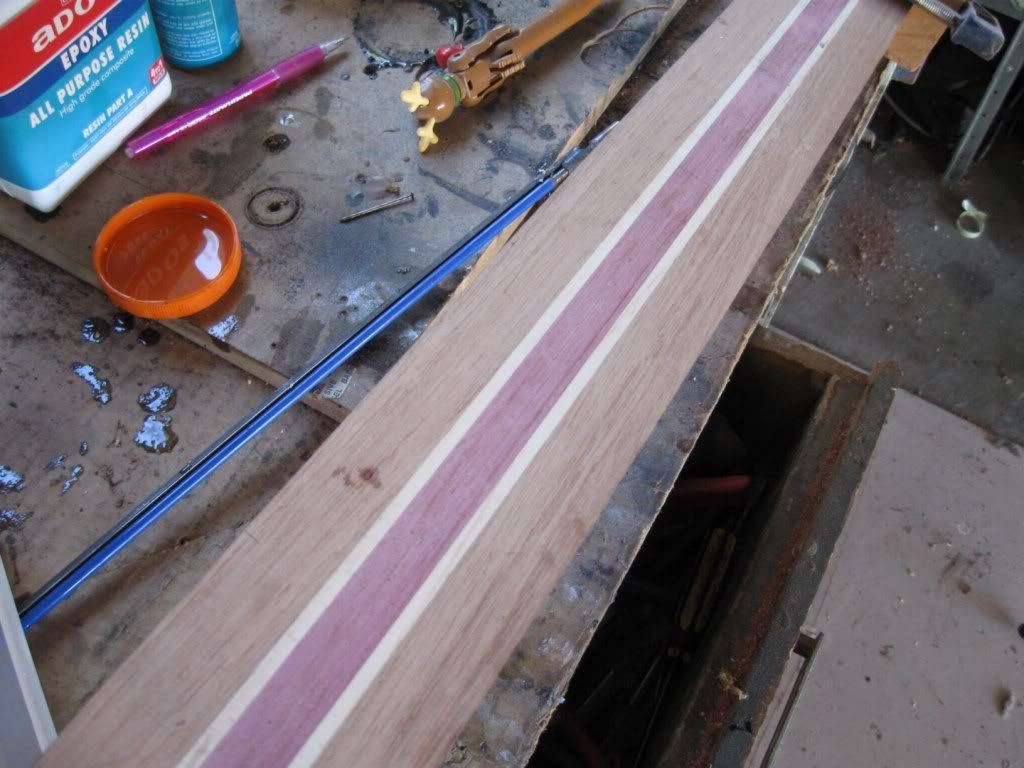 Got the dremel out and did a little bit of routing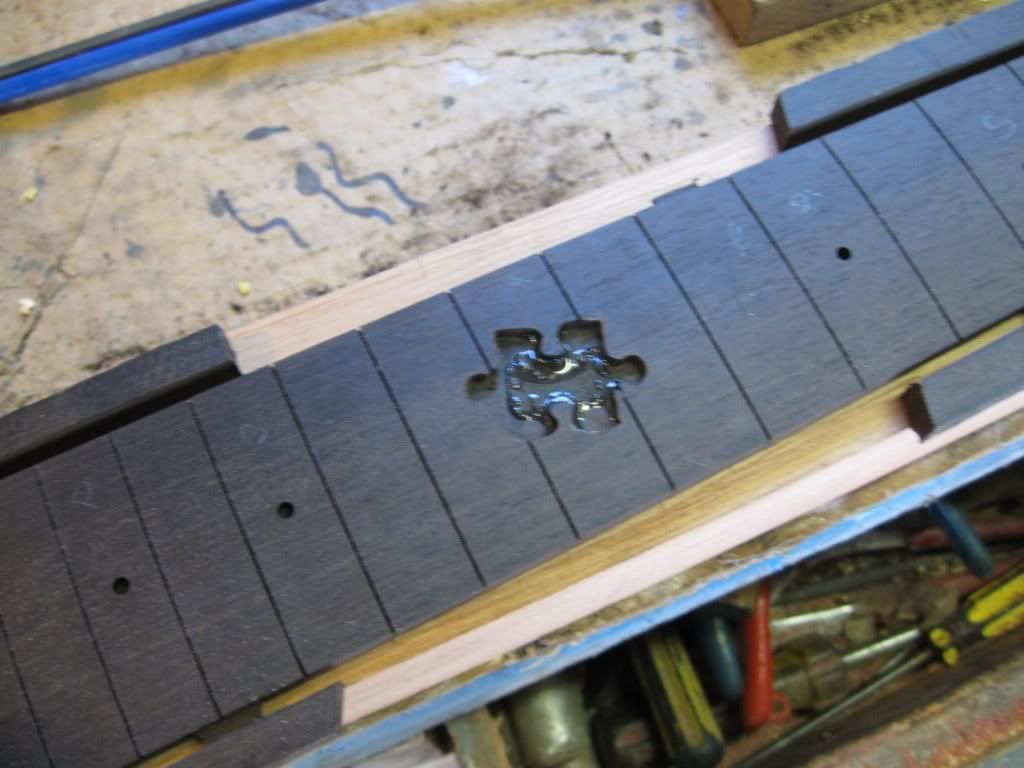 Cut out a teeeeny tiny little purpleheart puzzle piece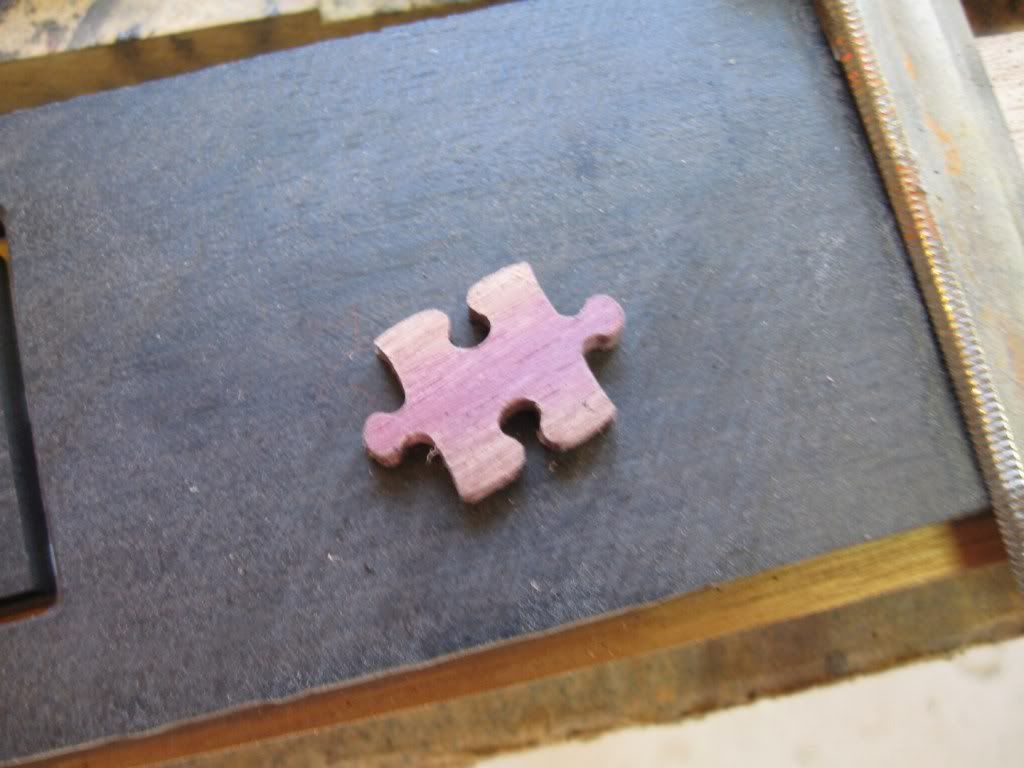 Bit of epoxy and dust
Thought I'd try a little experiment making the fret dots out of epoxy mixed with the three different timbers, in a repeating pattern, who knows how well it'll turn out. Don't know till I try
I have the same reindeer pen!
Looking great man. It may not be your idea, but I'd say you're doing a far better job than others I've seen. It must have taken bloody ages on the bandsaw too - glad to see you're putting it to good use.
Thanks man, and you're dead right about that, a long time spent hunched over the bandsaw and router table
Did a little bit today,
Cut out the neck profile, routed for the truss rod, had a bit of wobble on my first pass, had to clean that up with some epoxy and purpleheart dust. Ah well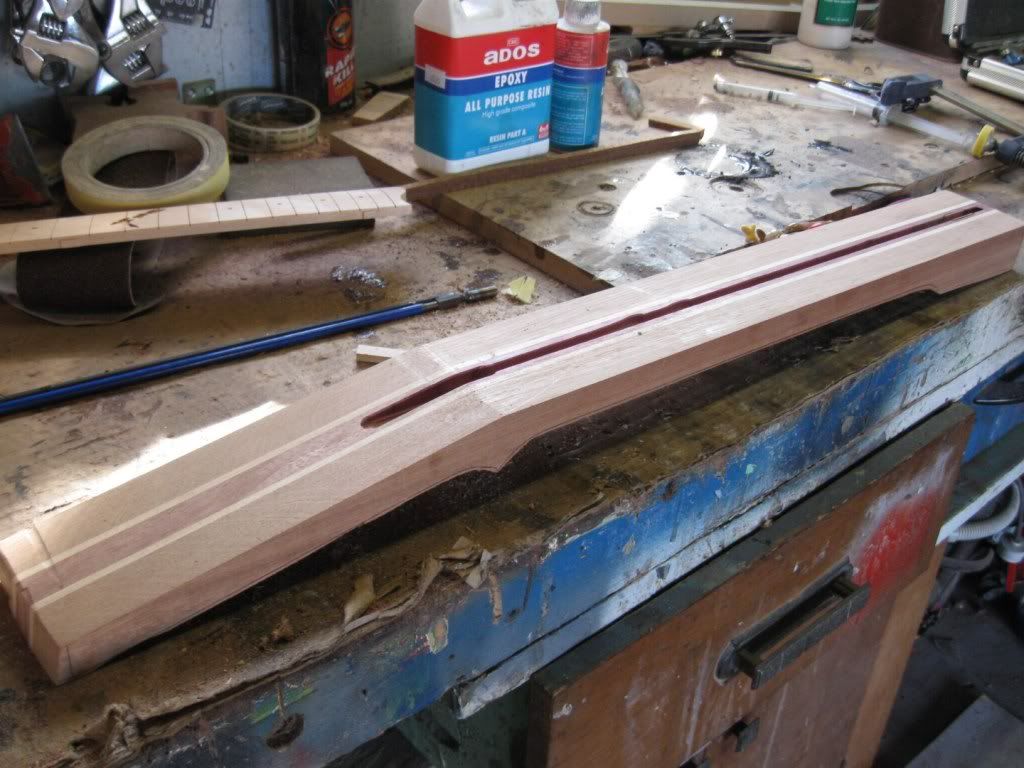 Sanded down the inlays
My little idea to use the 3 different timbers mixed with epoxy for the dots didn't work out that great, came out reasonably dark which was a shame, but hey you win some and you lose some!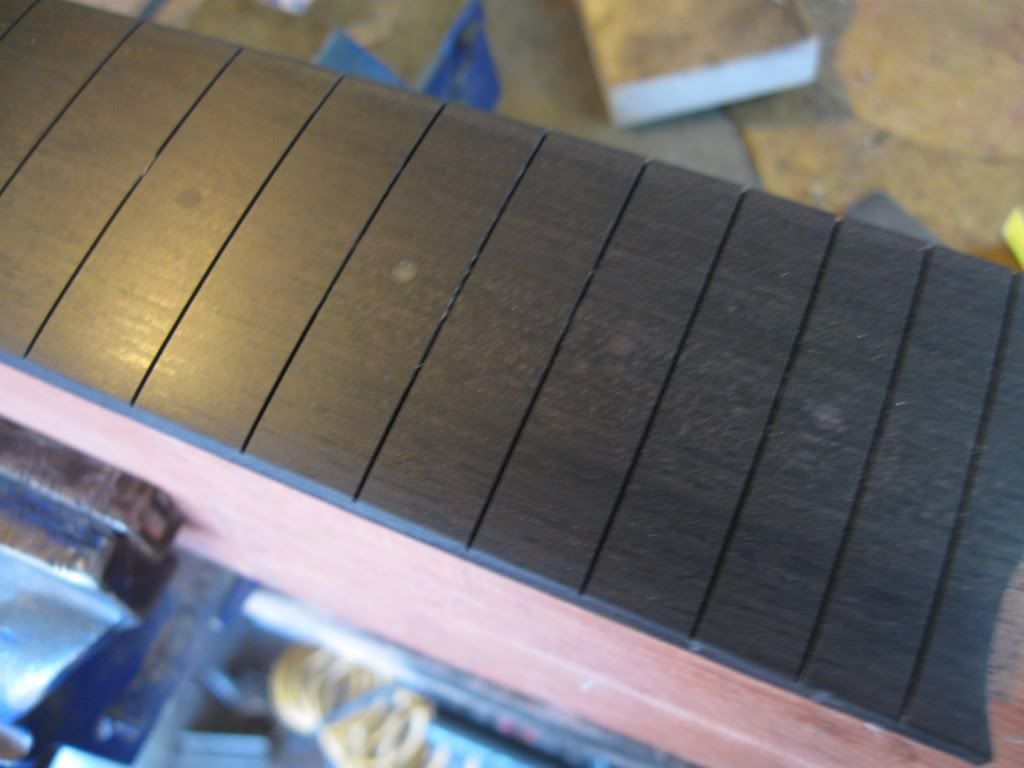 Got out the overhead routing jig and thinned down the back of the headstock and neck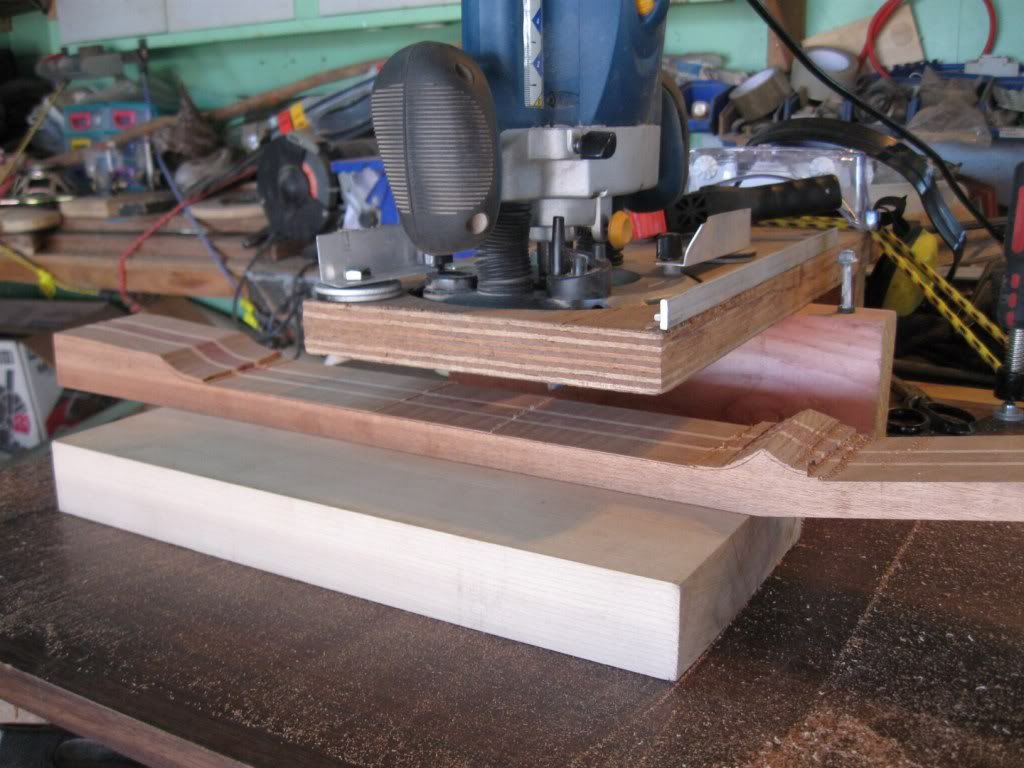 Amazing build! Well done so far, very creative. Looking forward to the next update!
Shame about the inlay dots, at least you can drill them out and start again. I'd go with the same wood as the inset puzzle piece, and a little bigger (6mm or so), but I'm pretty conservative like that.
i kinda like the real light dots. its makes the fretboard look a lot simpler from far away but lets you still have markers for yourself.

Exactly my thinking when I saw how they came out!
Tinier (than the 12th fret marker) puzzle pieces in different shapes/colors and all slightly askew and off the center axis would look awesome, IMO. Like you just dumped out a puzzle box and that's how the pieces landed.
Tinier (than the 12th fret marker) puzzle pieces in different shapes/colors and all slightly askew and off the center axis would look awesome, IMO. Like you just dumped out a puzzle box and that's how the pieces landed.
While I'm sure that'd look nice, I'm leaving the fretboard as it is, simple, and not cluttered.
The minimalist in me likes that concept too. Just trying to throw an idea out there. This is an interesting build and I look forward to your updates!
The puzzle piece inlay looks great! And love the neck woods.
Did a little bit the last couple of days,
A couple of dabs of silicon on the ends and middle and put in the trussrod, then a merbau filler strip.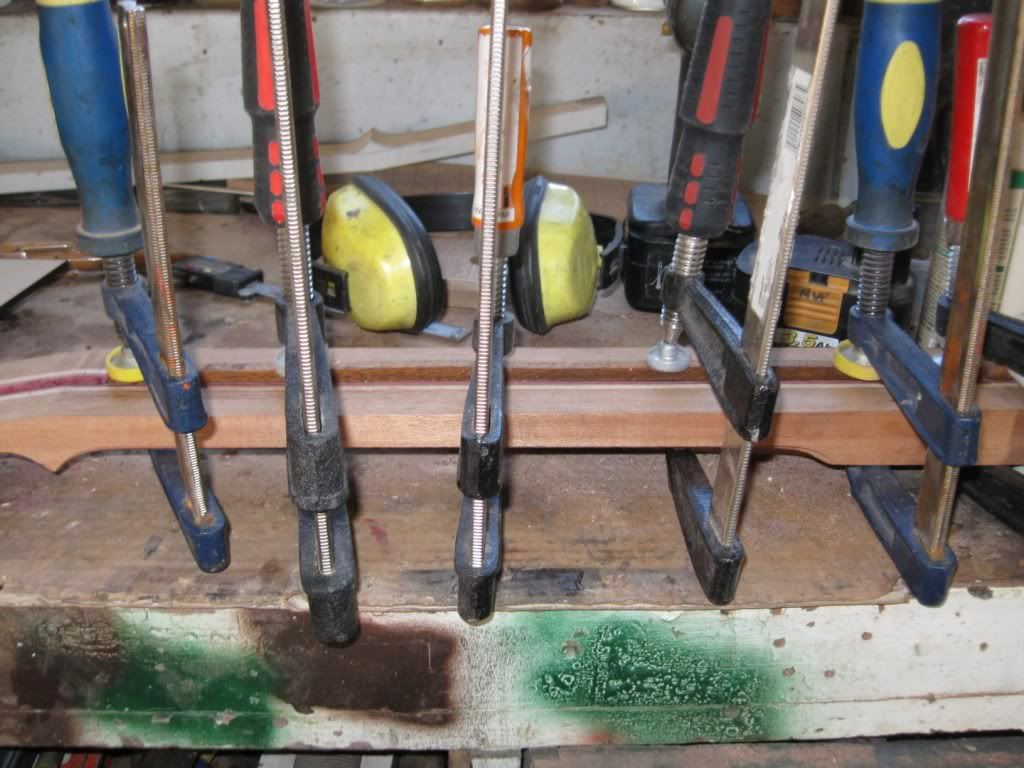 Planed down the filler strip, ready to glue the f/b on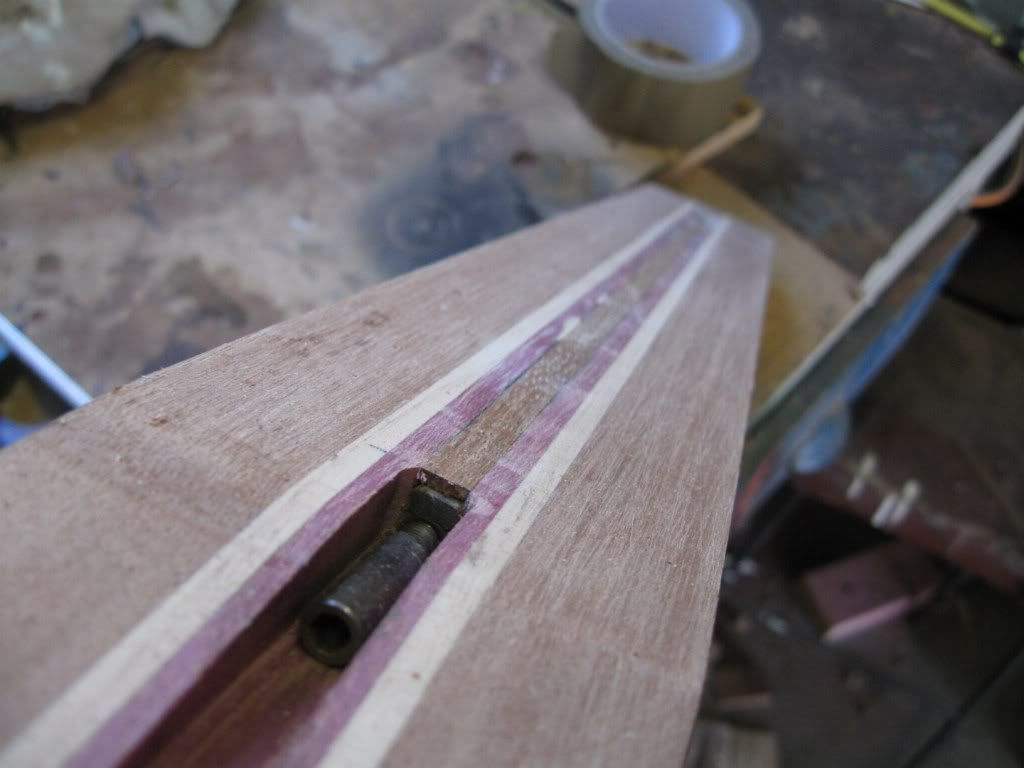 Routed out some cavities and a small roundover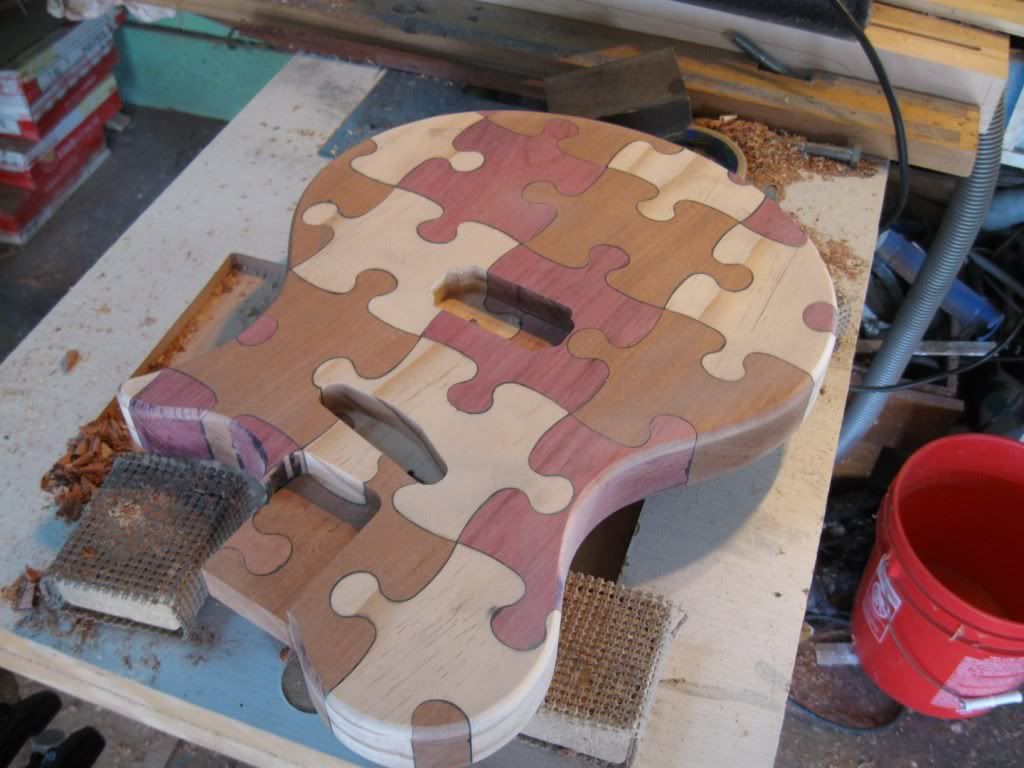 Got the overhead router jig out and double sided taped a angle block underneath the body
Like so
Instant forearm contour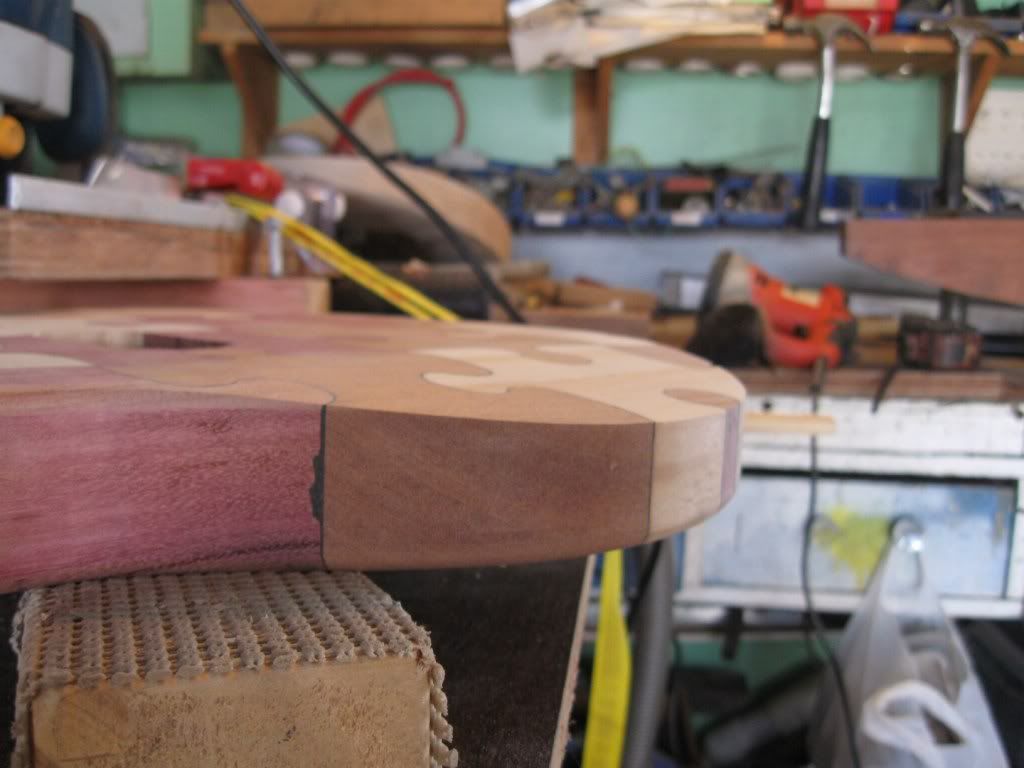 This did however reveal a couple of minor cracks in a pine piece, which pissed me off a bit but hey not much I can do about other than get on with it! So stabilised it with some thin CA, will most likely gouge that out a bit and fill it with some pine dust and glue later.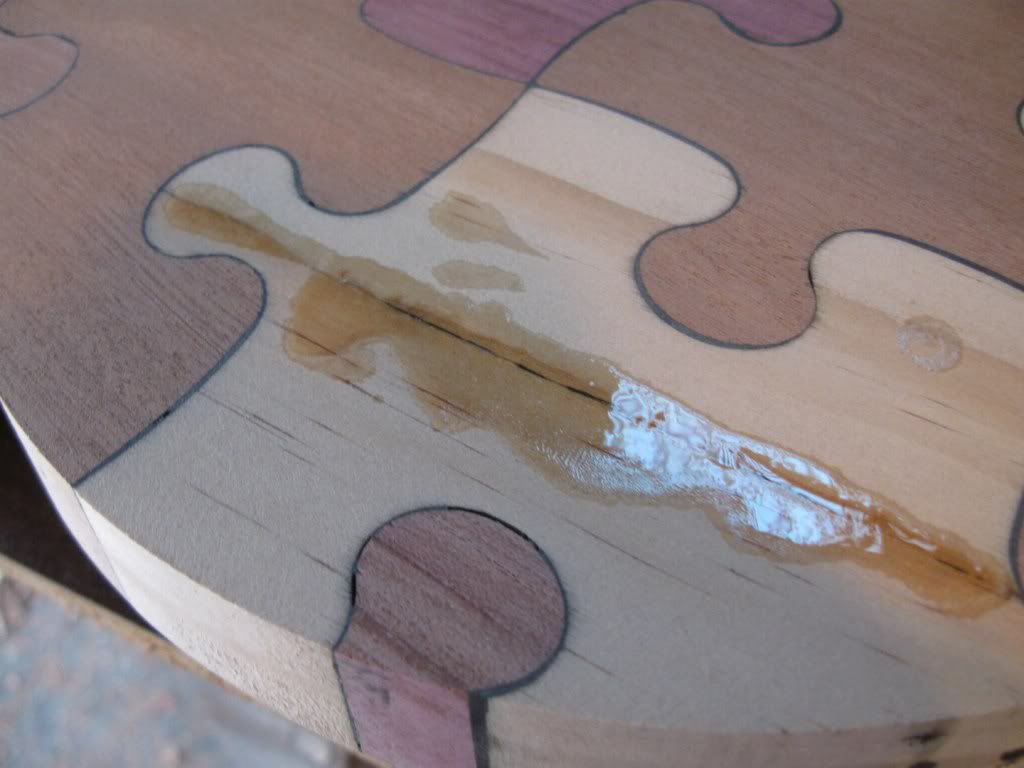 Did a wee tummy cut, nothing too large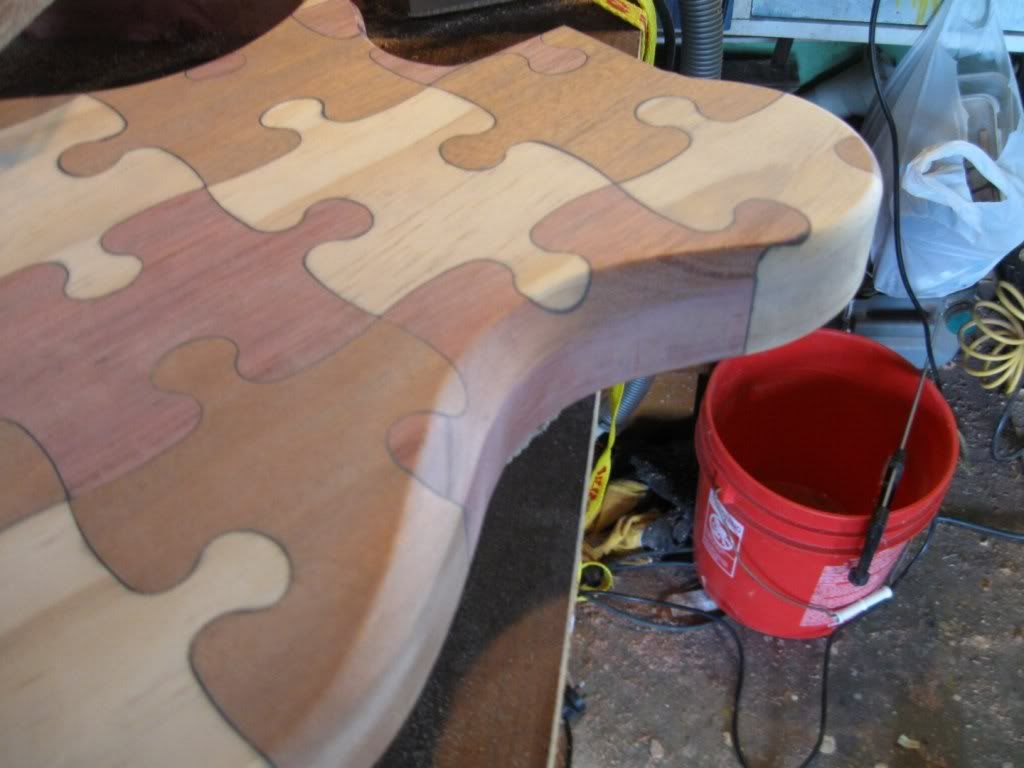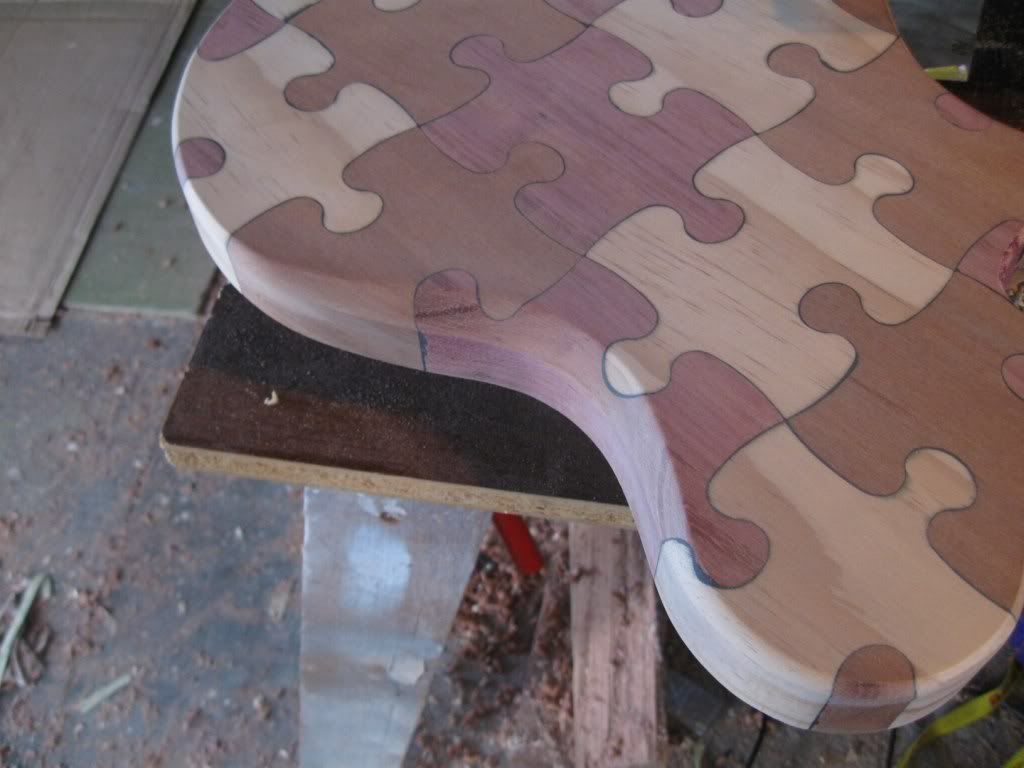 That's all for today folks!
That body looks great, do you think youll redo the inlay dots or just keep them this way?
Cheers Boysie, Leon I think I will, they're a lot more noticeable in person, and I kind of like them
Join date: Oct 2007
20

IQ
Freakin sweet!

Update time, but with no pictures until later.

Last time I used gfs pups I was pleasantly surprised, and most of the tone of course comes from the amp, so thought I'd give them another go, bought a black on black dream 180 bridge pos, and a lil killer modern in neck pos.

Planning to have those 2x hums , 1V, 1T, 3way selector, 1 push/pull for coil split.

Also ordered something I'm alot more excited about, a graphtech ghost piezo tune o matic, black nickel finish. I'll most likely make my own summing board and wire it into a artec MB-1 which I have lying around. but we'll see.

ALSO made a new 12" gluing block yesterday and glued down the fretboard, so I'll post pictures tonight or tomorrow

Chur
Sounds great, my buddy put GFS burstbucker 3 copies in his LP and they sound great. Looking forward to see how the other electronics work out; sounds very interesting.
Got the neck into the clamps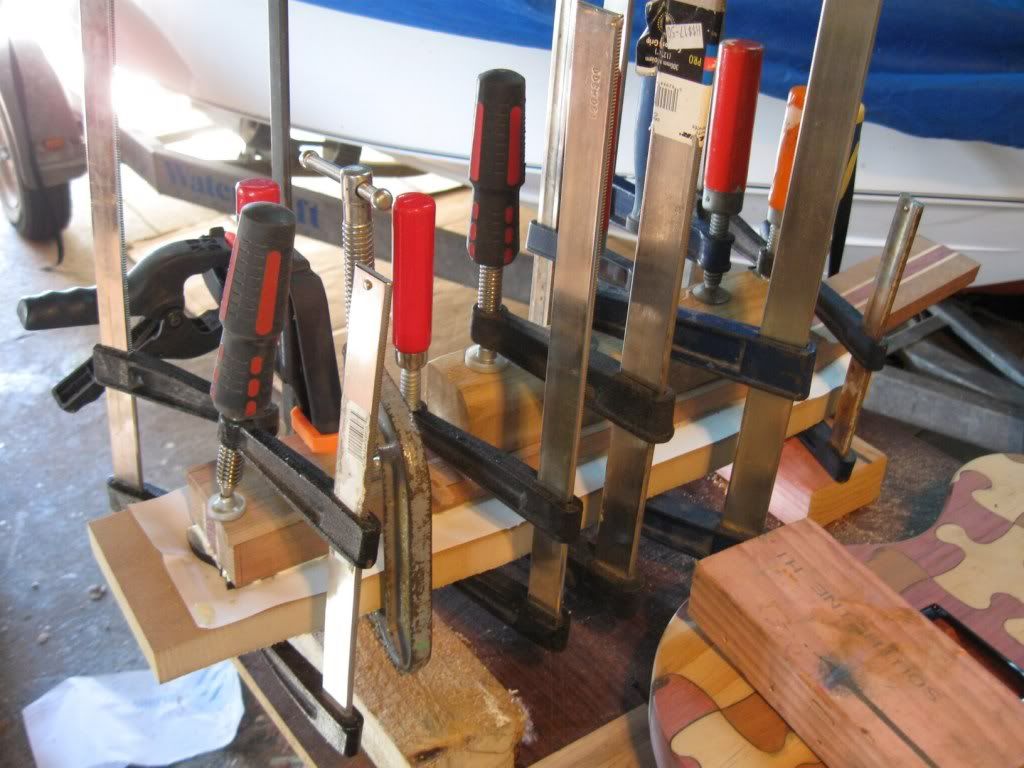 Got it out and rough sawed to shape, then to the router table
Routed to shape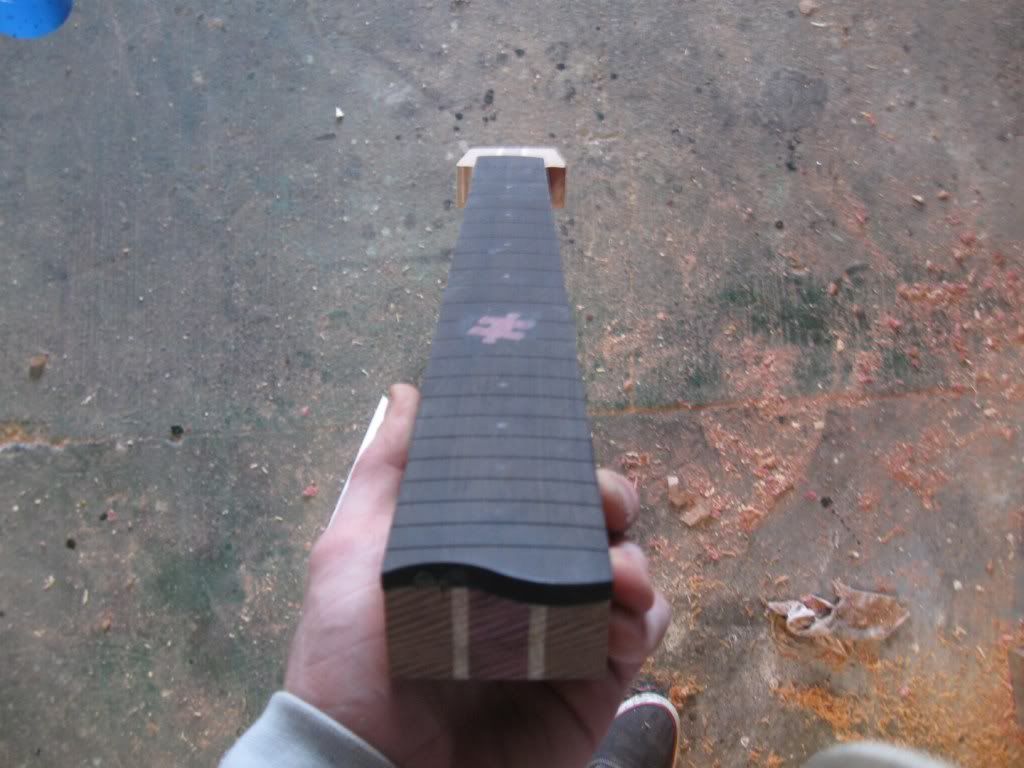 Now I need to stop stalling and figure out what I'm doing for the headstock!