New old telecaster..
So my buddys dad used to be in a band and my buddy played drums but neither of them do anymore and they have this jam room with a bunch of stuff stagnating and collecting dust. Ive wanted to take this guitar from him before but nothing came of it, then I saw it again today and told him id clean it up (understatement) and put new strings on and what not and he was reluctant
Anyway this guitar is some sort of hollowbody telecaster with no name or anything on it other than steel adjustable neck as youll see below.
I dont much care because its really ****ing cool and feels great. Unplugged it has a slight acoustic sound which I really dig. Zero fret is something you don't see every day either.
The humbucker was obviously ghetto rigged in, and its not even in line with the strings. Buddy says its like some original humbucker or something like that, I think hes full of shit but who knows, I have to do a bit of research anyway...
The neck seems out of place, almost as if it were replaced with something generic at some point. Could point to a kramer since the tuners clearly arent original to the neck? Ive never heard of a kramer telecaster before. Its a mystery.
Pics:
Its in pretty rough shape.. with some tlc.. maybe a new pickguard and a properly set humbucker she could be a real oddball beaut. I'm clearly going to make an offer for it and keep it regardless. Or hold it hostage for a while maybe.
Gonna start work tomorrow, Ill post some progress pics. Going to start by disassembling and cleaning obviously.. which is going to be an arduous task, but will hopefully lead to some clues as to what im dealing with. Anyone have any clues?
Last edited by glenthemann at Mar 18, 2012,
Nothing

I thought this was a guitar forum.. I guess I should have asked if I can play metal on this or not
As an update I got to plug it in finally, the wiring is messed up and only one pup seems to be working. There is a faulty ground too. Other than that the guitar itself is pretty flawless aside from the dirt, the neck is straight, very low action, no fret buzz and intonation is flawless from first to 22nd fret.
This is going to be fun

Last edited by glenthemann at Mar 18, 2012,

Join date: Aug 2007
131

IQ
Cool guitar, but wow, enormous pics. Made in Japan is a good clue, and another website says that those kinds of markings indicate it was made by Matsumoku, which was apparently known for making quality guitars.
I never complain about huge pictures, but holy **** this is so huge i can't even read what you wrote.
Yeah I just altered the pics lol, I dont browse around here much at all and every other forum I browse has an auto resize feature so I never even think to resize anymore. I just got done doing that, hopefully helps you guys out.

The pictures could be 1000 times larger annd you could still be able to read what I wrote. The text is before and after the pictures, so you should have no problem.

Join date: Apr 2011
820

IQ
I think it might be an early Les Paul.

Join date: Apr 2011
80

IQ
I have a guitar with a similar neck plate. Only difference is the serial number (which is way off).

Either way, that axe is amazing. I'd put a proper p90 in the neck and do up some sweet wiring with lots of switches to add to the oddball factor.

Join date: Aug 2009
30

IQ
Any idea what the extra switch is for? Assuming the larger one is a pickup selector..
Any idea what the extra switch is for? Assuming the larger one is a pickup selector..
Im trying to figure that out and Im going to have to re-do the electronics, only one pup seems to be working.. Could just be an on off for both pups, or one is a selector and the other switches the humbucker.. not sure.
Im going to pick up a new pickguard from warmoth probably, one with a properly routed cutout for the humbucker.. you can tell it was really ghetto'd in there
No, not a super distortion. It's like a P90 sized pickup with a humbucker shoved into it. Probably sounds neat. The neck is probably original to the guitar.
No, not a super distortion. It's like a P90 sized pickup with a humbucker shoved into it. Probably sounds neat. The neck is probably original to the guitar.
thats what the super distortion is. did you even read the link?
P90 Super Distortion™
DP209

A Super Distortion® in a P90 cover? Cool! DiMarzio's Super Distortion® has been the industry standard since its introduction in the early 70s. The new P90 Super Distortion™ is our highest-output humbucking "soapbar" replacement, and it gives players with guitars routed for P90-style pickups the ability to upgrade their pickups without any modification to the guitar. Like the original Super Distortion®, it has 12 adjustable pole pieces and 4-conductor wiring for split and parallel humbucking modes.
color options: Cream
http://www.dimarzio.com/pickups/soap-bar
http://www.dimarzio.com/pickups/soap-bar/p90-super-distortion
Last edited by Ashe_Mc at Mar 18, 2012,
well now you know

reading all the text CAN help you in life.
I have a ridiculous hard-on for Thinline Teles. Nice catch.
very nice.

now breathe some life back into that mojo machine.
polish, strings, set up and fret dress.

Oh I'll be breathing some nice life into it thats for sure. I very much DOUBT it is a super distortion, knowing the kind of music the guys who would have played it would have played. More a blues rock style.. I doubt the guitar has ever even run through a distortion channel.
Lets open her up!:
Yikes a lot of holes.. this guitar has been through a few configurations it seems..
Single coil wedged in with drywall screws.. yikes.
Frets could use some work, pretty worn out.. but hey they scaled perfectly and had zero buzz so.. a little polish and they'll do just nicely until theyre completely dead (in another 20 years maybe)
continued,..
Metal components ready to be cleaned, you can see the bridge plate was ground out to accommodate the single coil
Now the wiring.. lots of tape..
The unknown switch that.. is connected to nothing
Whats this.. the humbuckers leads are wired to the exact same lead off the volume pot? well no wonder it didnt work when I plugged it in.. looks like that switch is just a pup ON off
And the unknown humbucker
So, lots of work to be done.
I need to order up a new pick guard, and then a new wiring kit and figure out exactly what I'll be looking for as far as wiring things together. Probably go with the standard tele 3 way, vol and tone pots.. but I guess I could get a little funky with things if I really want to, but Im not trying to spend a huge amount of dough and I actually have to save up a bit before I can go doing that. I'll be buying a new custom guard off of warmoth, and a stewmac wiring kit. There was no bridge ground, so that needs to be wired. Ill also need proper pup mounts so they can be adjusted and not just be wedged into the body.
I'm in no real rush, but I supposed I could sort out the wiring with the components there to get her playing for now.. because damn now that its apart all I want to do is pick it up!

Ok, that looks like it was originally routed like that, or whoever did it did a good job. Now, those frets are gonna need to be redone. I have a 70's strat that had frets like that, got 'em redone and now the thing's a boss.

Those electronics look stock, actually. Tiny japanese pots. The pickups, on the other hand, may not be. That pickgaurd ain't a proper "fender size," either. You'll probably need to custom cut one. I ran into that problem with my Memphis 70's strat body and my old Epiphone. They're "Strat" clones but different enough to require the guard be re-cut.

Restoring a Japanese knock-off can take a lot of time/money/labor/frustration, but the end result is usually something pretty badass.

Also, mien gott, that guitar is hot as hell.
Other than missing the tele blade pup selector the guard matches the original thinline guard..
It does seem like it was originally routed like that yeah.. The humbucker must have been something else because it was just wedged into the pickguard which was massacred with what looks like a steak knife to make it fit

As far as the frets, in the one pic you see with the serious wear, thats the zero fret you're seeing. The other frets arent as bad but they are worn pretty well.. BUT like I said.. no buzz.. perfect intonation.. why mess with something that works.. and works flawlessly right? A little polish won't hurt but I see no reason to have them redone completely at this point because they work better than most guitars do brand new.
No, the normal tele thinline guard has far less space between the guard and bridge. Unless this suffered from major shrinkage (which a lot of Japanese pickgaurds did not), that guard was never regulation size.

There's about a half inch too much space between the guard and bridge on the treble side and the horn behind the controls is the wrong shape. A proper Fender guard may fit, but the one supplied ain't proper. You may have to go custom on the guard. Might I suggest a pearloid, like the original 69's had?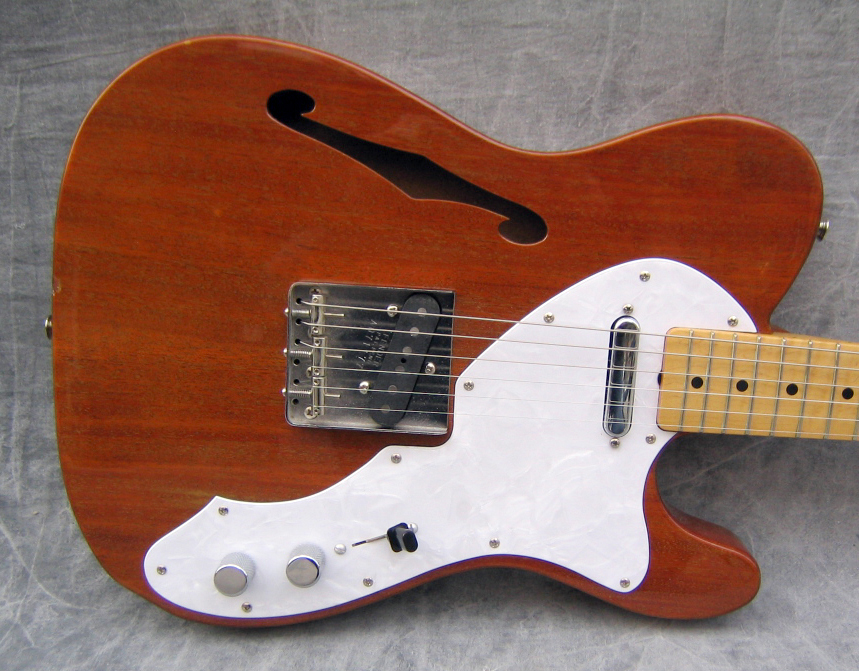 looks pretty damn close to me as far as shape with the exception of the one screw hole by the pup.
Looking at pictures you can see the spacing between the bridge and the guard has varied over the years.
My main concern with ordering a custom guard off warmoth is the humbucker may not line up properly.. I don't have a router but I do work in CNC and have access to mills.. but no real way to hold a sheet of plastic.
I was considering pearloid, or just an off white/tan color. The guard there I believe was originally white.. stained with years of ciggarettes

Man, if you clean that thing up, it'll be a hell of a guitar. That looks kind of like a faded pearloid in that picture, to me, though. It's got a lot of texture to it. But, I honestly feel like a straight up "69 thinline" guard won't fit, but it's not too hard too get one to fit with a drill. I've modified guards with a drill and a straight bit before. It takes patience, but it's do-able. I'm pretty confident you'll turn it into a sweet guitar, but, when it comes to these old Japanese bodies guitars, you often run into strange size issues.

The fact, though, is that I've never seen a Tele Thinline (be it original, reissue or Squier) from Fender with that much of a gap between the bridge and the guard. My Japanese Ibanez strat's had about 4 different guards on it, the current one (a Fender American) is off by a few millimeters in almost all directions. It'll happen with these, but it's just the cost of admission to the beauty of vintage Japanese guitars.
Yeah well, I've got my fingers crossed that the holes will all line up well.
Like I said the position of the humbucker will be the biggest thing.. I would hate to order a custom guard and have the pup cutout not match the cavity! yikes. Like you said though.. thats all just part of it

I dont have a real tele thinline to compare it to, but judging from pictures the holes are in approximately the right spots, but thats not a huge deal. I suppose I could ask warmoth to leave out the mounting holes and I could just drill them out myself. I just need the shape routed properly is the main thing, I dont want to mess around trying to do that myself.
Either way Im pretty stoked for getting this guitar back in like new condition.. I'm still just 'borrowing' it, and we've talked about maybe buying it.. his dad wants a couple hundred afaik, but I figure Im going to throw about $100 into it so I'll have to do some wheelin and dealin'. My friend says hes pretty sure the humbucker is rare to some extent and his dad probably wants as much just for the humbucker as the whole guitar itself.. but we'll see. I cant find ANY markings so I have no idea how to verify what the heck it is.
I just love the feel and tone of the guitar even when its not plugged in.. it just feels right, which is a big thing for me because not a lot of guitars feel just right. Money and name is not a factor at all!
Last edited by glenthemann at Mar 18, 2012,
You'll probably put more into the guitar than you bought it for. My 70's Iba, I bought for $100. I had a $200 refretting done, loaded it with a DMZ SD and guard for $40, took it back to stock, then then bought new elecs and guard for around $60, then a new bridge for around $50. Total cost: around $400, said and done for a nice player's guitar with nice tone. Can't say the neck's great, since it's like a baseball bat. That's one of the catches with the old Japanese numbers, it adds up pretty quick to get them up to snuff these days.
Thats the thing, I havn't bought it yet

But really, it wasnt exactly in working condition either.. as you can see from the wiring pics shits all ****ed up.
I'll eventually buy it, but I need to know what that humbucker is for sure. Im not overly concerned that ill do the work and they'll want it back.. I mean.. the damn thing literally has not been picked up and used in years, the strings were rusted and grimed up.. thick dust layered on top.. well hell you can see from the initial pictures. I'm giving it a new loving home.. I only wish whoever had done the work before had done it proper.. i cant believe they took a chisel to the body and then used drywall screws to hold the single coil in there.. and the humbucker just wedged into the pickguard.. ugh

As far as the neck goes, its a fat one, but it feels good.. I have tiny hands and always thought "oh I need a thin neck" but no.. thats not the case at all. I could never get used to the ibanez necks, and one thing Ive noticed is that the feel you get from a neck has a lot more to do than just its dimensions.. its hard to explain really. It literally is all feel.
Last edited by glenthemann at Mar 18, 2012,
The necks on the old Japanese guitars always turned me off a little. I've owned a lot of 60's pre-lawsuit guitars and a couple of the 70's ones we always drool over and the necks are always crazy shapes with weird sizes.

Have you ascertained an approximate shape/size off this one yet? Even a boat of a neck (like my last two Japanese vintage models) are fun to play on if you can get used to them.

One other issue I noticed: the body seems to be splitting open. You might want to address that issue, as well. It looks like the manufacturer used two horizontal pieces that may be splitting.
Nope no splitting, must just be from the pictures but she's a-okay other than a few dings. There is a seam line because well, how else were they going to get the hollow cavity?

I think you're referring to the picture of the back of the guitar with a view inside one of the horns; you can see the seam line and then it seems to disapear giving the look that it may be splitting,but I assure you the seam line is dark the entire way around and its solid. Must just be the angle and the curve of the horn giving it that look, maybe combined with the flash of the camera as well.
Last edited by glenthemann at Mar 19, 2012,
Some updates:

Found out the body was a custom made deal out of a slab of mahogany. This raises a question: Did the guy use a standard tele template, (as the clean arse routing would suggest), meaning that a custom thinline tele guard with a precut humbucker slot will match up with the ordered guard? I guess there is only one way to find out.. but Id rather not waste $40-50 and find out the guard wont work :/

Secondly I found out the humbucker is a DiMarzio, which will certainly help with the wiring, I wont have to pull out yee old multimeter. Yet Id still love to figure out the exact model it is.. its supposedly a very early one.

Lastly I cannot figure out how I want to configure it..

I was thinking just a 3 way switch, neck/neck&bridge/bridge, but add a coil split switch and a parallell/series switch to the humbucker, with a volume and perhaps dual tone control.

Not sure what values on the pots to go with though :dunno:

Im a bit of a wiring newb, not that it frightens me or anything, Ive just never done anything more than the absolute basic vol/tone make it work scenarios