SubwayToVenus - WotM February 2012

Join date: Jul 2005
1,128

IQ
Real Name: Ryan McNally

Age: 21

Location: Champaign, Illinois

Favourite Artists: Outkast, Frank Ocean, The Weeknd, Marvin Gaye, Musiq Soulchild, Maxwell, Aaliyah, Alicia Keys, The-Dream, Kanye, Jamie Woon, James Blake, Phoenix, Pusha T, Dirty Projectors, Grizzly Bear, SBTRKT, Washed Out, the xx, Beyonce, UGK, Jay-Z, Kendrick Lamar, Schoolboy Q, Big K.R.I.T., M83, Elton John, Pink Floyd, Fleet Foxes, Bon Iver, Jazmine Sullivan, Jay Electronica, Lauryn Hill, Katy B, Santogold, Shakira, Yasiin Bey, Clams Casino, ASAP Rocky, and a hell of a lot more

Most Inspirational Writer: My inspirations change all the time. But I guess right now the biggest inspiration for me and what I write has been Frank Ocean and his story-telling abilities

Favourite poet/poem (published writer): I don't read much poetry but the best thing I've read is "Preface to a Twenty Volume Suicide Note" by Amiri Baraka

If you could be any writer ever, who would you be: Andre 3000

If you could be any flavour, which would you be: Mango

Why Do You Write: I never know how to articulate this answer, and I don't know if I'll ever. All I can say is that the feeling I get after writing a poem I'm truly proud of, a poem that captures what it is I'm feeling and experiencing at the time, a poem that honestly reflects my aesthetics and what I find beautiful, that feeling is why I keep writing.

Favourite word(s): light, ocean, steam

Favourite Writer(s) on UG: vintage, Carmel, spike, ngd, brokencoastline.... there are many others I know. If I've ever given you praise for one of your poems, you're a favorite

Most Helpful Critic: Carmel and Zanas have been the two most consistently helpful critics I've met on here. I owe a lot to them.

What Do You Do Especially, to Find Inspiration: Read, listen to music, live life, build relationships, connect

Your Most Recent Work and the Reason Behind It: I think the last thing I wrote was a poem called "blessed". It's just about seeing the death of something before it actually dies and simultaneously wanting to cherish its life but also criticize the reasons why it can no longer grow.

Tips for Newer Writers: Try to find the essence of what you want to say and don't stop until you say it. Don't worry about creating a masterpiece; if you keep you writing, you'll improve. Just try to write something beautiful according to what beauty is to you.

What's your goal in writing: To write poems I'm proud of

Final Comments or Thoughts: Thanks again for this. It always feels good to win one of these. This community has been very good to me over the past two and a half years and I honestly appreciate it.
I remember your first few pieces back in 2009 - you're still awesome!

Join date: Jul 2007
700

IQ
Can't believe you're a Beyonce fan. GTFO.

Good work, sir!
Congratulations dude!

It's a pity the Peppers aren't listed since your username, but YES to Andre 3000!

Join date: May 2009
110

IQ
Zanas, don't tell me you're NOT a beyonce fan! Thats impossible

samoo, yeah I used to really really love the Peppers hence the username. They've kinda waned as of late for me but I still do bump them on occasion and it always brings me back. and yes to you saying yes to 3 stacks

Carmel, thank you again

Join date: Sep 2006
90

IQ
much love, you've been a looker since you first came here. It's impressive to see someone as humble and genuine as he is talented

Join date: Jul 2007
700

IQ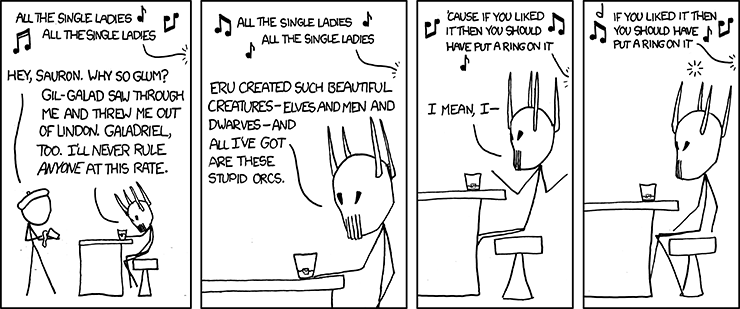 That's as close as I've ever come to being a Beyonce fan. The moment I realized you could draw a connection between her and Master Tolkien.
Congrats again good sir.

Join date: Nov 2002
231

IQ
dear s+l,

excellent work.

sincerely,
sean

p.s. ryan rules.