kontakt - no audio on instruments
any body with kontakt had this problem?
i have grand piano loaded and when i click on the piano keys there is no sound at all although the audio level meter is moving
i dont have a midi keyboard hooked up but that shouldnt matter since ive been able to play wav files with the mouse and hit the bottom keyboard before

Are you running a standalone instance of Kontakt?

Provide these info:
-Kontakt version
-Operating system
-Audio interface
-Audio driver
haha i was hoping you were logged in!

i guess it's stand alone?it's soley the program on it's own

kontakt 5
windows 7 (64 bit)
no interface just a sound card (realtek high definition audio i believe)

as for audio driver im not sure how to find out

im not very good at this computer stuff

any help is very appreciated

if it helps i use fruityloops alot and never have audio problems with it
Last edited by dazed60 at Apr 2, 2012,
Yes, standalone means running by itself. If it's opened within another program, it's a plug-in instance.

Go to File -> Preferences/Options, find the Audio tab. What does it say on in the Audio Engine list?
where exactly do i find "go to file"?
Not "go to file", just "File". It should be in the upper left hand corner where all the dropdown menus are.

Actually, if you can provide some screenshots, that'll make it easier.
here's a screen shot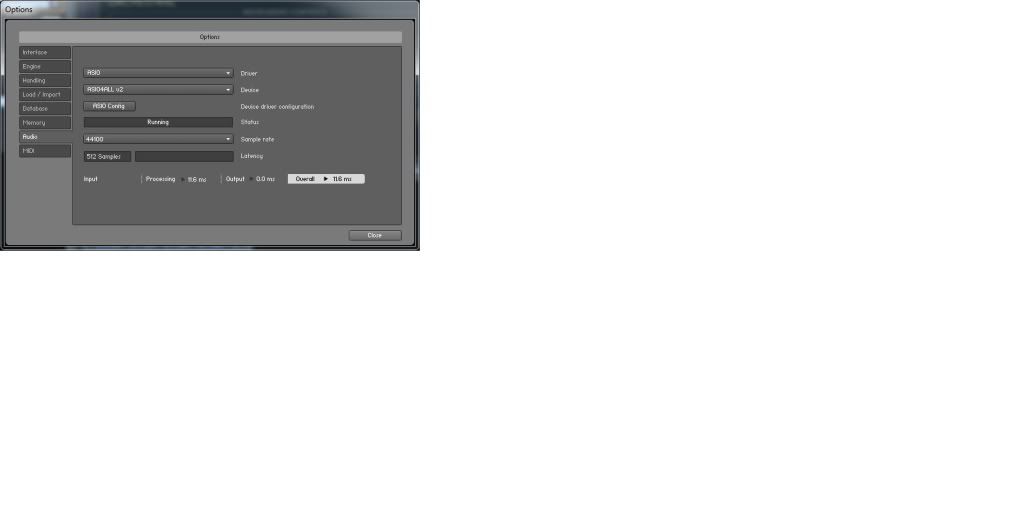 Hmm...I suspected it might be a driver issue but now there are a lot of factors which makes it complicated.
This is gonna sound a little creepy but it's the fastest way...
Using
www.logmein.com
, I can remotely access your computer and try various things until it works, instead of posting here. I can PM you the instructions on what to enable that access, and you can delete/disable that access right afterward. It's up to you.
Nevermind mate

I just had to change the driver from asio to wasapi

stoked!

appreciate you taking the time to try and help though

Join date: Jun 2008
36

IQ
also worth noting is that you'll often need to change the midi input from a specific channel to "omni". For the future if it happens again.
Oh hmm I've never heard of Wasapi. I assumed that if ASIO was selected, then something in the internal Windows audio routing was messed up. As long as it works.
also worth noting is that you'll often need to change the midi input from a specific channel to "omni". For the future if it happens again.
You shouldn't need to...
Omni means it responds to all incoming MIDI, which screws things up. You should always designate individual channels for each instrument.
In standalone, you can select which instrument to be controlled just by selecting the instance module in the rack. In a DAW, you can select the instrument to be controlled by enabling Record on the corresponding MIDI track.
Last edited by Xiaoxi at Apr 2, 2012,
i'll keep that in mind for when i get a midi keyboard

thanks crunk


Record
how DO you record

or is it easier to run it through another program?